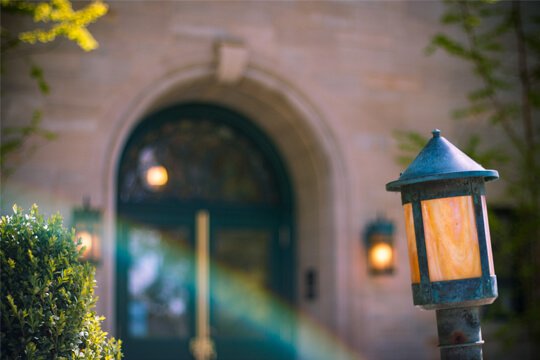 This December, several local designers will transform the historic Earhart Manor on Concordia University Ann Arbor's campus from a well-preserved, but functioning academic office back into an enchanting Christmas home.
---
The Earhart Manor has been a part of the Ann Arbor community since its construction was completed in 1936. Guided tours of the decorated manor is just one of the activities that will take place during A Manor Christmas, an inaugural Christmastime event that will bring together past Concordia traditions, treasured community artisans, and beloved student performances into one packed weekend.
A Manor Christmas will take place Dec. 1 from 3-9 p.m.; Dec. 2 from 12-9 p.m.; and Dec. 3 from 12-4 p.m. on Concordia University Ann Arbor's campus, 4090 Geddes Road. The event, whose presenting sponsor is Thrivent Financial Great Lakes Region, is free and open to the public.
Visitors will enter the mansion through the the elegant foyer, decorated by Enchanted Florists of Ypsilanti. Their tour will guide them through the living room, morning room, library and dining room, decorated by invited designers, including: Wendy Ryan Interior Designs, Jane Henderson, Lori Schonsheck, and Elizabeth J. Interiors. A highlight of the tour is access to the secret passageway that leads to the original gentleman's billiard room, which will be redecorated by Full Fathom Five Interior Design.
The final tour stop invites guests to the third-floor ballroom where table top trees will adorn the majestic space and will be available for purchase. All proceeds benefit North Star Reach and the Concordia Scholarship Fund.
Outside the home will be a bustling, European-style "Christkindlmarkt," featuring art and food hand-crafted by local artisans. Children's activities, live music, and a visit by Kris Kringle, himself, will delight guests of all ages.
"This event serves as Concordia's Christmas card to the community and allows the university to share the good news of Jesus coming into a broken world to restore His creation," said Joan Koerschen, chair of the event organizers. "The joy and hope of Christmas will permeate the manor and the grounds once again, just as Mrs. Earhart would have wanted."
Event-goers can extend their celebration by purchasing tickets to Concordia's 40th annual Boar's Head Festival pageant, where medieval Christmas traditions are woven together with symbolism and the story of Christ's birth. Call 734.995.7537 to reserve Boar's Head Festival tickets.
About the Earhart Mansion
Once an historic 400-acre dairy farm on Geddes Road along the Huron River, the property, known as "the Meadows," was purchased by Carrie and Harry Boyd (H.B.) Earhart in 1916. H.B. Earhart made his fortune in the gasoline business in Detroit. They moved their family of four children to Ann Arbor to enjoy the "small town living" that the community offered at the time.
The family home displayed treasures from their extensive travels, and the famous gardens were lovingly kept up by Carrie and H.B Earhart, personally.
In the early 1960s, the Lutheran Church-Missouri Synod purchased the land from the Earhart family for Concordia College. Concordia has since grown from a two-year college to a four-year university.
—
If this story has inspired you, why not explore how you can help further Concordia's mission through giving.