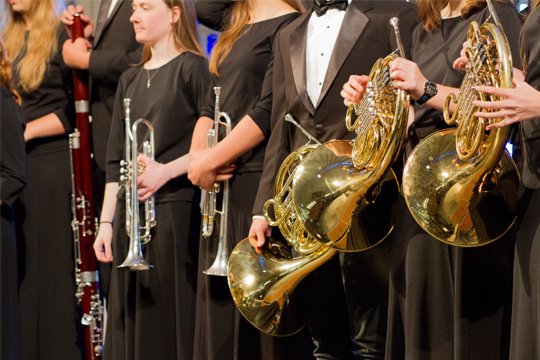 Concordia University Ann Arbor's wind and string ensembles will come together for a concert at Washtenaw Community College Thursday, November 2 highlighting the 500th anniversary of the Reformation. This free event will take place in the Towsley Auditorium, 4800 East Huron River Drive, at 8 p.m.
---
Under the direction of Dr. William Perrine, the two ensembles will perform selections by composers Arcangelo Corelli, Carl Philip Emmanuel Bach, and Alfred Reed, among others. Next spring, Concordia University's Wind Ensemble has been invited to perform at the prestigious Sydney Opera House in Sydney, Australia.
Other fine arts events during the next six weeks include:
Cantus: Discovery of Sight, Sunday, November 12, 4 p.m., Chapel of the Holy Trinity, $10 for adults, $5 for seniors and students.
40th Annual Boar's Head Festival, Friday, December 1-Sunday, December 3 (7:30 p.m. Friday and Saturday; 4 p.m. Sunday), Chapel of the Holy Trinity. Tickets, priced from $8-$15, will go on sale beginning Monday, October 30 at 1 p.m.
The Concordia Wind and String Ensemble, Thursday, December 7, 8 p.m., Kreft Center Black Box Theatre, Dr. William Perrine, director. Free.
For more details on all upcoming fine arts events, visit www.cuaa.edu/music or call the Concordia Box Office at 734-995-7537.
—
If this story has inspired you, why not explore how you can help further Concordia's mission through giving.