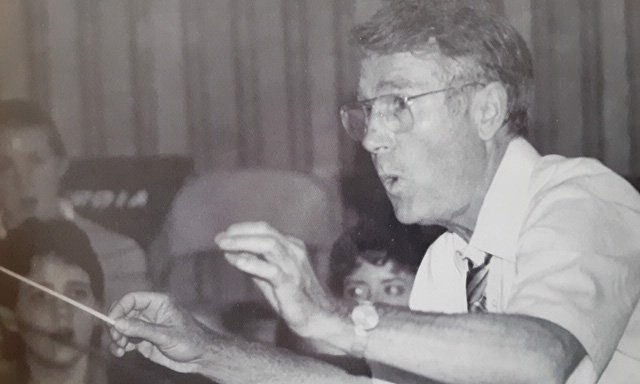 Even decades removed from his tenure at CUAA, Doc Foelber still holds the hearts of Ann Arbor alumni.
---
He's a Concordia University Ann Arbor legend. He was there at the beginning in 1963, as choir director and humanities professor. He's a pastor and devoted man of God. He helped start the Boar's Head Festival tradition (making its triumphant return in 2021!). And, more than 30 years after his retirement, he was still among the most mentioned "people of influence" in the recent Concordia University Alumni Attitude Survey.
He's Rev. Dr. Paul "Doc" Foelber, and we're here to sing his praises—which is fitting, considering how many students he led and others he inspired in praising the Lord through song as choir director at CUAA from 1963-1990.
In honor of his recent 95th birthday and 70th wedding anniversary, a group of alumni put together a tribute book in his honor, featuring words of praise and for their beloved professor. The range of alumni who chose to participate – from 1965 (CUAA's first class) to 1992 (two years after he retired) – is a true testament to the influence he wielded. Here are just a few of the sentiments shared:
"Over my life I have sung and continue to sing as a tenor in several choirs with different directors. You are at the top of the list of my favorite director." Ron Roth ('67)
"Doc, you always inspired us to be better than we believed we could be." Deb (Samuel) Wolf ('70)
"God bless you for serving Him so faithfully with the gift of beautiful music, encouragement and love." Kim (Moyer) Onnen ('80)
"Thank you not only for teaching us the gift of God in music but for imprinting my life with your wisdom and ethics for life." Phil Krupski ('85)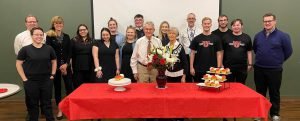 These days, Doc Foelber and wife, Dorthea, are retired comfortably in Florida. But "retired" doesn't mean "done." The once and future choir director is still at it, directing an over-65 Concordia alumni choir based in the Lutheran Haven retirement community. He and Dorthea also continue to support CUAA and the ongoing organ restoration project through personal donations and the Rev. Dr. Paul and Dorothea Foelber Scholarship Endowment, awarded annually to a full-time music major seeking a Lutheran teaching diploma.
To this day, like a full-volume blast from the Chapel pipe organ echoing through the rafters, Doc Foelber's influence resonates at Concordia University Ann Arbor. His legacy represents the epitome of Concordia's mission, shaping servants of Christ in ways that go beyond our understanding. Thank you, Doc Foelber, for who you are and all you do!
Joyful giving
You, too, can support Concordia and pay tribute to a beloved professor with a gift in Doc Foelber's honor. Visit cuaa.edu/give for more details.
—
If this story has inspired you, why not explore how you can help further Concordia's mission through giving.