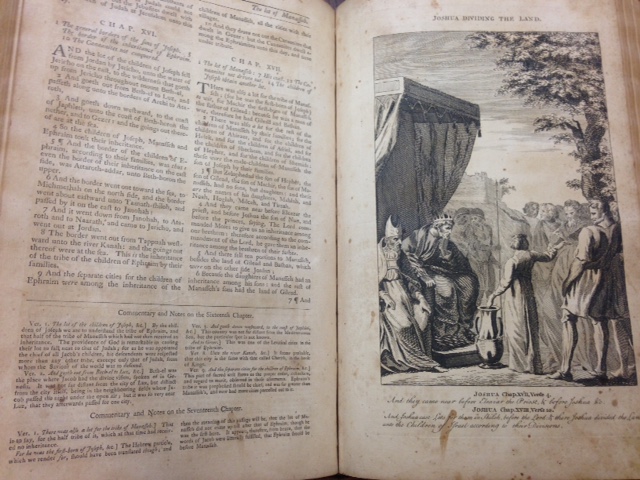 The gift of a 257 year old Bible opens new research possibilities at Concordia. Published in 1761 in London, it is a "Royal Bible" with commentary by Leonard Howard, D.D.
---
Rev. Samuel Sherouse brought a gift with him when he came from Armada, MI, to the Michigan District convention on the campus of Concordia University, Ann Arbor. A congregation member, Sandy Macdonald, had asked if he would like an old Bible which had been passed down through her family. Already having many old Bibles, he took a look at it and immediately recognized that it belonged in a rare book room.
Published in 1761 in London, it is a "Royal Bible" with commentary by Leonard Howard, D.D.. It includes beautiful engraved images illustrating the text. A signature at the front reads: "Samuel Daly his Book." Another hand has added underneath: "Samuel Dale founder of Harrisburg PA." (Presumably Dale and Daly refer to the same man.) This may be the Samuel Dale who found in the American Revolution.  The Standard Journal notes, "Dale was also an avid reader. He owned 300 books. Some of the books in his collection included Newton's 'Optics,' Adam Smith's 'Wealth of Nations,' Thomas Moore's 'Utopia' and Plutarch's 'Lives.'" The Dale house, however, is located in Lewisburg, PA, about 60 miles north of Harrisburg, the founding of which is accredited to John Harris. The identity of the original owner would be an interesting topic to explore. The next step will be to contact the Dale House, which already has a list of the books Mr. Dale once owned.
I received the book from Pastor Sherouse and I also happen to teach "A Survey of Christian Thought" every semester. The class requires a student research project. The donation prompted me to think about how this book and the rare book room in general could generate a number of student research papers. Sometimes students struggle to find a topic that interests them. That might be solved by one visit to our rare book room, which is replete with mysteries for them to explore.
In giving the book, Pastor Sherouse, himself an alum of Concordia, Austin, noted that all his other family members (wife and five children) have been students at Ann Arbor. Deciding to donate the book, he figured, "This has to serve a better and greater purpose by being in the library."
—
If this story has inspired you, why not explore how you can help further Concordia's mission through giving.