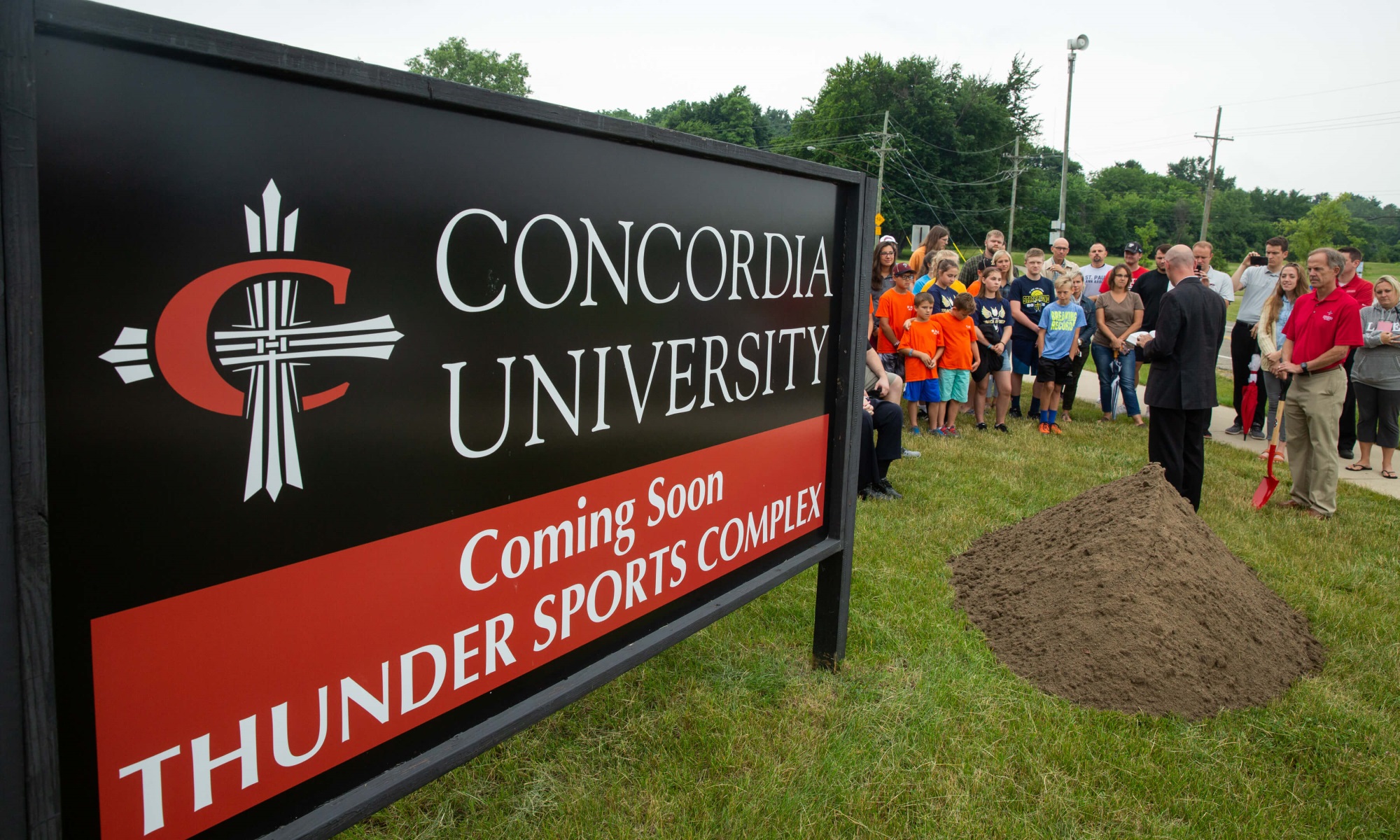 Construction is underway on the Thunder Sports Complex, Concordia University Ann Arbor's new competition-grade track and turf field project featuring a nine-lane competition track, designated areas for field events, a pro turf field, spectator seating, a nice exterior fence and landscaping.
---
Students, supporters, community partners, and campus leaders joined together on Wednesday, June 20 at 2 p.m. to celebrate the new space that is expected to be completed over the summer and available for use during the Fall 2018 semester.
Named after Keturah (Kay) Thunder-Haab, a long-time supporter and friend of CUAA, the Thunder Sports Complex will be a significant upgrade for the many student-athletes as well as for the students and families at St. Paul Lutheran School, one block north of CUAA, and the Ann Arbor community as a whole.
When asked to share a few words with the crowd, Thuder-Haab wanted to make it clear that she gives glory to God for being able to support Concordia through projects that benefit the student experience.
The new track and field facility will also include a pro turf field that will serve many purposes for teams within CUAA's 24-program athletic department and for the student body as a whole.
"The improved track and field will enhance our recruiting efforts," says Lonnie Pries, athletic director. "Increasing enrollment is a significant goal; developing and growing our student-athletes as ethical servant leaders is our ultimate goal."
To learn more about the Concordia University Ann Arbor athletic department visit www.ConcordiaCardinals.com.
— Rachel (Ferry) Thoms is manager of campus communications for Concordia University Ann Arbor. She may be reached at rachel.thoms@cuaa.edu or 734-995-7403.
If this story has inspired you, why not explore how you can help further Concordia's mission through giving.