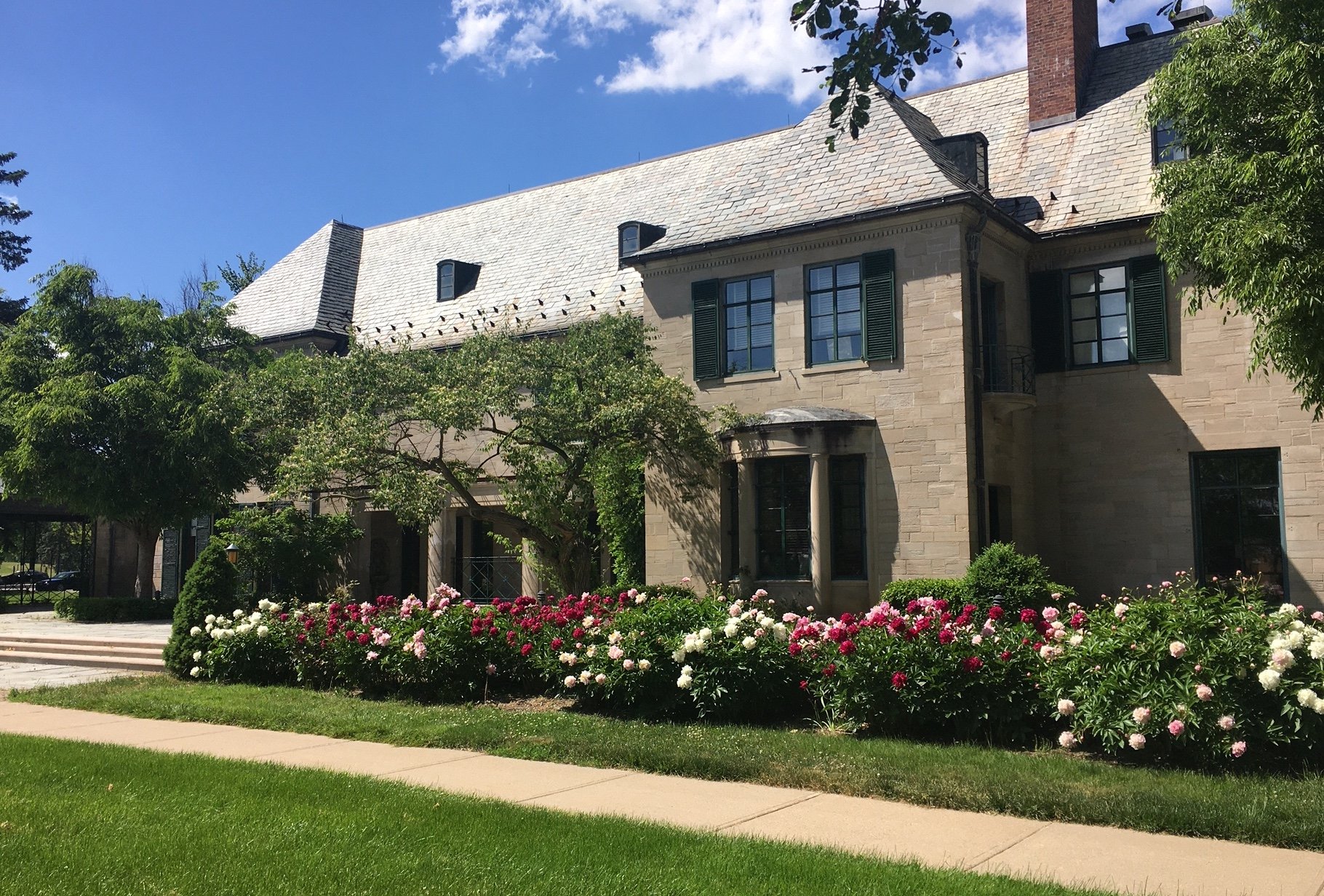 Treat your loved one to a special afternoon Ann Arbor's own Downton Abbey-style mansion, the historic Earhart Manor at Concordia University Ann Arbor.
---
Editor's note: While originally scheduled for Saturday, February 12, 2022, the planning committee has decided to postpone this event to a later date in spring 2022 to keep attendees safe from the spread of COVID-19. 
"Downton Abbey Valentine's Tea" will include a British-style afternoon tea, hors d'oeuvres, decadent desserts, and music. Attendees will have the chance to explore the period-style rooms throughout the historic Earhart Manor. Guests are welcome to wear Downton Abbey-inspired attire.
Hosted by members of the Concordia Guild (dressed Edwardian period-style themselves!), this "Downton Abbey Valentine Tea" will raise funds for the Earhart Manor Endowment, established to preserve Ann Arbor's own Downton!
Interview about "Valentine Tea" on The Lucy Ann Lance Show
Learn more about the inspiration and plans for "Downton Abbey Valentine Tea" as planners Suzan Hatch and Joanie Koerschen are interviewed by Lucy Ann on Ann Arbor's The Lucy Ann Lance Show on WLBY 1290 Ann Arbor's Talk Radio.
*Note, this interview took place on December 21, 2021, before the decision was made to postpone the event from February 2022 to a later date.
Stay in-the-know on this event!
Want to stay in the loop on the new date? Email ConcordiaGuild@cuaa.edu or call (734) 995-7509 to be added to event correspondence.
---
More about the historic Earhart Manor in Ann Arbor
This historical account of Concordia University Ann Arbor's Earhart Manor was written by Grace Shackman in June 1997 for the Ann Arbor Observer. Grace Shackman is a historian of local Ann Arbor places and people who has written numerous historically-oriented pieces for the Ann Arbor Observer and the Old West Side News beginning in the early 1980's.
"Not too many in Ann Arbor lived such a life," says Molly Hunter Dobson of her great-aunt and great-uncle, Carrie and Harry Boyd Earhart. The Earharts' 400-acre estate along the Huron River included a small golf course for "H. B." to practice his swing, forty acres of woods where he went horse­back riding, and formal gardens and a greenhouse where Carrie indulged her love of flowers. Today, most of the estate has disappeared, swallowed up by Concordia College and the Waldenwood subdivision. But the stone-walled mansion the Earharts built in 1936 still stands on Geddes Road near US-23.
Read the complete origin story of the historic Earhart Manor.
---
Ways to Give to the Earhart Manor Endowment
Concordia University Ann Arbor and the Concordia Guild remain committed to respecting the character of the building. An endowment was created for the historical preservation and upkeep of Earhart Manor.
Mail a check payable to CUAA with "Earhart Manor Endowment" on the memo line, to this address: Office of Advancement, 4090 Geddes Road, Ann Arbor, Michigan, 48105
Give online with a one time or recurring gift at cuaa.edu/give, select "Endowment," and include "Earhart Manor Endowment" on the special instructions line.
Call 734-995-7317 to speak with a gift assistant to make your gift or to arrange a tour of the historic Earhart Manor.
— Rachel Thoms served on Concordia University's Strategic Communications team from 2015-2022. Any inquiries about this story can be sent to news@cuaa.edu.
If this story has inspired you, why not explore how you can help further Concordia's mission through giving.