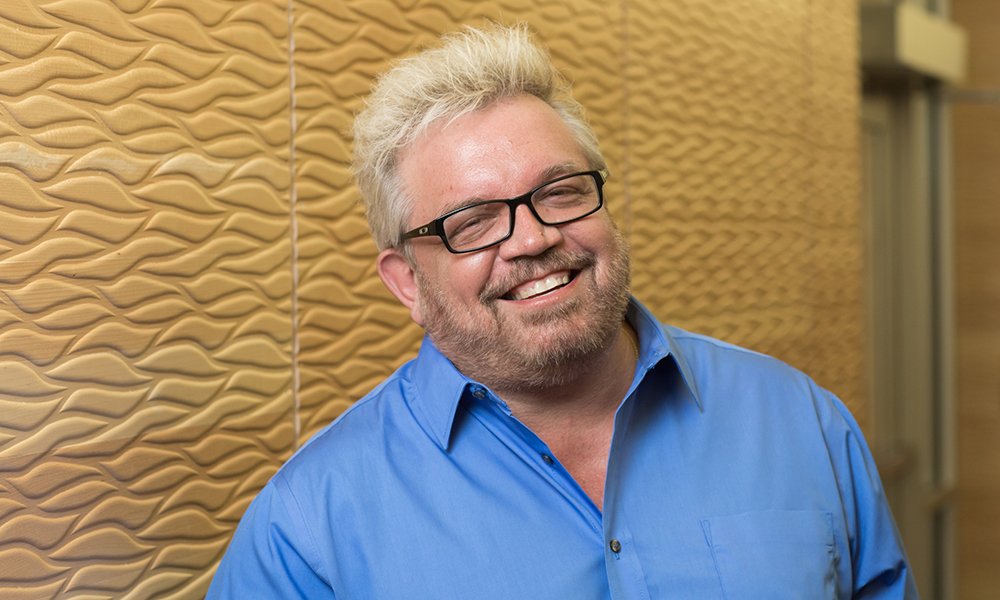 This story first appeared in the fall 2019 issue of the Arbor Light, the official magazine of Concordia University Ann Arbor.
---
Campus Pastor Randy Duncan ('88) provides uncommon encouragement to the Concordia University Ann Arbor community, and he does so on a daily basis.
In addition to teaching theology classes, pastoral counsel, facilitating Daily Chapel, and student development, Duncan assumed responsibility for CUAA's all-campus prayer email when he transitioned from director of campus ministry to campus pastor in January 2019. Duncan's personable approach to the morning communication has resonated with the campus, especially Concordia students.
"I saw the email as a way to reach an audience in more than just an informational way but also a transformational way," said Duncan. "Part of what I've tried to do with the email is not just go for the head but also for the heart."
Duncan begins his message with a vulnerable, humorous, or friendly introduction. It may be a challenge he's been going through, a lesson he's learned, or reflection from his own morning devotion.
Ever wake up with nothing really wrong but nothing feeling right? That was me this morning, and my prayers were basically just being quiet before God. You know what? That time helped tremendously and helped center me. It reminded me that my emotions are not the voice of God. He is going to see us through, friends. Oh, and in case you were wondering, I just checked and the tomb is still empty. 🙂 That's good news!
Duncan says that whether it's in print or in the pulpit, he wants to be himself and use the experiences, talents, and personality God has given him to connect with the people around him.
After his introduction, campus ministry announcements, and campus-wide prayer requests, Duncan ends the message with a final thought, adoringly nicknamed by students as "Duncan's Daily."
The succinct salutation is just a one-sentence encouragement or reminder that Duncan stores in a notebook with his wallet from things he hears, thinks about, or reads. The students will often share Duncan's Daily to their own social media platforms or write it down in their planners for the day.
"People won't always remember what exactly you said, but they do remember how you made them feel," said Duncan. "I want our students to feel loved: loved by God, loved by me, and loved by our campus. I want them to know they can come to me with anything."
The fall 2019 Arbor Light hit mailboxes the beginning of October. View a PDF version of the magazine here. If you are not on our mailing list, but are interested in receiving a free copy, call 734-995-7317 or send us an email.
— Rachel Thoms served on Concordia University's Strategic Communications team from 2015-2022. Any inquiries about this story can be sent to news@cuaa.edu.
If this story has inspired you, why not explore how you can help further Concordia's mission through giving.