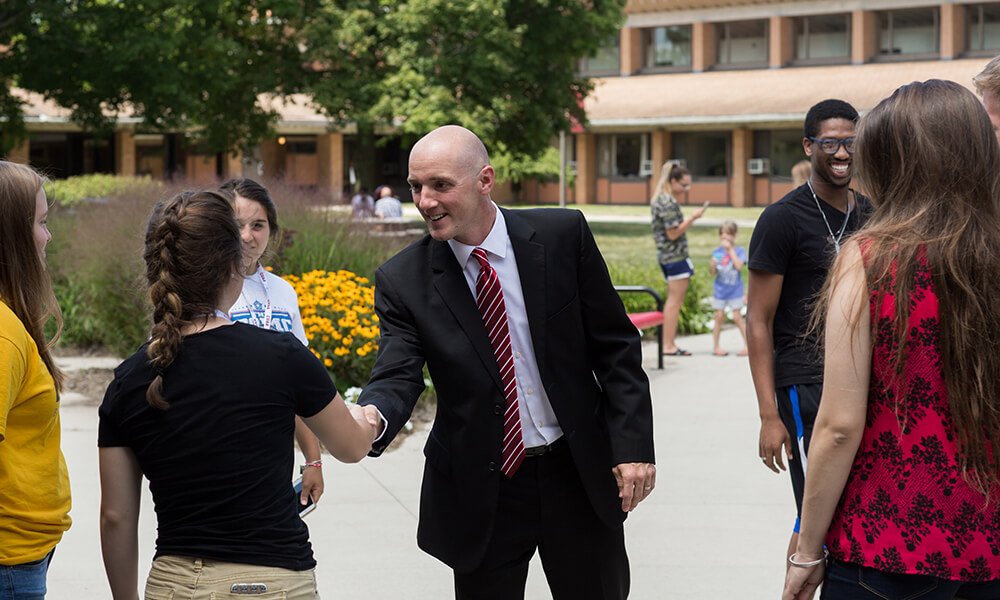 This story first appeared in the fall 2019 issue of the Arbor Light, the official magazine of Concordia University Ann Arbor.
---
I recently mentioned to some parents of new students that a few of my favorite days of the year are Fall Move-in day and Commencement. The mix of emotions on Fall Move-in day is palpable. Incoming Cardinals are excited but anxious; they're ready but nervous. The emotions of parents and guardians often parallel those of new students. Energy is in the air as the campus comes alive. Everyone (well, mostly everyone) is ready to step back into the routine of the academic year.
Commencement—whether in December or May—marks a transition. We celebrate God's work. We honor our graduates. We pray for what is ahead. Yet there's still a real plethora of emotions. Everyone (well, mostly everyone) is ready for the joy that commencement brings to students and families, and the pivotal moment it marks in the lives of graduates.
Those are my favorite days. But it is what happens between those days that sets Concordia University Ann Arbor apart from other excellent colleges and universities. As you read this edition of Arbor Light, we're between the big days. Be assured that your Concordia is living her mission of developing "students in mind, body, and spirit for service to Christ in the Church and the world." These are the days where formative conversations happen and where students take steps of faith. Some days are a struggle and others seem simple. Trusted professors are challenging students with high academic rigor. Coaches are doing more than coaching; they're guiding, leading, and shaping men and women for life.
Between the big days, students are learning what it means to Live Uncommon.
As you finish this article, would you pause and join with me in prayer for the days between the big days? Please pray for students who are struggling, that they seek strength in Christ. Pray for students who are celebrating, that they remember their identity in Christ. Pray that all Concordians would fix their eyes on Jesus, who is "the head of the body, the church. He is the beginning, the firstborn from the dead, that in everything he might be preeminent" (Colossians 1:18).
At Concordia, we're grateful for every day, because every day is an opportunity to love students and serve them well.
Rev. Dr. Ryan Peterson
Vice President of Administration
Chief Liaison to the Office of the President
The fall 2019 Arbor Light hit mailboxes the beginning of October. View a PDF version of the magazine here. If you are not on our mailing list, but are interested in receiving a free copy, call 734-995-7317 or send us an email.
—
If this story has inspired you, why not explore how you can help further Concordia's mission through giving.