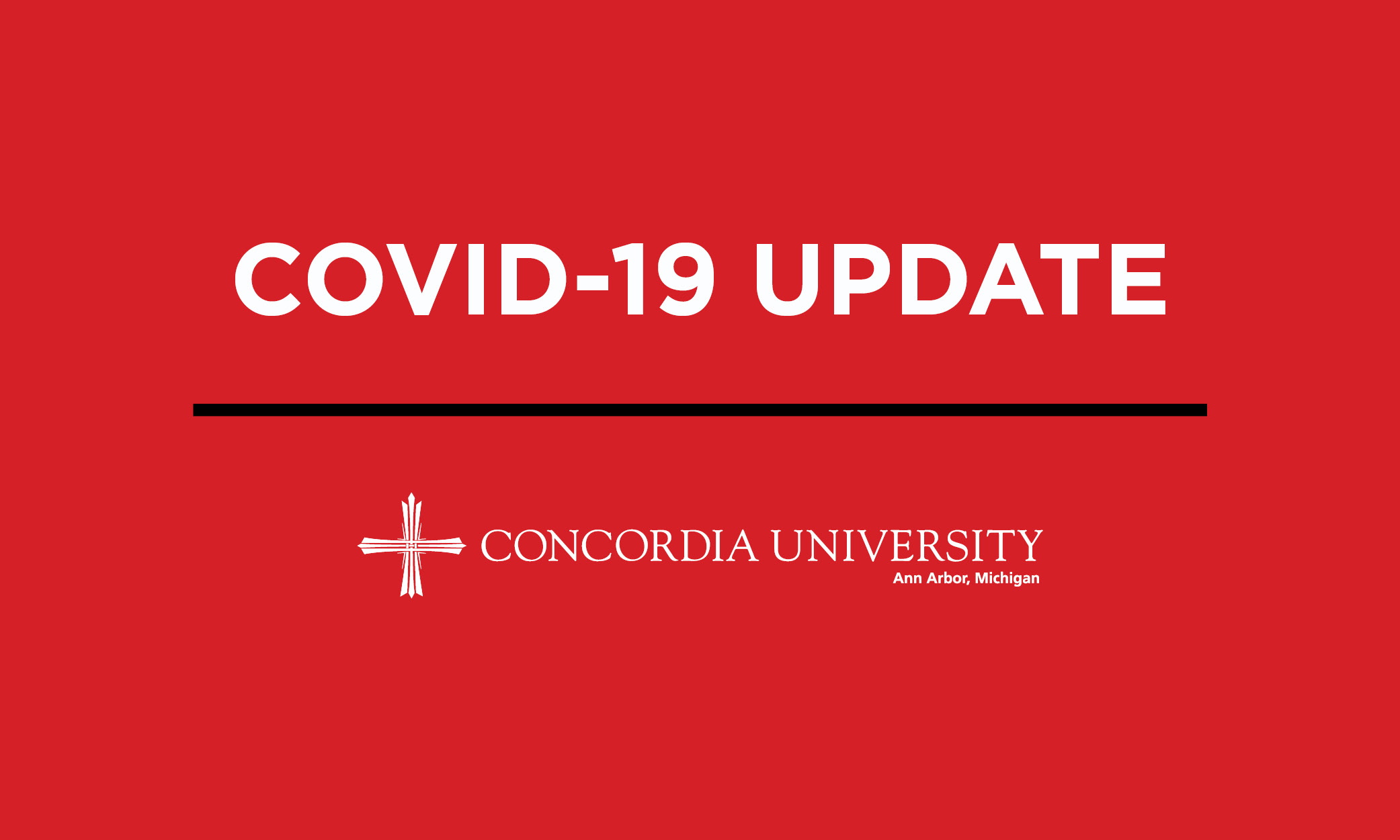 Editors note: This message from Vice President of Administration Rev. Dr. Ryan Peterson was shared with students, faculty, and staff at Concordia University Ann Arbor as a response to the Governor's order on 11/15/2020.
---
November 15, 2020
Dear Concordia Cardinals,
This evening, Governor Whitmer and the Michigan Department of Health and Human Services (MDHHS) issued a new emergency order that enacts a three-week pause targeting indoor social gatherings and other group activities in an effort to curb rapidly rising COVID-19 infection rates.
Effective Wednesday, November 18, 2020 all colleges and universities statewide will shift to virtual instruction. The order also restricts in-person extracurricular activities. We will continue to observe capacity limits in shared campus spaces including the library, fitness center, and the Cardinal Cafe.
What are the specific implications for you, beginning this Wednesday, Nov. 18?
Your classes will move to virtual instruction through the remainder of this semester.
The fitness center/weight room will be open, but with limited capacity due to necessary capacity limits.
There will be no organized athletic practices. Student athletes may work out on their own, but entire teams will not practice as a group.
We will shift to an online "Home Chapel" beginning this Wednesday. While worship is exempt from this latest order, in keeping with the guidance to take every effort to reduce the number of cases in our state, we believe this is an important step.
Lastly, the guidance addresses residence hall living and limitations. Michiganders are not to gather with more than one additional household over the coming three weeks. In residence halls, a household is considered to be your suitemates. Thus, while you will be able to gather with another suite (and only one additional suite), the common areas (CAs) in the halls are closed to indoor group gatherings.
You are welcome to remain on campus during these weeks leading up to the Christmas and winter break. Residence halls remain open and campus services are available for you. Should you choose to finish the semester at home, work with the Residence Life staff to make those arrangements. Refunds will not be issued for those who elect not to remain in the residence halls.
Please know that we will continue to study the guidance and will communicate with you if additional changes occur.
Cardinals, together, we are experiencing truly challenging times.
Your faculty and staff remain dedicated to you. Your health and well-being are of the utmost importance to us.
Continue to monitor your health.
Use the Daily Symptom Checker to report symptoms.
Make use of our Telehealth services for physical and mental well-being. (Learn more about CUAA Health)
Be intentional in reaching out to your friends and classmates.
Pray. Pray for those affected and for the many struggling with the challenges of COVID-19.
Together, we can continue to live uncommon, united and hearts together, as a campus community.
God's peace,
REV. DR. RYAN PETERSON
Vice President of Administration
Office of the President
Stay up to date on all of the latest Concordia COVID-19 details and messages at www.cuaa.edu/covid19.
—
If this story has inspired you, why not explore how you can help further Concordia's mission through giving.