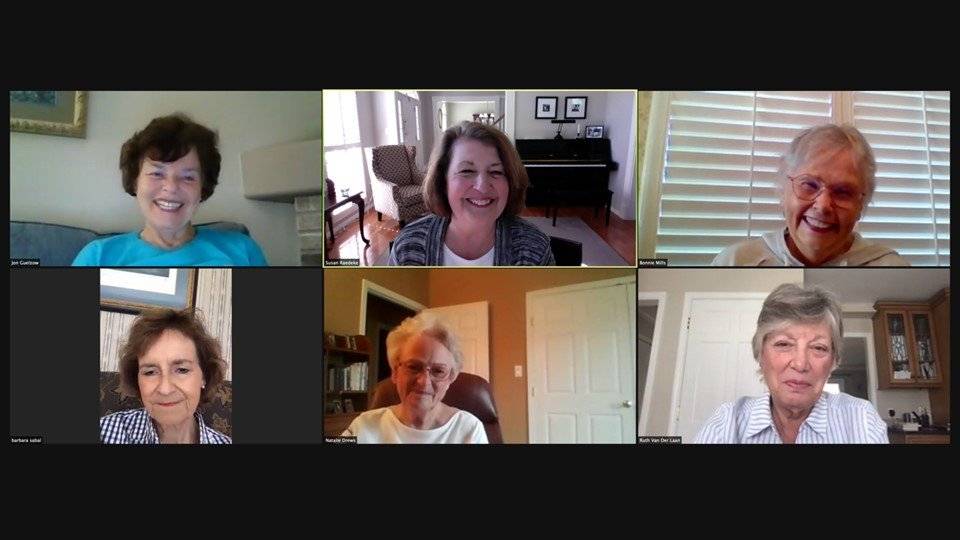 "Our Zooms are so important—not to dwell on Natalie's situation, but as a time to be with people she knows care about her. God put this in place so many years ago at Concordia Ann Arbor. Amazing!" —Ruth (Schlutz) Van Der Laan ('66) 
---
Esther Hall has been the setting for many a friendship forged at Concordia over the years.
In 1964, when Natalie (Fischer) Drews arrived, it was a brand-new building, one of many to make up the idyllic Concordia College campus which had officially opened just a year earlier. Natalie and her roommate, Jane (Agle) Guelzow, were the second occupants to ever call their dorm room a home. Their similar upbringings, faith backgrounds, and shared degree pursuits (both wanted to become teachers) quickly yoked them, and the two became fast friends.
The women found that they weren't alone in their commonalities. Close bonds were formed with several of the women in Esther Hall that year: Barb (Holls) Sabal, Bonnie (Krestensen) Mills, Ruth (Schlutz) Van Der Laan, and Susan (Vajda) Raedeke.
Following the group's graduation from Concordia, Ann Arbor in 1966, the women went on to Concordia, River Forest to complete their degrees and then went their separate ways, spreading out across the U.S. They stayed a part of each other's lives in a tertiary fashion. However, with the onset of the COVID-19 pandemic, the friends reinvigorated their efforts to stay in touch. The group began to meet regularly over Zoom. (Hardships have a way of reminding us of our need for good friends.)
"There were lots of new details for each of us to recap from the past 50 years of our lives," Susan shared. "Initially, it was a lot of reminiscing about our days at Concordia, and then it evolved into who we are now and what our current situations are."
Trust in the Lord
Not long after their Zoom calls began, Natalie was dealt a devastating blow: pancreatic cancer. The doctors told her at the time of her diagnosis in November 2020 that she would have 3-6 months to live. She has outlived that forecast so far, but recognizes that this Thanksgiving will likely be her last.
"I've put it in the Lord's hands," Natalie said. "I've opted not to have any kind of surgery or prolonging measures. My time since this diagnosis has been good—being able to share it with friends and family and knowing that God is right here by my side as my shepherd.
"I've come closer to God as my Savior," Natalie continued. "Whenever he's ready, I'm ready to be in heaven with Him."
The friends have been a support to Natalie through her diagnosis, and Natalie, in turn, has been a support to them through her demonstration of faith.
"We've been able to witness Natalie's deep faith in the face of death; to love and laugh and cry with her in this season," Ruth said. "There's a level of trust that we share that was established long ago at Ann Arbor."
Give thanks
Despite the weight of Natalie's diagnosis, the Zoom calls themselves are often filled with levity. So much so that Fridays at 4 p.m. Central are held sacred among the group. Rarely a week goes by where one of the six is absent.
They'll often set topics for discussion. In the past they've shared about their favorite hymns, favorite Bible verses, memorable students, and favorite vacations. Sometimes they've focused their conversations on books. They're currently reading "Don't Give the Enemy a Seat at Your Table" by Louie Giglio.
And this Friday, they'll gather again to recap their holiday celebrations and give thanks to the Lord for His gift of salvation – and good friends.
"Our Zooms are so important—not to dwell on Natalie's situation, but as a time to be with people she knows care about her," said Ruth. "God put this in place so many years ago at Concordia Ann Arbor. Amazing!"
— This story is written by Kali Thiel, director of university communications for Concordia University Ann Arbor and Wisconsin. She may be reached at kali.thiel@cuw.edu or 262-243-2149.
If this story has inspired you, why not explore how you can help further Concordia's mission through giving.