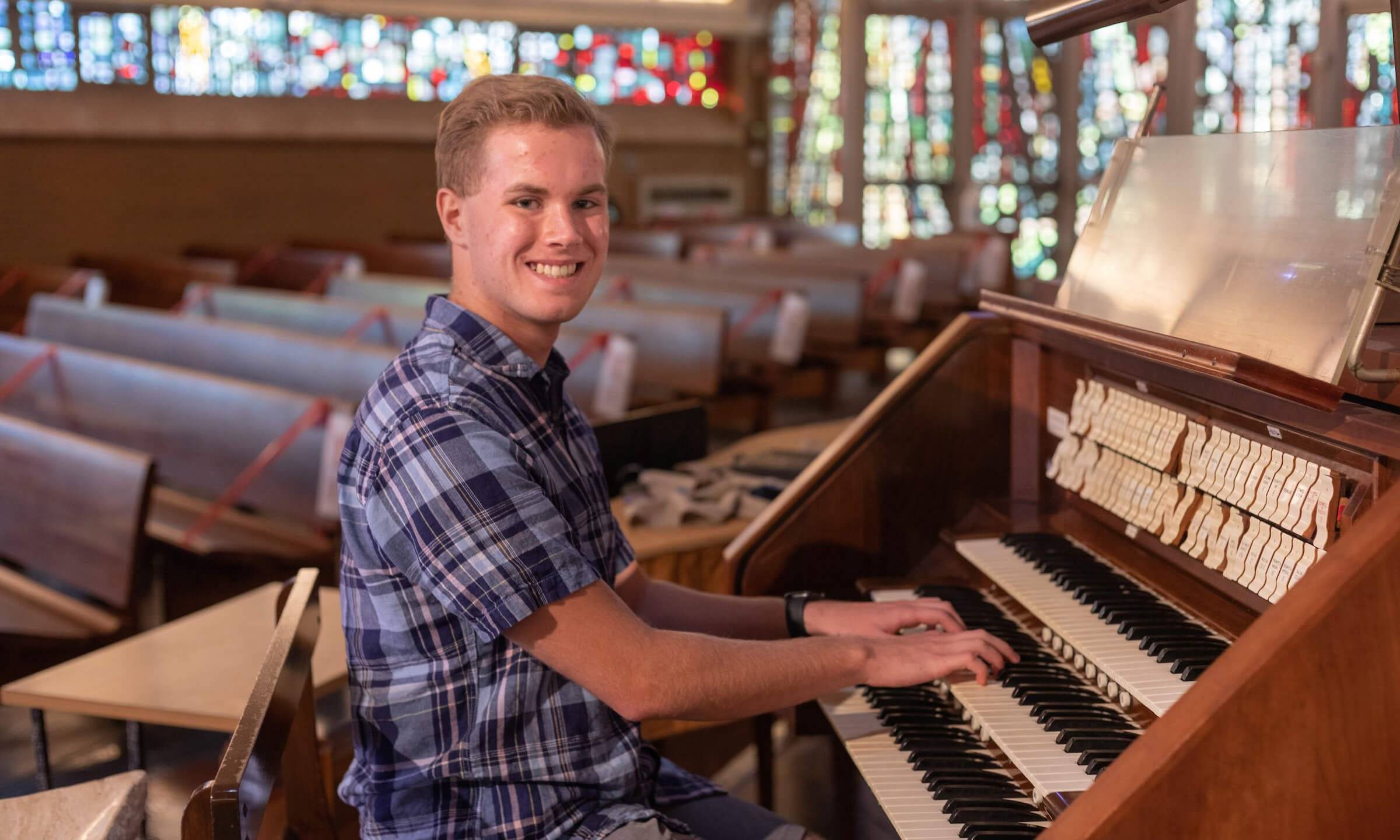 Since its inception in 1963, CUAA has prepared generations of church workers to further the Lord's Kingdom through the preaching and teaching of the Gospel. And we're proud to say this good work continues today.
---
CUAA's Office of Institutional Effectiveness recently released fall 2021 church work census data, and the numbers reflect the vibrancy of the university's efforts to prepare future leaders for the Church. Together with the CUW campus, Concordia prepares the most church workers for the LCMS, according to fall 2021 numbers. The Ann Arbor campus alone brings in the fourth-largest church work population, despite having the smallest enrollment of the seven Concordia University System campuses, and its trajectory is on the rise with its total enrollment rising 75 percent since 2014.
Within the Concordia University System, CUAA also offers:
The only Family Life Ministry program
The sole STEPS program (a paid internship program for church workers)
A 10:1 church work student-to-faculty ratio
4 church work-specific scholarships
More than 50 church work endowments (awarded annually)
Additionally,
23% of CUAA's traditional undergraduate population identifies as Lutheran (the second-highest percentage in the CUS!)
90% of traditional undergraduates at CUAA identify as Christian (the highest percentage in the CUS!)
CUAA's church work offerings
CUAA offers more than a dozen majors that distinctly prepare learners for church work, but all of them ultimately fall under the following tracks:
Pre-seminary
Many pre-seminary candidates chose to major in Applied Theology or Theological Languages; however, pre-seminary students can choose to major in any program at the university. Through the pre-seminary track, students will take required courses like new Testament, Biblical Theology, and Greek, in order to receive a solid foundation before heading off to Seminary.
---
Lutheran Teacher Diploma/Christian Education
At CUAA, students can earn their Lutheran Teacher Diploma (LTD), which makes them eligible to receive a call within the LCMS. Even without the LTD, learners can be certain that an education major at CUAA means they'll receive the highest-caliber Christian education around, preparing them to serve in all variety of educational settings.
---
Family Life Ministry
The Family Life Ministry program at CUAA equips students with the knowledge, skills, and attitudes needed to not only help families to survive, but to thrive in life and faith. In the Family Life Ministry major, students receive the academic and practical training needed to understand how people develop as individuals and how strong families function according to the Bible. Students in the program learn the Scriptures and the necessary skills so that they can lead children's ministry, youth ministry, and full family ministry in Christian churches.
---
Director of Parish Music
From learning to direct choirs and instrumental groups to supporting the structure of the Divine Service, parish music majors will develop the skills necessary to lead music within churches. The curriculum offers plenty of opportunities for practical application, taught by master practitioners themselves.
---
Pre-Deaconess Studies
Through the pre-deaconess route, students will be ready to support Bible studies, community outreach, mercy work, and administrative duties once they graduate. Learners will gain a solid theology foundation ahead of Seminary, and diversify their skillsets with two minors: church ministries and nonprofit management.
---
Want in?
Concordia wants to help our incoming students save money. Any NEW traditional student who will be starting next fall (Aug. 29, 2022) and completes the FAFSA by Thanksgiving will be awarded a $1,000 early filing grant.
Visit studentaid.gov to get started. Use the CUAA school code: 002247.
— This story is written by Kali Thiel, director of university communications for Concordia University Ann Arbor and Wisconsin. She may be reached at kali.thiel@cuw.edu or 262-243-2149.
If this story has inspired you, why not explore how you can help further Concordia's mission through giving.