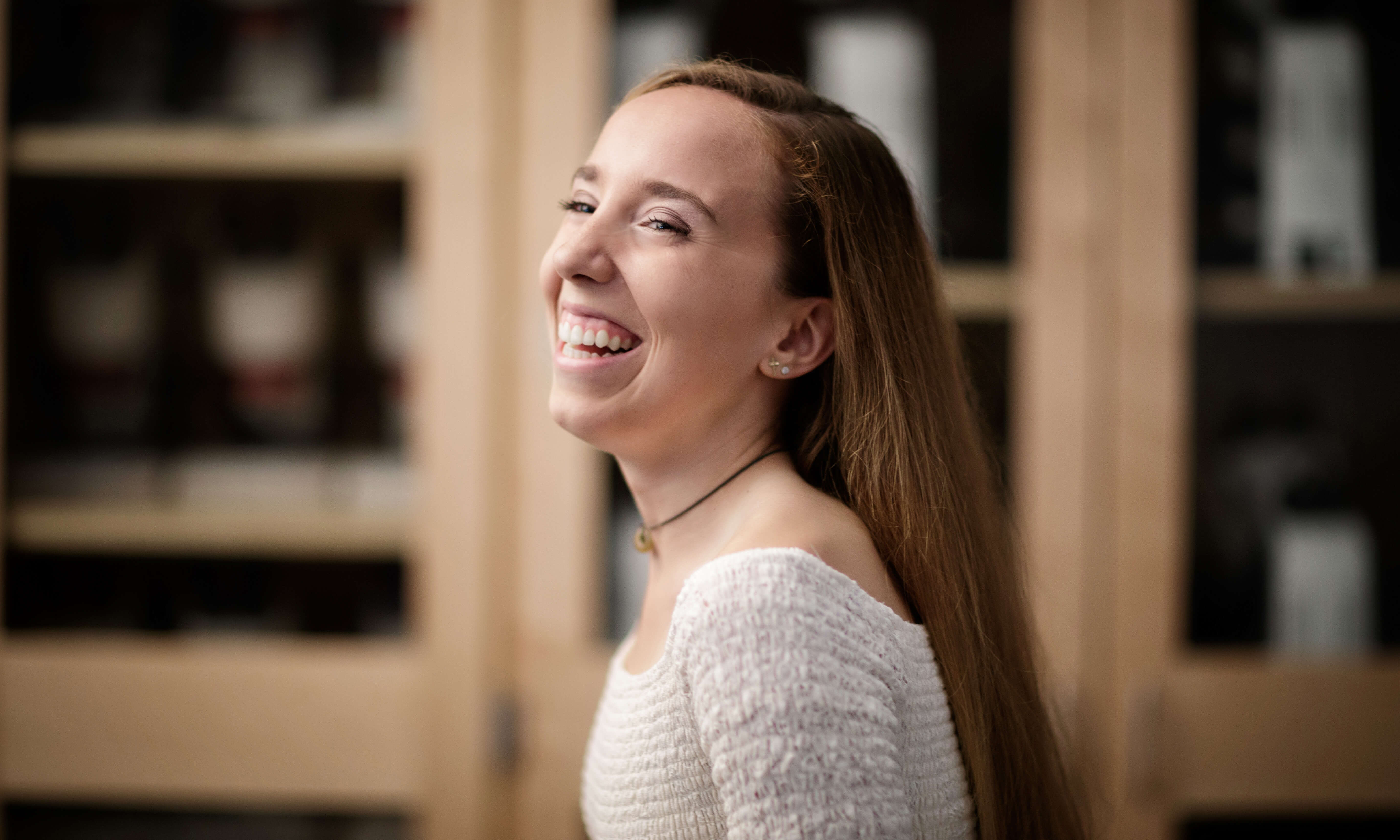 Editor's Note: This story was written for the 2018 Spring/Summer Arbor Light magazine, a biannual publication of Concordia University Ann Arbor. Catch the newest edition dropping in mailboxes at the end of April. For your free subscription of Arbor Light, email arborlight@cuaa.edu.
---
*As of May 26, 2018, Stephanie Johnston is now an eight-time NAIA All-American and Concordia University Ann Arbor's first-ever NAIA National Champion. 
As a seven-time NAIA All-American, Stephanie Johnston is already the most decorated athlete to ever compete for Concordia University Ann Arbor, but her collegiate running career is not yet complete.
Johnston, a senior exercise science major who has her sights set on earning the national title in the NAIA Track & Field meet for marathon distance, has not always been the first to cross the finish line. In fact, her first race ever was quite the opposite. As a junior in high school, Johnston came in dead last out of the 75 girls competing in the 1500-meter race.
"That was the moment I actually fell in love with running," says Johnston. "There was something about the idea of not having to compare myself to anyone else. I was running simply to see what I was capable of and to be the best that I can be."
Johnston's goal with the sport is the same as her outlook on life: Everything you do is an opportunity to push yourself and to help someone.
If you've seen her race, then you've seen the socks.
The blue-and-white-striped knee-highs boast a bright yellow lightning bolt at the center of each side. Johnston was gifted the socks in 2014 from a little boy named Garcia, a family friend, who at the age of 3 was hospitalized for aplastic anemia, a disorder where the marrow fails to produce blood cells.
She has worn the socks for every race since, as she climbed her way up from dead last to the top of the leaderboard.
Johnston shared that Garcia's mom suggested some socks with other designs that might be more applicable for everyday use, but Garcia wanted to get her the lightning bolts, "so she can be fast."
After her races, Johnston would report back to Garcia and let him know how she did. After his bone marrow transplant, Garcia's first trip out of the hospital was to watch Johnston race.
He was certain that the socks were the reason she was becoming a faster runner.
By the time Johnston was a senior in high school, she had trimmed four minutes off of her 5k-race time and received a scholarship offer from Concordia's cross country coach.
Johnston worked extremely hard at her stamina and technique, and achieved her first All-American medal at the NAIA Indoor Track & Field National Meet her sophomore year, finishing sixth overall in the 5k.
Around the same time Johnston's running career was taking off, she was beginning to accept her roommates' invitations to join them for church on Sundays.
After conversations with her friends and Campus Pastor Ryan Peterson, and catechism classes with the local church pastor, Johnston became a confirmed member of The Lutheran Church—Missouri Synod.
Now in her last semester at Concordia, Johnston reflects on the many experiences that have been made possible by her soon-to-be alma mater. When she wasn't traveling the country for national cross country and track meets, Johnston spent her time playing violin in the orchestra or with the worship arts team, helping to lead a small-group Bible study with her teammates, and even creating new inventions.
Her newest hobby started to take shape when her favorite hobby, running, started taking a toll on her body. Johnston was hitting the pavement so much that she developed a stress fracture in her foot just before the start of her senior cross country season."
I needed a project for my senior thesis, and I knew my shoes were part of the reason I had a stress fracture," said Johnston. "So I thought maybe there is a way for me to invent a shoe that is light enough for people to run properly but would also protect them from the stress of hitting the ground."
Thus emerged JBolt, a shoe designed to help runners avoid stress fractures. (See sidebar)Though she's still working through the prototype phase, Johnston has the dream of dedicating a percentage of profits from JBolt to the Aplastic Anemia & Myelodysplasia Association of Canada (AAMAC) in honor of her friend Garcia.
"That was the moment I actually fell in love with running," says Johnston. "There was something about the idea of not having to compare myself to anyone else. I was running simply to see what I was capable of and to be the best that I can be."
Johnston knows a thing or two about how important training shoes are for running, especially as she competes for the marathon distance for the first time this spring, a new race compared to her usual 5k or 10k distances.
Just how far will Johnston go? If you ask her, the aspirational goal is to compete in the Olympic marathon, but she's just as intentional with her immediate future and running with endurance the race set before her, inspired by her favorite Bible verse Hebrews 12:1.
She'll finish her successful collegiate running career, walk across the commencement stage, and become a high school physical education teacher with a passion for encouraging students to take care of their bodies and to try new things. She'll keep working on her new invention and probably try some other new hobbies, too.
"I'm so thankful for the path that Concordia has set me on for my future because of this college experience that I had," said Johnston. Whether I'm running, developing my shoe, or growing in my faith, Concordia will always be on my mind.
Stephanie Johnston wants to make stress fractures a non-factor. The 21-year-old runner was inspired to find a solution to end stress fractures for runners through an invention of her new shoe JBolt. She believed her own stress fracture could have been avoided with a better high-mileage training shoe.
CULaunch!—A new shoe solution
Johnston received the push she needed to take her JBolt innovation to the next level by entering CUAA's CULaunch! competition. Launched in 2016, the annual entrepreneurial pitch event is put on by the Haab School of Business but is open to students of all disciplines.
Through CULaunch!, students receive business coaching and feedback from a panel of judges who are business owners themselves. The judges decide which students will receive a portion of the prize money to then launch their ideas.
Johnston's JBolt won first place, and she received $1,500 to help in attaining intellectual property for her idea. Currently she's in the process of building a prototype.
Other ideas pitched by students at this year's CULaunch! competition included an expansion plan of a students' self-owned music and entertainment business and a computer programming learning module system.
"Our CULaunch! competition allows our students to turn their ideas into action and earn seed money toward launching their business," said Dr. Suzy Siegle, campus dean of the Haab School of Business. "Students learn to problem-solve, innovate, pivot, and persevere; all traits that serve them well in any business entrepreneurial endeavor."
— Rachel Thoms served on Concordia University's Strategic Communications team from 2015-2022. Any inquiries about this story can be sent to news@cuaa.edu.
If this story has inspired you, why not explore how you can help further Concordia's mission through giving.