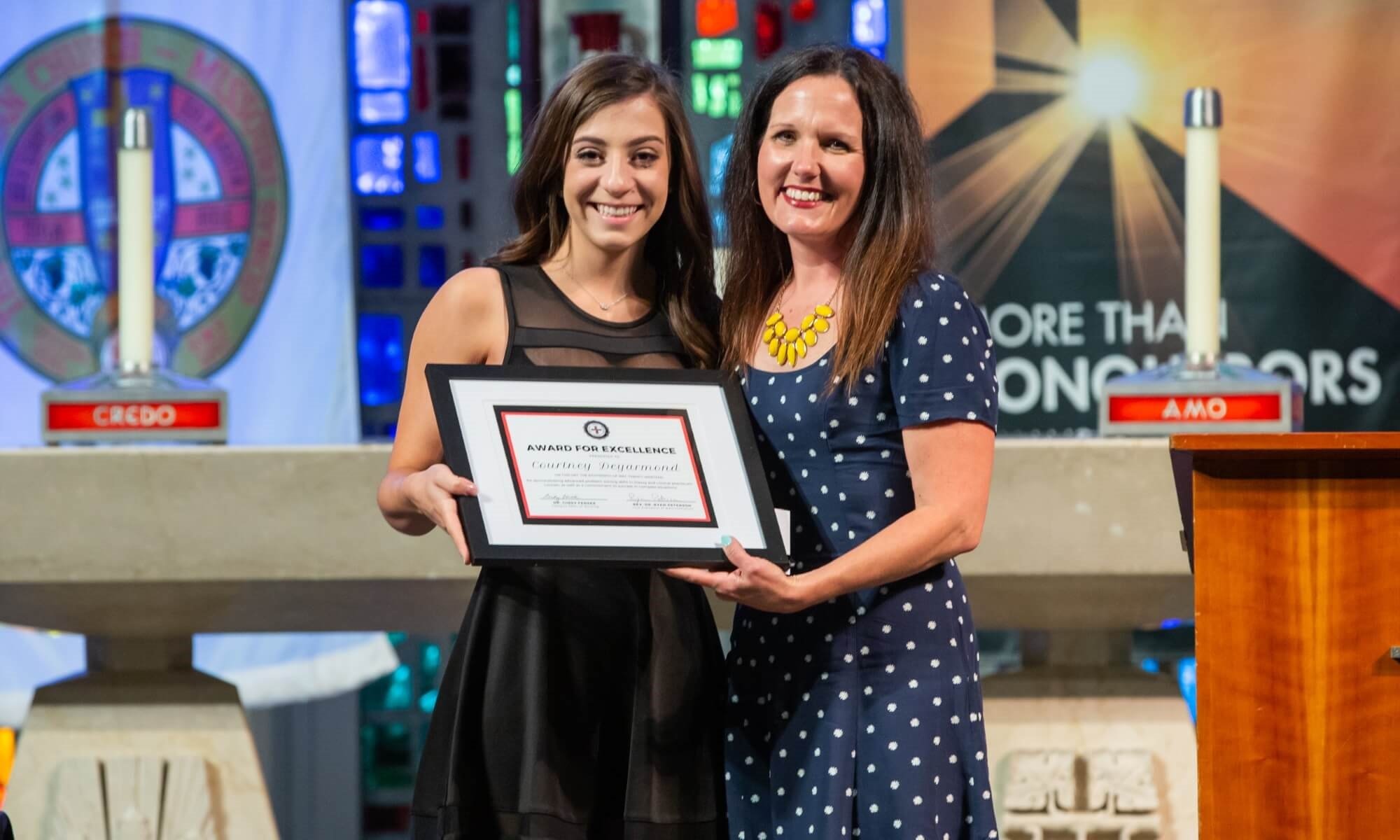 On Saturday, May 18, Concordia University Ann Arbor School of Nursing celebrated the Pinning Ceremony for the Beta Class, the second co-hort to graduate from CUAA's newest academic school.
---
Each semester, Concordia's nursing faculty and staff nominate students from the graduating cohort who best represent the core values of the nursing program: service, excellence, compassion, and integrity. An additional award, the Nightingale Award, was created as a tribute to Florence Nightingale who embodied nursing her life's vocation. The recipient of this award exemplifies that same character and calling.
Click here to see all of the Spring 2019 School of Nursing award recipients.
Excellence Award: Courtney Deyarmond ('19)
Presented by Anita Simmons
Excellence is one of our program's cornerstone virtues.  It is defined as the demonstration of actions and character that show merit or greatness and that are above the expected level. The excellence award is for a nursing student who demonstrated advanced problem solving skills in theory and clinical practicum courses, as well as a commitment to success in complex situations.
The student we are recognizing today has frequently demonstrated excellence through preparedness, hard work, and perseverance- both academically and clinically. Her clinical instructors and preceptors describe her as knowledgeable and highly teachable- like a sponge- soaking up all the learning opportunities put before her, utilizing her time in and out of the clinical setting to be prepared to give her patients the best of her abilities. Her calm presence radiates to those around her, whether it's to reassure patients, study with peers, or learn from her instructors. Her organized nature allowed her to stay ahead of the game in balancing classes, clinicals, an overseas nursing trip, working, earning her ACLS and PALS certification, as well as starting up and presiding as president of CUAA's first ever chapter of the National Student Nurses' Association. It is truly my pleasure to present this award. Thank you for exemplifying excellence, Courtney Deyarmond.
Click here to learn more about Concordia's School of Nursing.
—
If this story has inspired you, why not explore how you can help further Concordia's mission through giving.