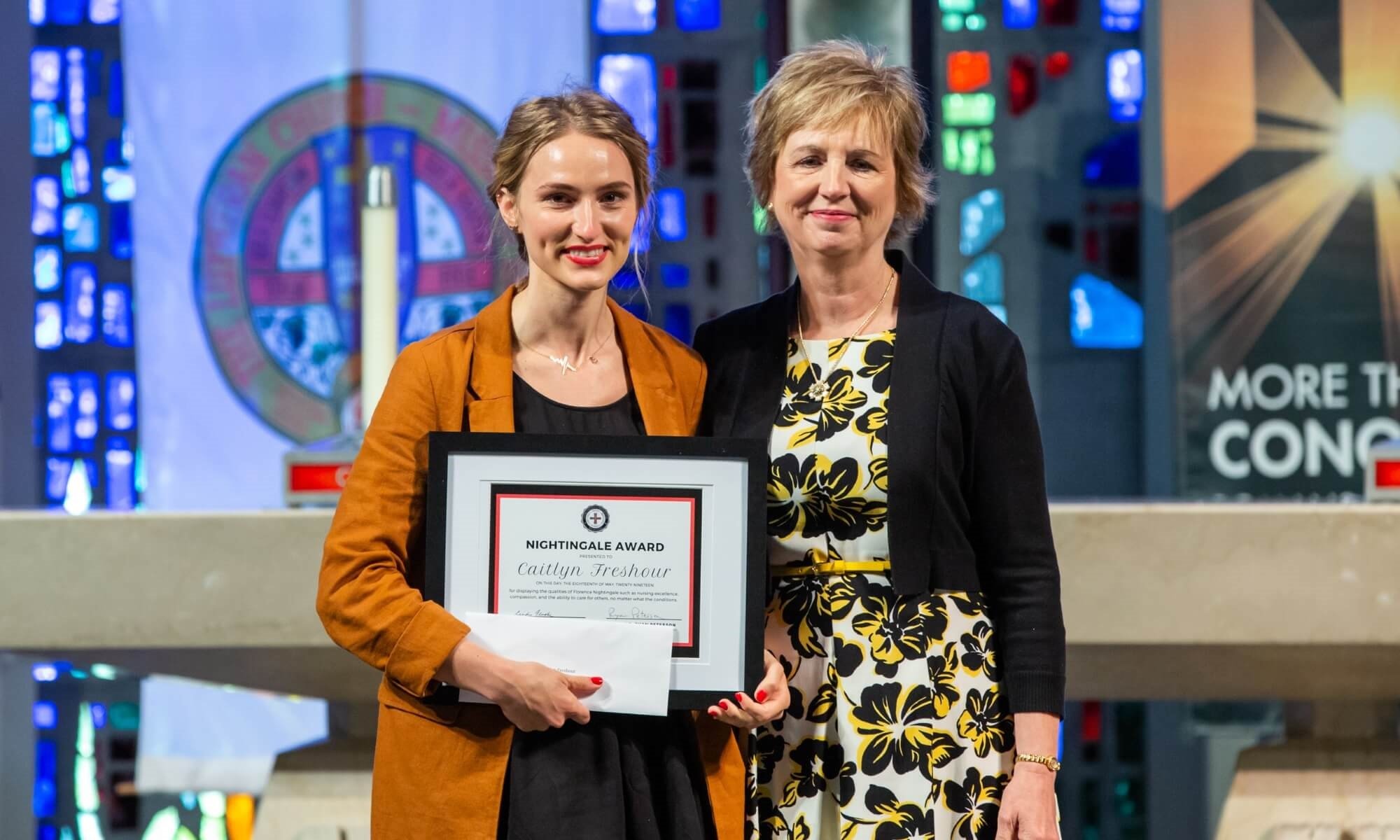 On Saturday, May 18, Concordia University Ann Arbor School of Nursing celebrated the Pinning Ceremony for the Beta Class, the second co-hort to graduate from CUAA's newest academic school.
---
Each semester, Concordia's nursing faculty and staff nominate students from the graduating cohort who best represent the core values of the nursing program: service, excellence, compassion, and integrity. An additional award, the Nightingale Award, was created as a tribute to Florence Nightingale who embodied nursing her life's vocation. The recipient of this award exemplifies that same character and calling.
Click here to see all of the Spring 2019 School of Nursing award recipients.
The Nightingale Award: Caitlyn Freshour ('19)
Presented by Cindy Fenske
For the sick it is important to have the best. —Florence Nightingale
Florence Nightingale is an iconic figure who is responsible for the philosophy and underpinnings of modern day nursing. Prior to her, nursing was looked down upon as unimportant and was a low status job. Through her efforts, nursing was reborn into the trusted profession we know today. The name of Florence Nightingale is often associated with nursing excellence, compassion, service, and the ability to care for others no matter what the conditions. Florence Nightingale viewed nursing as her calling from God and gave her life and passion to the care of others. It is in her name that we give this award to a student who displays these same qualities.
This year's award goes to a student that echoes these same qualities. It was clear from the beginning of the program that this student possessed all of these characteristics.
Without exception, they came prepared for class, simulation, lab, and clinical; always ready to do their very best. Their level of skill and knowledge showed them to be very accomplished and someone who has already made a difference in the lives of their patients and classmates. They are someone who we all believe will be a nursing leader and will have a significant impact at the bedside and in the healthcare community as a whole.
This individual is kind-hearted, soft spoken and has endless patience. They were even able to stay calm and encouraging after spending countless hours in the skills lab tutoring beginning nursing students in how to perform various skills. They went above and beyond by conferencing frequently with the lab instructors to determine the best strategies to meet the learning needs of tutored students.
This graduate volunteered a significant amount of time at the Luke 52 pre-natal clinic and spent many clinic days running their laboratory. The clinic director talked about how much they appreciated them and this person's servant's heart. Accordingly, they were awarded a scholarship a few semesters ago in memory of a nurse with a servant's heart.
This person demonstrated integrity through their work ethic, their calm demeanor even in the face of difficulty, their professionalism, leadership and display of character. We could count on a smile on their face and no complaints from their lips. We all agreed that if someday they were to take care of us, we would find comfort and know we would be in good hands.
We know she will represent Concordia very well and are proud that she is a Concordia nurse.  Congratulations to our May 2019 Nightingale Award recipient, Caitlyn Freshour.
Click here to learn more about Concordia's School of Nursing.
—
If this story has inspired you, why not explore how you can help further Concordia's mission through giving.