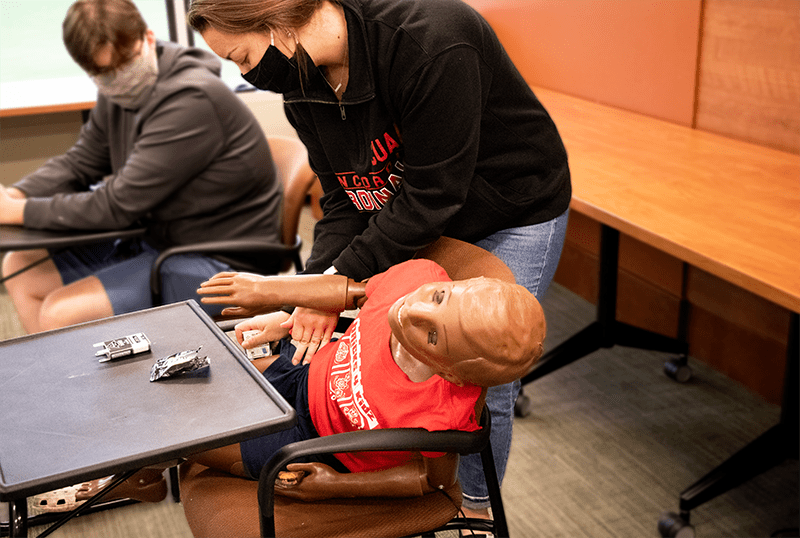 Experiential learning gives students the opportunity to learn by doing and to learn from their mistakes and failures.
---
Experiential learning in the School of Education
Broadly defined, experiential learning is simply learning from experience. This approach gives students a more accurate experience that a traditional homework assignment or assessment can't offer. Concordia University Ann Arbor's School of Education is passionate about providing authentic experiences for our students.
Sim labs for experiential learning
Recently, our School of Education students participated in a simulation lab. Our simulation labs or "sim labs" take place at our North Building, where our Center for Simulation and Innovation is located. School of Nursing Professor Anita Simmons, RN, MSN, partnered with the School of Ed in order to lead this sim lab. Simmons facilitates partnerships like this routinely, since she's the Director of Simulation and Inter-professional Education at CUAA.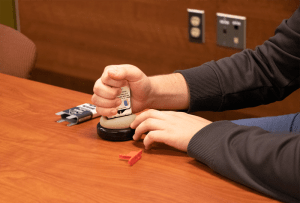 Part 1: Preparation
Before the School of Ed students conducted their simulation, Simmons led them through a training. This training included education about the medical condition, such as asthma, that would be simulated. Also, they learned how they should respond if a student experiences an emergency at school.
Part 2: Simulation
During the actual sim lab, students played the role of classroom teacher, as a student from their class suffered from a medical emergency. While one student practiced, the others played the role of students. Last time, the medical emergency was a diabetic episode. This time, it was asthma and allergies.
Part 3: Debriefing
Beth Hopkins, the Certification Officer for the School of Education, is instrumental in coordinating experiential learning for the department's students. She stated: "The value of the simulations is that they provide a safe environment for teacher candidates to learn the skills and management needed to juggle both the emergency and the environment around them." She continued: "These simulations also provide a way for the teacher candidates to discuss and process their experience afterwards with a medical professional and a professional educator. They use this debrief time to see what went well and where improvements can be made."
One of the most valuable aspects of the sim lab is this debrief. In a school building, teachers serve one role on an interdisciplinary team. There are administrators, speech language pathologists, and school nurses, for example. Students learn how to work together as a member of an integrated team when they participate in these sim labs.
Why do our students participate in simulations?
Anyone who has spent time as teacher knows the value of this simulation. As hard as it is to talk about, emergencies happen to our students. In many circumstances, the emergency happens to just one student. Our School of Ed students use these sim labs to practice managing a medical emergency, in addition to managing the other students in their class at the same time. This kind of experiential learning allows students to enter student teaching or their first job with some authentic experience to support their approaches.
Experiential learning at CUAA
Sim labs are only the tip of the iceberg when it comes to experiential learning at CUAA. In addition to participating in these labs for their coursework, students must complete in-person field work hours. All of this practice helps teacher education students see what being a classroom teacher is actually like. Additionally, this field work practice culminates in student teaching, which is the capstone of the School of Education experience.
If you want more information about Concordia University Ann Arbor, visit us here.
— Vanessa Lane is the Content Marketing Lead at Concordia University and can be reached at vanessa.lane@cuaa.edu. When she's not at work, she can be found playing with her kids or watching NBA basketball with her husband.
If this story has inspired you, why not explore how you can help further Concordia's mission through giving.