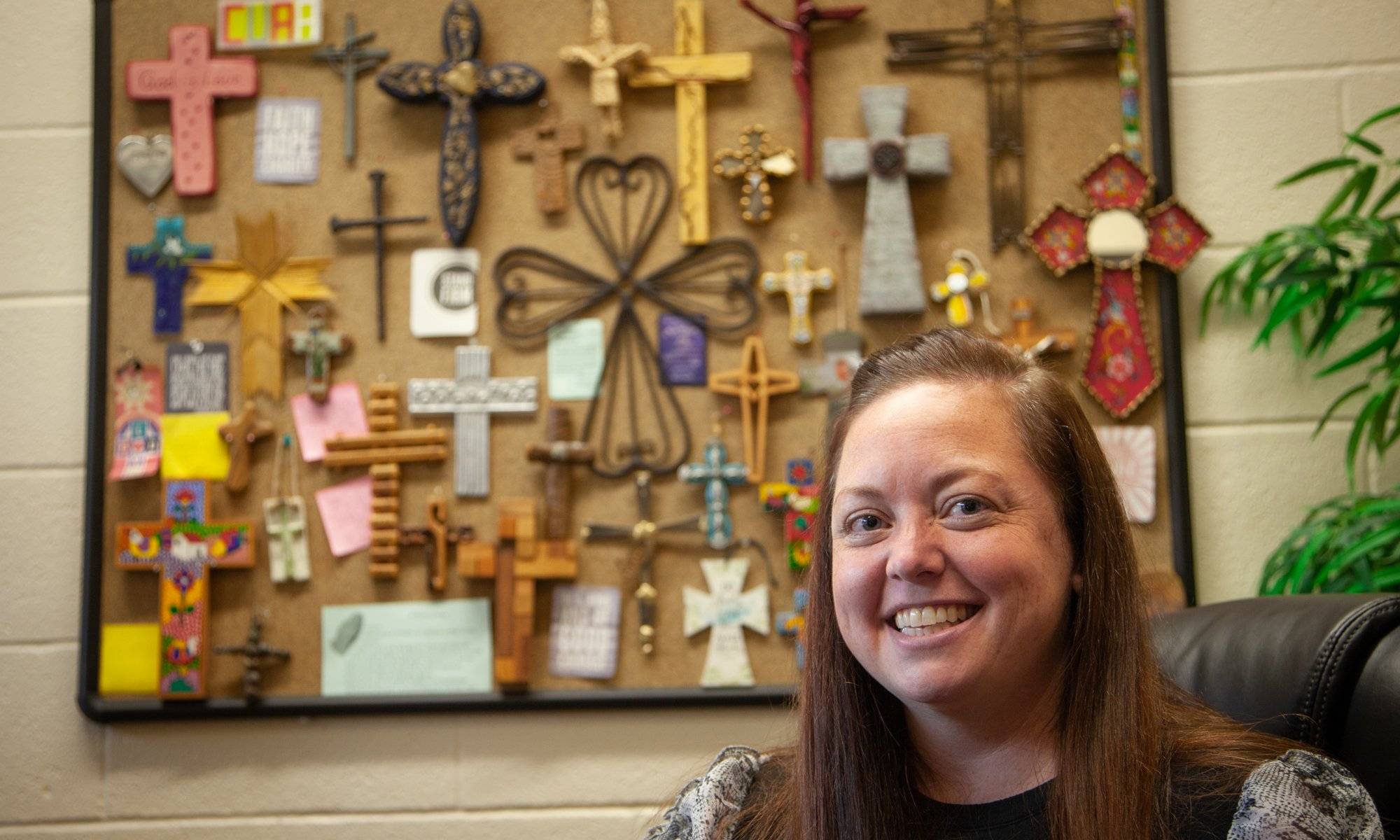 Celebrating some of our favorite hidden treasures in the nooks and crannies of the offices at Concordia University Ann Arbor. The first in a series.
---
Most everyone who works at CUAA has a few special items in their office. Sometimes, the most meaningful things have the most interesting stories behind them. Here are just a few we've discovered (so far) …
At the Foot of the Crosses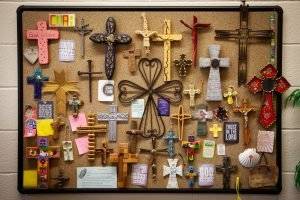 Sara Clemm von Hohenberg, associate Professor of Secondary Education
Traveling the world has long been a great joy for Sara Clemm von Hohenberg. And one way she remembers the different countries she's visited is to bring home a cross as a memento.
"I wanted something to remind me of each country, that symbolizes something from me," she explains. "My faith was the first thing I thought of, and so I collect crosses. It's so cool to me to see how different countries interpret the idea of the cross."
Her list of visited countries is up to 22 now, so the collection has become quite extensive. It includes wooden crosses, metal crosses, hand-painted crosses, "artsy" crosses, as well as crosses inscribed with prayers, decorated with trinkets, and more. The board on which she displays them also includes other mementos, notes of encouragement, and anything else she thinks might help keep her and students in a positive frame of mind.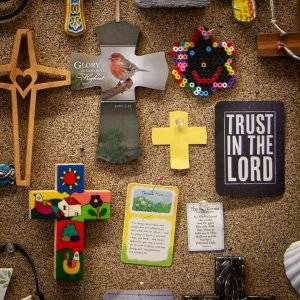 "My old boss, Michael Uden, was great about sending us positive, inspiring things all the time," she explains. "So I like to put up stuff like that, and students will add things, notes to 'have a good day,' that sort of thing."
When Sara speaks with students in her office, she makes a point of positioning her cross collection in the background. It gives them something to look at while they talk, she says, and helps create a "calm space" within what can be a stressful environment.
And among all the intricate, colorful, and exotic crosses in the collection, perhaps the most meaningful is also the simplest.
"I love this," Sara explains, referring to a small, yellow, paper cross. "It's from one of my students, who said, 'I don't have a cross to give you, but I wanted to be represented on your board.' So they literally just cut one out of yellow paper and gave it to me to put on the board."
---
Life, Death, and Lockdowns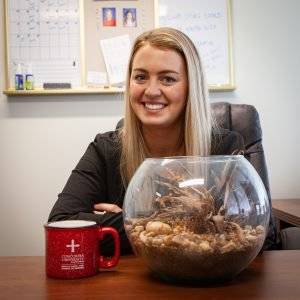 Natalie McHugh, Assistant Professor of Nursing
When the COVID-19 lockdown hit last spring, Natalie McHugh inadvertently left something behind when she vacated her office. Many months later, after a year of working from home, that special plant, since deceased, has taken on new meaning. She explains:
"My husband bought me a terrarium for Valentine's Day once in college because 'a bouquet of flowers just dies,' and this item would continue to live and be beautiful. My friends and I made fun of him for it back then, but now it is a tradition that has sort of stuck. So, when I finally got a real-life, big-girl office he bought me this terrarium of living plants for my window.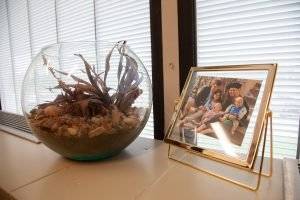 "When COVID hit, I never went back to my office and sort of forgot about it (whoops, guess I am not the romantic one!). When I walked in after not seeing my office for a year, I felt an overwhelming sadness. The plant was beyond dead and I realized I had abandoned it. I decided to keep it anyway.
"Now when I walk in it serves as a daily reminder of how fragile life is. It helps me to remember to try desperately not to take the day, my students, my children, my life, and my friends for granted. It reminds me of how fragile life can be, how quickly life can change, and to embrace every day."
---
The Meaning of Teaching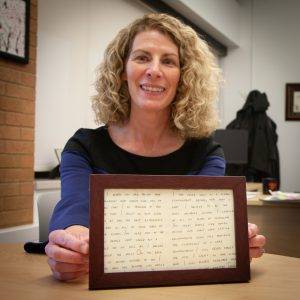 Erin Laverick, Vice President of Academics
For Erin Laverick, education is a cherished value; teaching is a passion. She had a great role model for this, her father, Brad Knoche, who taught at South Milwaukee High School for 36 years. After he passed away last year, her uncle read a letter at his funeral. It was addressed to "Mr. Knoche," from a student who thought so highly of her favorite teacher she wrote him a letter expressing how much he meant to her.
After the funeral, he gave it to Erin and she had it framed. Today it sits on the windowsill of her office. It reads in part:
Dear Mr. Knoche,
I heard you are facing some challenges and would like you to know that I am thinking of you. The time I spent in your class was by far the best experience I had in all my four years of high school. You were one of the few people that could put a smile on my face as I walked through the halls. On the back of my senior picture to you I wrote how you became like family to me, and I meant that. You truly cared for other people in a way I had never seen in a school environment before, and that is what I believe to be the most valuable lesson I learned in all my years of schooling. You treat people like human beings and form long lasting relationships while still providing the experience of a work environment. I will never forget the time I spent in your class, and I will always remember your fun, outgoing, positive attitude.
"It's so meaningful to me because it's a memory of my father, and it depicts what I try to do every day, the kind of teacher I try to be," Erin says. "It speaks to who he was as an educator and what I aspire to be as a teacher and educator."
---
Do you have an interesting item to share?
Or, do you know of someone on Concordia's campus who's office item has a story to tell? Let us know! Share with us a summary at news@cuaa.edu.
—
If this story has inspired you, why not explore how you can help further Concordia's mission through giving.