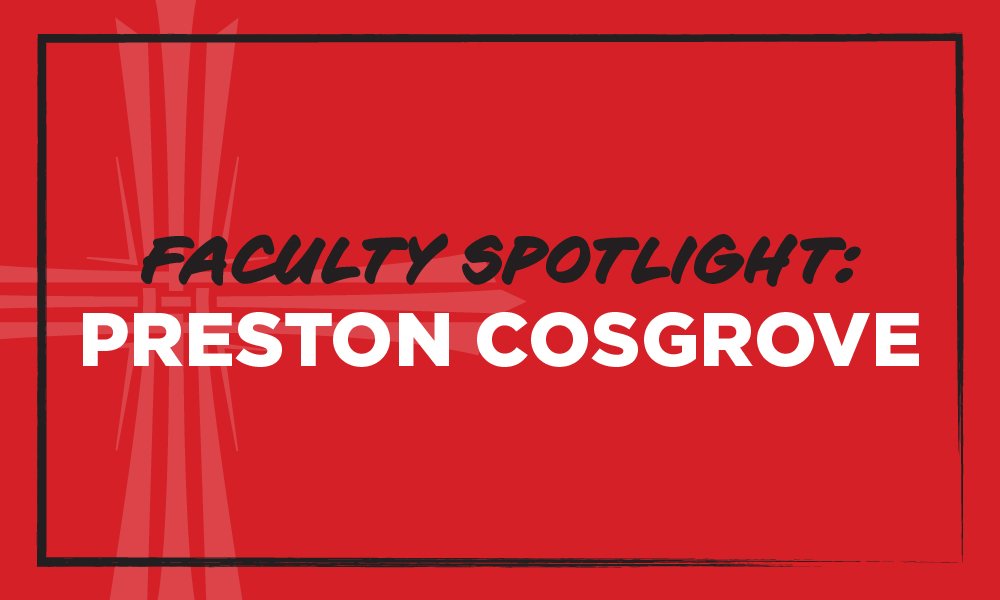 Preston Cosgrove, Ph.D. is an Associate Professor in Concordia's Doctorate of Education in Leadership in Innovation and Continuous Improvement (LICI) He has been teaching at Concordia since 2018 but has worked in higher education since 2006. Aside from teaching, he has held various leadership roles within academic departments, accreditation efforts, and strategic planning.
---
Why did you choose a career in education?
My father is a recently retired college professor and my mother is a retired college librarian. As a child, I remember them reading to me as I fell asleep, visits to museums and libraries, and exploring nature. Over time, I formed a deep love of learning and an intellectual curiosity.
Perhaps it is unsurprising then that my top "Strengthsfinder" themes are Intellection, Learner, Analytical, and Context. As a result, I found working in higher education and teaching adult graduate students to be the perfect avenue for helping others grow in their own thinking and curiosity about the world.
What is your favorite course to teach in the LICI program?
Without a doubt, the course on Qualitative Research. Given that we live in a world saturated by "big data" and statistics, most students start the course with significant misconceptions about the topic and low expectations for its relevancy. I love tackling such beliefs head-on and helping students slowly build their knowledge of qualitative research and why it's important to understand our complex world.
What is your research interest in the education field?
I typically find myself interested in researching anything that connects to my teaching. Recently that has been the nature of Christian higher education. What makes the education one receives "Christian" in some way? That is a challenge and an opportunity that I get to undertake at Concordia every day.
Also, I have an interest in the philosophy of social science research. That sounds quite boring to most. But it unpacks important questions like: What is the nature of reality and truth? How can we gain knowledge of that? What constitutes credible ways to engage in research? In the LICI program, such questions are vital as our students must undertake their own dissertation research.
Why do you feel the cohort model is critical to a student's success in the LICI program?
The doctoral journey is never a road traveled alone. Critical to that is our cohort model, which gives students not only academic support but social and emotional as well. Many of our graduates speak to the close personal and professional friendships they developed through their cohort experience. Just recently I had a conversation with a group of students who were in the same cohort many, many years ago. And long after their program had finished, the deep friendships remained.
What are the strengths of Concordia's Ed.D. program compared to others?
Two things stand out immediately. First, the quality, responsiveness, and intentionality of our faculty and staff. From their first inquiry into the program through their dissertation defense, our students know they are cared for and supported by our LICI team.
Second, students write their dissertations through a series of 1-2 credit research seminars, taught by their dissertation chair. These courses provide the necessary support and information for students exactly when they need it. This is unique compared to most programs where students write their dissertations on the side. Instead, students engage with their research and their dissertation chair right in the curriculum.
What advice do you most often give to your LICI students as they write their dissertations?
On the first day of the program, I tell students that if they are going to complete coursework and their dissertation, they are going to have to give up something they like, and it could be something they love. Not forever give up! But for a season of their life. Otherwise, in a schedule already filled with work, family, hobbies, etc., what gets squeezed from their schedule is the dissertation.
The second piece of advice I give about the dissertation is to remember the proverbial "marathon, not a sprint." No one can blitz or rush their way to completion. Instead, the slow, steady work that they put in, day after day, will pay off.
---
If you're considering a Doctorate in Education, check out what students are saying.