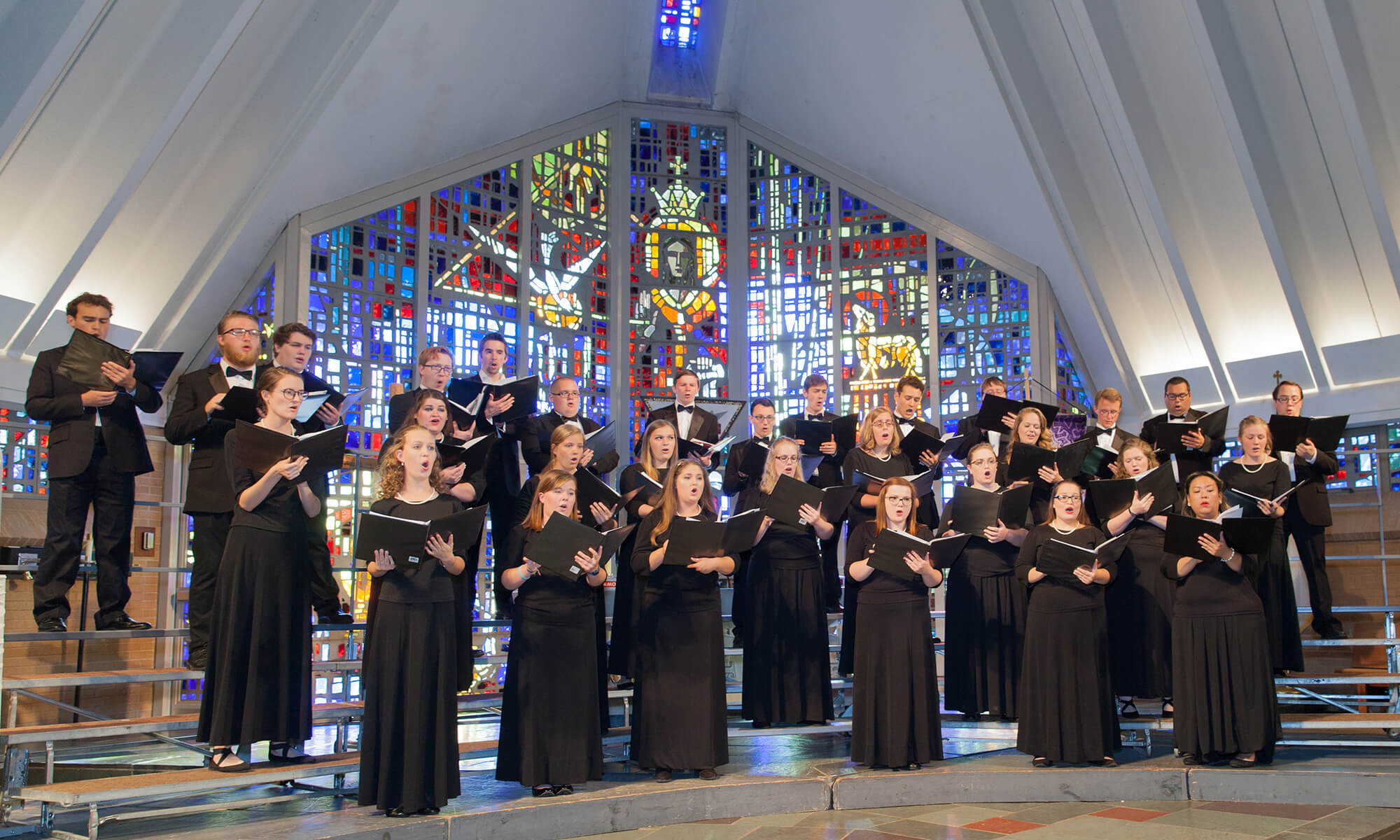 Concordia University Ann Arbor's music groups will begin a five-day tour through northern Michigan this week that will culminate with a home concert on Sunday, Oct. 21.
---
The tour will kick off tomorrow with a stop at Saginaw Valley Lutheran High School. The Concordia Choir, Concordia Wind Ensemble, and Concordia String Ensemble will also perform at Lost Valley Bible Camp & Retreat Center and three Lutheran Church—Missouri Synod congregations in Reed City, Petoskey, and Alpena.
With a program titled "Symphony of Sounds," the trio of CUAA music groups will showcase a combination of works, including a new transcription of the final movement of Igor Stravinsky's momentous "Symphony of Psalms." In addition to the Stravinsky, each group will perform independently, performing music by Copland, Haydn, Ticheli, Ewazen, Corelli, and J.S. Bach.
The following fall tour concerts are free and open to the public:
Under the direction of Dr. William Perrine, CUAA's Wind Ensemble is an auditioned group of wind and percussion players, and its repertoire is chosen from the finest traditional and contemporary wind band selections. Earlier this year, they performed at the International Music Festival in Chicago.
Dr. Brian Altevogt, director of choirs and vocal studies, conducts the select voice choir, which performs a wide variety of sacred, choral literature ranging from Renaissance motets to masterworks of the 20th century.
"When our musical ensembles tour, I consider it a traveling art exhibit, and I'm eager to share our art with various communities and congregations," says Altevogt. "We provide these communities the opportunity to share and gather a meaningful musical experience, ideally prompting conversations and inspiring people to develop and create similar musical experiences," he added.
Other upcoming concerts include:
"Bach Vespers" on Sunday, Nov. 4 from 5-6:30 p.m., Chapel of the Holy Trinity. The Concordia University Chamber Choir and Boychoir of Ann Arbor will combine in this free concert on campus, 4090 Geddes Road.
"Choir and Band Veterans Service" on Monday, Nov. 5 from 7-9 p.m., Hill Auditorium. These two CUAA ensembles will perform in this free event. Those interested in attending are asked to reserve their tickets here.
"Men's & Women's Chorale Concert" on Wednesday, Nov. 7 from 7-9 p.m., St. Luke, 4205 Washtenaw Avenue, Ann Arbor.
For more details on upcoming fall concerts or Concordia University Ann Arbor's music department and music degrees, please visit www.cuaa.edu/ensembles.
—
If this story has inspired you, why not explore how you can help further Concordia's mission through giving.