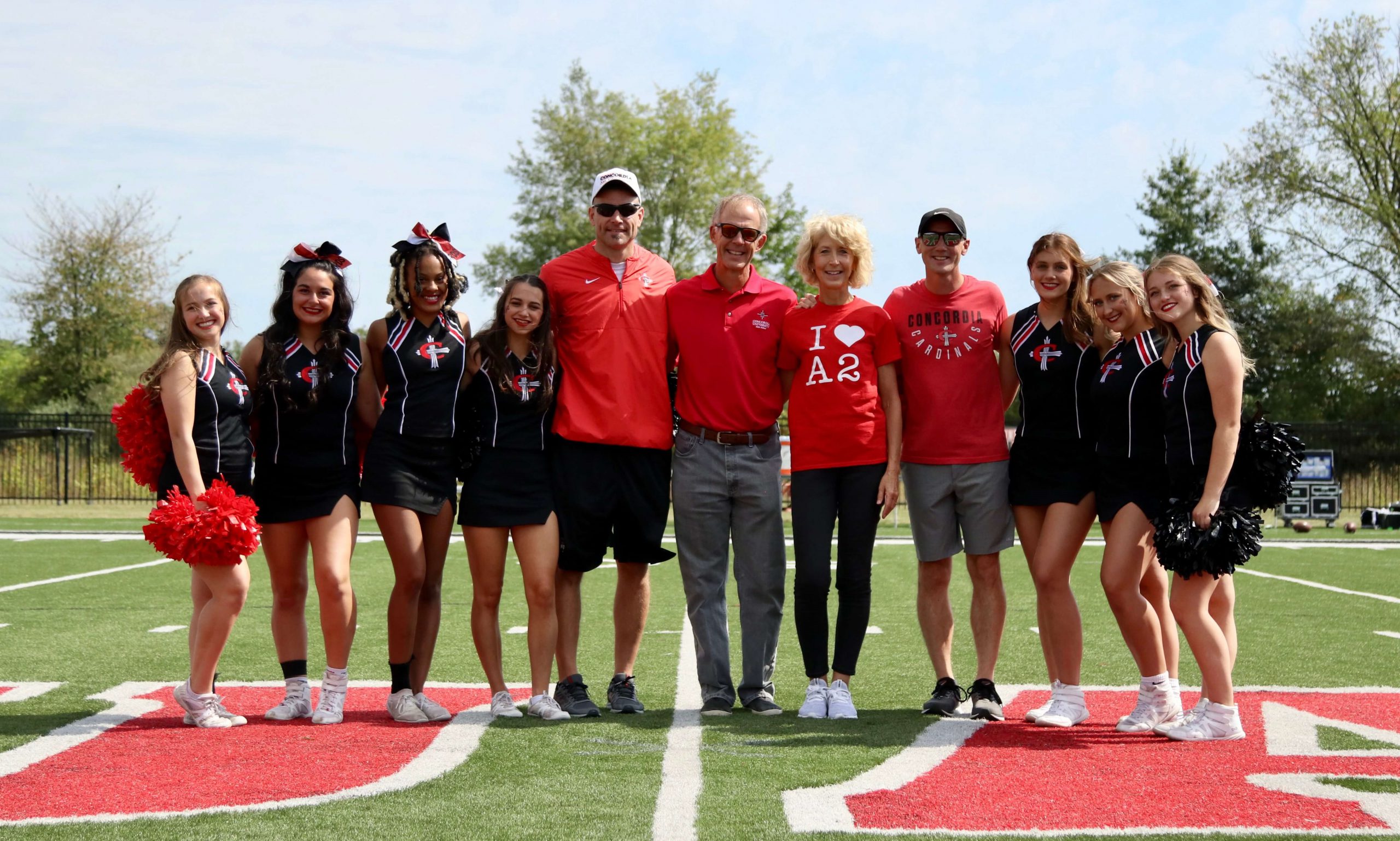 Today marks a significant day in Concordia University Ann Arbor history as Patrick T. Ferry Field at Cardinal Stadium was officially revealed in today's football gameday naming ceremony.
---
President Emeritus Rev. Dr. Patrick T. Ferry, Ph.D. and his wife, Tammy Ferry, Ph.D. were recognized at the 50-yard line preceding the game. Concordia Cardinals celebrated a physical representation of one of their campus legacies, as the the pro-turf field at Cardinal Stadium has been named Patrick T. Ferry Field in their honor.
In spring 2021, the Concordia Ann Arbor campus community joined Dr. Ferry in the celebration of his retirement from the University after 30 years of service. His retirement from the university officially began on July 1, 2021.
"I'm truly humbled and grateful for this honor," said Rev. Dr. Patrick Ferry. "I'll always be a big fan of Concordia Cardinal athletics. It's awesome for me to be connected to it in this special way."
Ferry's leadership legacy
Ferry's 30 years of service to Concordia are full of notable accomplishments. Perhaps the most impactful achievement–for Cardinal fans–took place in 2013 when Concordia Wisconsin and Ann Arbor successfully merged to become one university with two distinct residential campuses.
Related: Ann Arbor campus "milestones" celebrated at Ferry Fest
Under Dr. Ferry's leadership, Ann Arbor has added over 30 academic programs, launched 8 varsity athletic programs, and completed numerous building and renovation projects, including the addition of the North Building and the completion of this very Cardinal Stadium five years ago. Since 2015, enrollment at Concordia University Ann Arbor has grown faster than any other university in Michigan.
Cardinals sports fan, lifelong athlete
Beyond his visionary leadership, Dr. Ferry is a true Cardinals sports fan. He has cheered on Cardinals student athletes whenever possible over the last 8 years, whether in person or on livestream. He checks the scores and likes the @CUAAcardinals recap tweets.
Dr. Ferry is also an athlete himself. He played college basketball and switched his craft to running later on. He is currently training for his 26th marathon which he'll run next month in Chicago and has an impressive running streak going. With the exception of a forced 8-day break because of the flu in 2019, he has run every day since December 21, 2012.
Leadership is a team sport, and every team player knows that success is not possible without good teammates. Patrick T. Ferry's ultimate teammate, Tammy, has been by his side for 36 years of marriage, raising five children, earning her doctorate degree, and working alongside him as Concordia Executive Director of Institutional Effectiveness.
Thank you, Dr. Patrick and Dr. Tammy Ferry.
We present to you, for the first time, Patrick T. Ferry Field at Cardinal Stadium!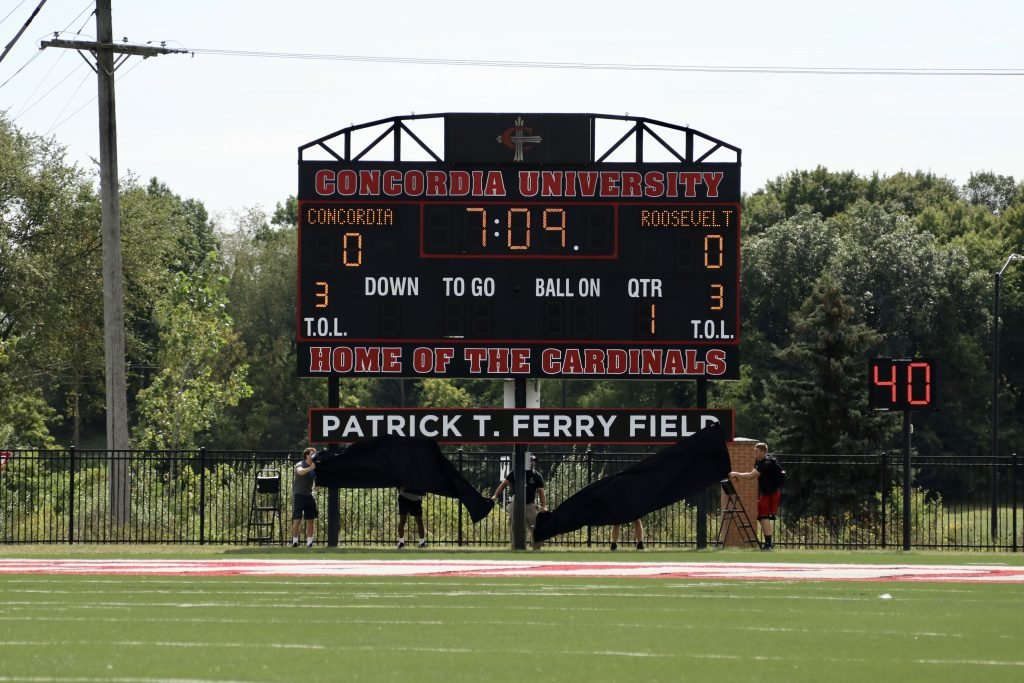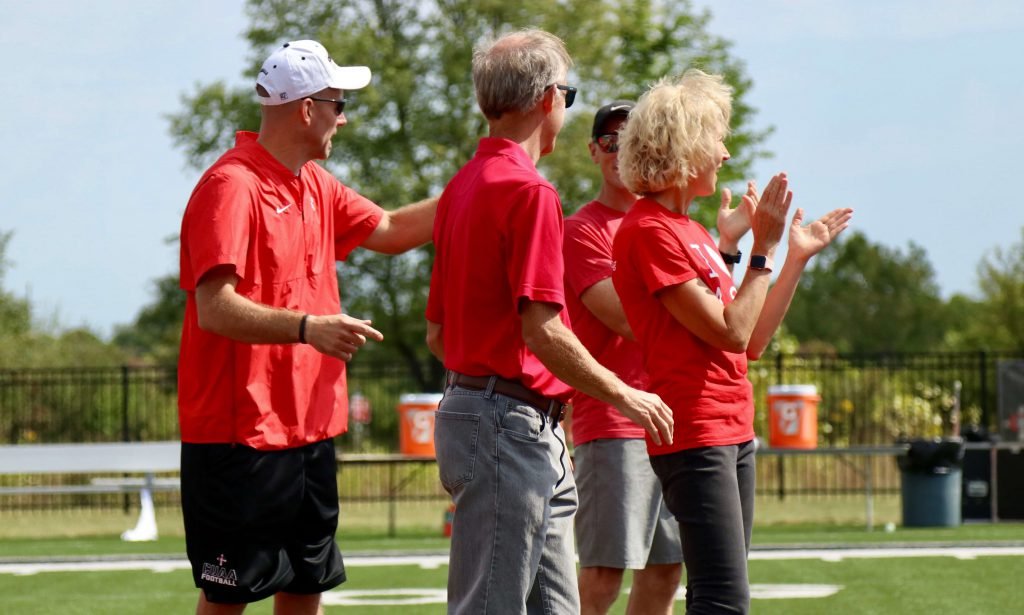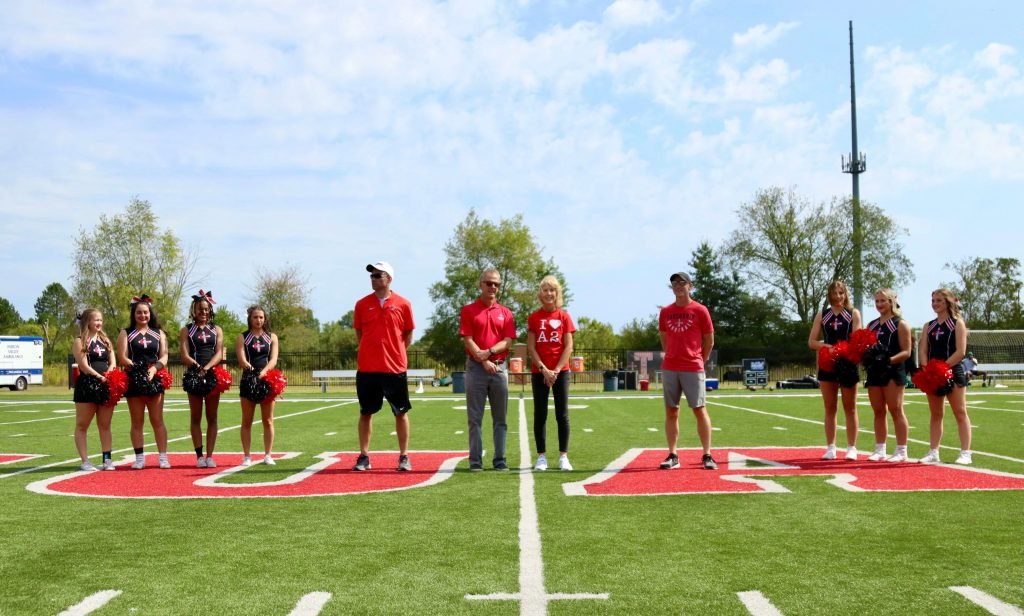 — Rachel Thoms served on Concordia University's Strategic Communications team from 2015-2022. Any inquiries about this story can be sent to news@cuaa.edu.
If this story has inspired you, why not explore how you can help further Concordia's mission through giving.