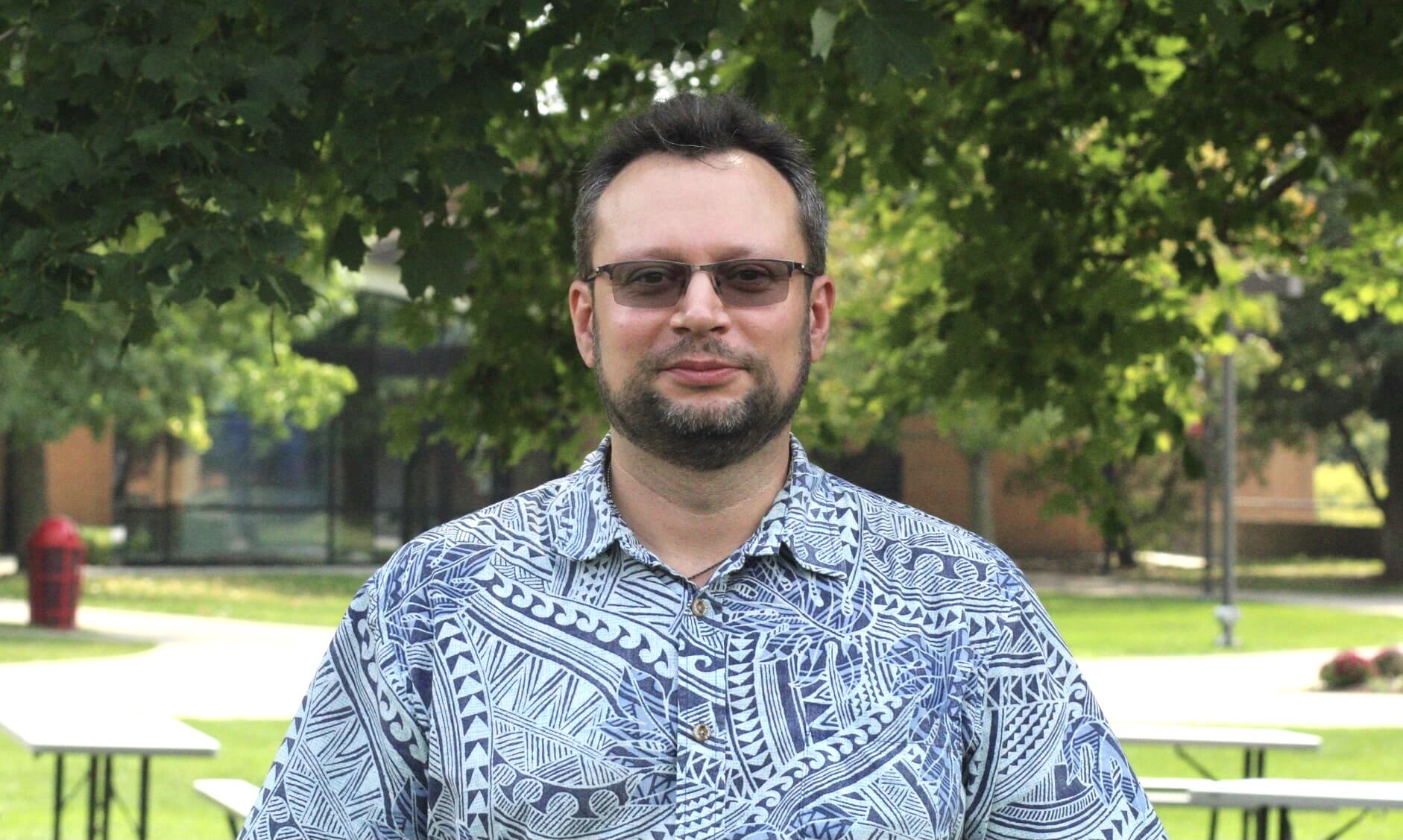 Oleg Ivanets, PhD, has experienced higher education as just another number. He earned his doctorate from a state school in Hawaii, and while the program was reputable – well respected, even – the experience left much to be desired.
---
As one of 140 students in several of his courses, Ivanets quickly learned it was nearly impossible to form connections with professors. Lectures were intentionally structured to deter questions or input from students due to the sheer magnitude of enrollees.
So when it came time for him to share his wisdom and scholarly insights as head of his own classroom, Ivanets knew he wanted to find something more personal. He found that in Concordia University Ann Arbor.
"Being in this environment where the student is important and everyone is on board with that, I think, is the most important thing," Ivanets said.
Leading with faith…
Now a part of Concordia's leadership team, Ivanets has put his philosophy into action as the new Chair of Quantitative Business for both the Ann Arbor and Mequon campuses. Ivanets began his new role in August 2021. As department chair, he heads up all of Concordia University's accounting, finance, economics, data analytics, and actuarial science programs. He is one of only two department chairs within the university who is based on the Ann Arbor campus.
In addition to his affinity for relationship-building, Ivanets values Concordia's faith focus.
"Being able to bring discussions about morality and social problems into the classroom is very important to me," he said. "As a Christian myself, I find that our faith brings answers to the challenges we have today in the financial system, and I am happy that Concordia University encourages us to share our beliefs as the foundation for our theoretical and practical knowledge."
Leading with a liberal arts focus…
In fact, Ivanets posits that our faith should compel us to find a better solution for the world's problems. Concordia's liberal arts approach to education, likewise, reinforces the importance of questioning the norm and finding a better way.
And the financial world has plenty of need for a better way, says Ivanets. Mainstream Economic Theory, the primary philosophy that is taught and lived out in schools and society today, endorses a "kill or be killed" approach.
"I find it very problematic," says Ivanets. "The biggest problem with the financial system today, as I see it, is the fact that it ignores the moral consequences of its business. I see severe social and environmental problems rising in recent years due to the fact that our economy is designed as a profit-maximizing mechanism that ignores humanity."
Leading from a cultured perspective…
Ivanets has plenty of lived experiences to draw upon within the classroom. Born in Ukraine, he received his master's in economics and computer science in 2006 from Shevchenko National University in Kyiv, Ukraine. Afterwards, he went to work in the private equity industry, with a focus on start-up financing.
Following the devastation of the 2008 Global Financial Crisis, Ivanets switched his focus to financial regulation and economic policy. In 2010, he accepted a position as an economist in one of the leading investment banks in Ukraine. Three years later, Ivanets began his PhD pursuit at the University of Hawaii at Manoa. After graduating in 2018, he worked as a Visiting Assistant Professor at Drew University in Madison, New Jersey, where he taught practical finance and economic policy.
"As a professor, I try to bring new ideas to the classroom, and at the same time, teach students how the world really is," Ivanets said. "I like teaching and showing students that there are opportunities for change. There are a lot of opportunities for the younger generation, and at the same time, a lot of responsibilities. We're seeing that the 'old' ways have not always worked, and now it's their turn to bring solutions."
Learn more about Concordia's business school programs
— This story is written by Kali Thiel, director of university communications for Concordia University Ann Arbor and Wisconsin. She may be reached at kali.thiel@cuw.edu or 262-243-2149.
If this story has inspired you, why not explore how you can help further Concordia's mission through giving.