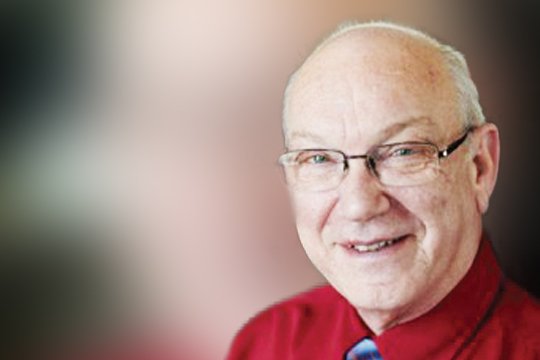 Concordia University Ann Arbor (CUAA) former president, Dr. James M. Koerschen, a beloved figure of the University known as PK and Dr. K, passed away Thursday, July 17 at the age of 67 in his home in Brighton, MI surrounded by his family.
---
Born on July 31, 1946 in Glencoe, MN, Koerschen's lifetime of service included teacher and band director at Lutheran High East, Detroit, MI; Associate Professor of Music and Dean of Students at Concordia University Texas; and Associate Professor of Education and Dean of Student Affairs at Concordia University Nebraska. In 1992, Koerschen was named President of CUAA, a position he held until 2003. He later served as Executive Director-Enrollment Services at Kettering University.
In his final roles before retirement, Koerschen served as Head of the School of Concordia International School in Shanghai, China and President of the Board of The Association of China and Mongolia International Schools (ACAMIS).
During his retirement, Koerschen continued to serve ACAMIS as Executive Director and on the Board of Family Life at CUAA.
"The Concordia community mourns the passing of Jim Koerschen," said Concordia University President, Rev. Dr. Patrick T. Ferry. "His dedicated and consecrated service to the Lord and to the Church was far-reaching. We were privileged for more than a decade to have Jim lead our Concordia community as president of Concordia University Ann Arbor. Of course, the hope of Heaven was central to Jim's Christian faith and life. He now realizes the fulfillment of that hope in the nearer presence of his Lord and Savior Jesus Christ."
A funeral service will be held on Thursday, July 24 at 4:00 p.m. at Shepherd of the Lakes Lutheran Church, 2102 S. Hacker Rd., Brighton, MI. There will also be visitation times on Wednesday, July 23 from 2:00-4:00 p.m. and 6:00-9:00 p.m. and Thursday, July 24 from 3:00-4:00 p.m.
Koerschen's family has asked that memorial contributions be made to Shepherd of the Lakes Lutheran Church, School, or Music Department; or Concordia University Ann Arbor's Family Life Program.
— Rachel Thoms served on Concordia University's Strategic Communications team from 2015-2022. Any inquiries about this story can be sent to news@cuaa.edu.
If this story has inspired you, why not explore how you can help further Concordia's mission through giving.