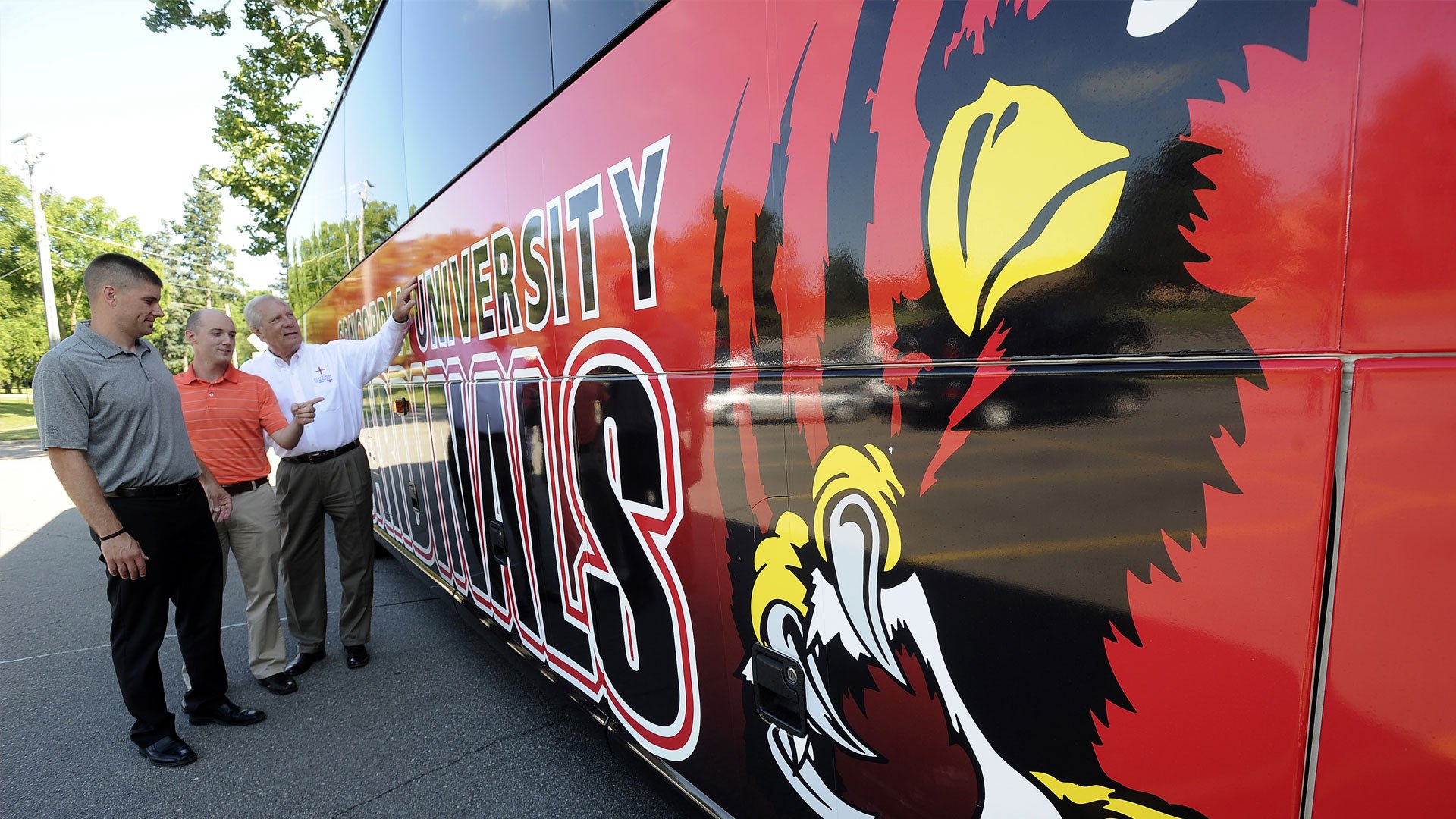 The University will be displaying its school pride wherever they travel beginning this fall with a newly designed motor coach complete with CUAA's logo and mascot, Corky the Cardinal.
---
The new bus will be covered from bumper to bumper in CUAA decals. On July 10 beginning at 9 a.m. the motor coach will be on CUAA's campus for the public to view and tour.
"This bus isn't exclusively for our athletic teams, it will be made available to any group on campus," said Curt Gielow,chief campus officer for the University. "It will truly expand the exposure of CUAA as we travel throughout the Midwest."
Part of a three-year contract with Bianco Bus Travel and Tours, the motor coach will be wrapped in CUAA colors for the duration of the contract. The design on the driver's side reads "Concordia University Cardinals" with the CUAA symbol and tagline "Inspiration in Action". The design on the passenger's side boasts a photo of a fierce looking Corky the Cardinal and reads "Concordia University Cardinals" with the hashtag "#cardinalcrazies". In addition to the elaborate exterior, the inside of the motor coach comfortably seats 56 passengers, includes power outlets at every third row, and six, 18" inch flat screen televisions.
"It's going to look really striking with the CUAA colors, I think the athletes are going to get a kick out of it," said Lonnie Pries, CUAA athletic director and head football coach.
The bus will be ready for use for the fall of the 2014-15 academic year. To learn more about CUAA athletics, click here.
— Rachel Thoms served on Concordia University's Strategic Communications team from 2015-2022. Any inquiries about this story can be sent to news@cuaa.edu.
If this story has inspired you, why not explore how you can help further Concordia's mission through giving.