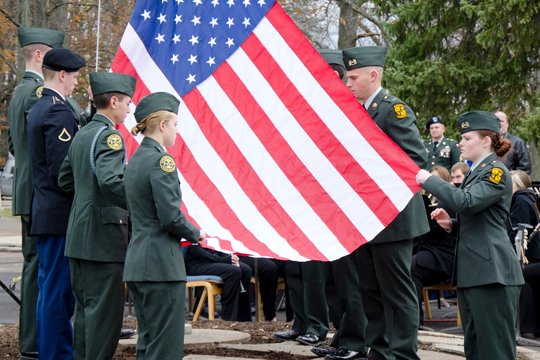 CUAA's Veterans Day Celebration was a success this past Tuesday, according to event organizer Dr. Robert McCormick. McCormick is the Dean of the School of Arts and Sciences.
---
The annual event allows the community to come to campus to not only take part in Veterans Days events, but to also take time to reflect on the tremendous sacrifices of the men and woman in the armed services.
This year's event also included Zoey, Concordia's comfort dog. This gave the students, community, and veterans a chance to interact with her on a personal level.
— Rachel (Ferry) Thoms is manager of campus communications for Concordia University Ann Arbor. She may be reached at rachel.thoms@cuaa.edu or 734-995-7403.
If this story has inspired you, why not explore how you can help further Concordia's mission through giving.