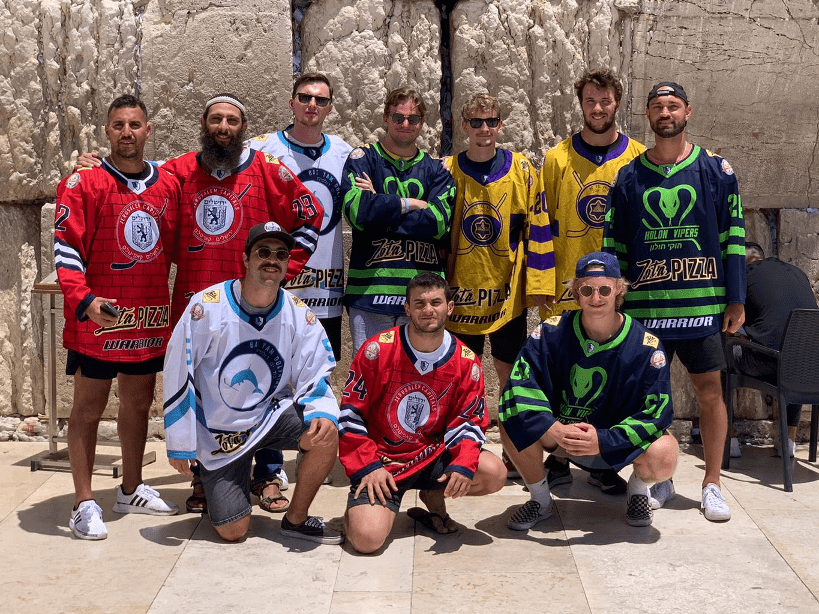 When you think of pursuing a career in ice hockey, a study abroad journey to Israel may not seem like an obvious step. But for one recent CUAA graduate, it all feels like a part of God's plan.
---
"It's kind of a funny story."
That's how Richie Hayward ('21) begins the tale of his January 2020 study abroad trip to Israel with Concordia University Ann Arbor. A hockey kid from the Detroit suburb of Livonia, Michigan, Hayward came to CUAA for one reason: to get in on the ground floor of the school's new hockey team.
It wasn't his first stop after a successful career playing travel/AA hockey through high school. He played junior (amateur) hockey for a while, but it was a struggle. Then, seeing some of his friends succeeding in college, he decided to enroll at Eastern Michigan University and join the hockey team as a walk-on. But the campus was so big and impersonal. He just wasn't happy.
Then he got word that nearby CUAA was starting a hockey team.
"I think I'd heard of Concordia maybe once in my life. I barely knew they existed," he recalled. "So I visited, and I liked the campus, and I knew that it was where I wanted to go."
As the product of a Catholic grade school and Jesuit high school, the idea of a faith-based education "felt familiar," he said, even if that aspect wasn't really a priority. He grew along with the team, as a player and a student, as early struggles turned into hard-earned success. It was in his junior year that the opportunity to go to Israel came along. In late October, his religion teacher, adjunct professor Rev. Dan Flynn, said to him, "Hey, Rich, do you want to go to Israel?"
"And without even thinking, I said, 'Yeah, why not?'" Hayward said. "It was just a three-month notice, but I just went out on a limb and said, 'Eh, we'll see how this goes. My coach might be mad, but why not!?'"
"Richie was in my Religion 110 class and I could see he had a curiosity to grow," Flynn said. "He was pretty surprised that I would think of him, but he grabbed the opportunity quickly.
"I always see the classroom as a stepping stone to other conversations," he added. "Richie was always willing to have the conversations on faith and life. He is open, honest, and transparent. I love that about him."
One small problem was that the January trip was right in the middle of hockey season. He would end up missing four games, and he wasn't sure how Coach Wholberg would feel about that. But the coach understood it was a once-in-a-lifetime opportunity. It helped a little that one of his teammates, Tristan Waechter, would also be making the trip. "If he was going to be mad at one of us, at least he would be mad at both of us!" Hayward said.
A Fresh Perspective
The trip also seemed unlikely because he was questioning his faith at the time, Hayward said, even going so far as to describe himself as "agnostic." But he could use the religion class credit, so why not? Little did he know that touring virtually the entire country of Israel in two short weeks would give him a renewed perspective on life, God, and the truth of the Bible.
"By Day 13 I was like, 'Yeah, I believe in God again,'" he said. "I do believe in Jesus Christ—and I wouldn't have been able to say that maybe two years ago."
Walking among the ancients can have that effect.
"When you come to Israel … it's very easy to read about the Old Testament, and the New Testament, and hear about the Sea of Galilee, and Nazareth, and all these places, but it's another thing to actually see it in person, and see that this stuff actually did exist. When you start piecing everything together, it all really starts to make sense.
"I remember walking into the old city of Jerusalem, and you could just feel the history under your feet," he recalled. "Sometimes you're walking on Roman roads that were built more than 2,000 years ago. And in the old city of Jerusalem, it goes as deep as 5,000 years ago. It's a very humbling experience."
RELATED: Class on camels: Student perspective on Israel global education program
Answering the Call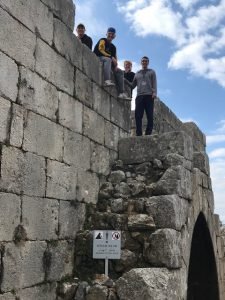 One of the lasting effects of the trip was a desire to return one day. For Hayward, that opportunity came sooner than he expected. Little did he know that a year-and-a-half later, after graduating with a degree in social studies, he'd back in the Holy Land playing semi-professional hockey for the Holon Vipers of the Israel Elite Hockey League (IEHL).
The purpose of the month-long IEHL summer league is to give Israeli hockey players the opportunity to play with and against quality players from around the world to prepare them to represent Israel on the national team. For a visiting player like Hayward, it also offers the opportunity to experience a new culture while playing the game he loves.
When a CUAA teammate sent him a flyer about the program, it was a "no-brainer" to apply. He received a response within a day and signed a contract by mid-March to play throughout the month of July 2021. One thing Hayward has appreciated about this visit is the opportunity to immerse himself more fully in the Israeli culture.
"I did get homesick a little bit on this trip, but I really feel like if I had to stay here for a year, I could," he said.
The experience has also given him some perspective on what he wants to do next. He still loves hockey, and wants to stay involved with the game, but also feels like he's ready to "retire" as a serious player. When he returns to Michigan, he has a job lined up as a full-time Zamboni operator at a rink near his home. He also plans to work toward becoming a certified ice technician as well as a part-time hockey official.
And will he return to Israel someday? He certainly won't rule it out. After all, there's something about the Holy Land that has a way of drawing you back.
"It's like … I've been in Canada before, and I'd like to go back to Canada, but it's not like something calling me back, you know what I mean?" Hayward said. "But when I left Israel the first time, it felt like there was a piece of me missing. There's certainly a reason they call this 'the Holy Land.' Things start to make sense once you're here."
WATCH: Hayward and the Holon Vipers will be playing in the league's gold medal game on Saturday, July 31, at 2:00 p.m. Ann Arbor time, streaming on the Israel National Hockey Society Youtube channel.
---
Study Abroad Opportunities at CUWAA
If you are a student at either the Ann Arbor or Wisconsin campus, now is the time to start thinking about a study abroad trip. Programs currently accepting applicants for Winterim 2022 include Ecology of the Tropics in Costa Rica and Art and Culture in Italy, as well as several summer nursing-specific programs.
"These programs are very affordable, and students studying abroad for a semester are able to use their financial aid," said Maggie Leimkuehler, coordinator of global programs for Concordia University Wisconsin. "No prior foreign language experience is required, and any major can take part in a study abroad program."
For more information about the study abroad program at CUW and CUAA, visit studyabroad.cuw.edu.
—
If this story has inspired you, why not explore how you can help further Concordia's mission through giving.