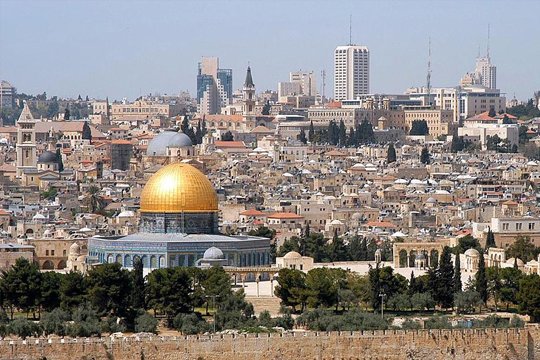 Concordia University is offering students an exclusive opportunity to tour the Holy Land and earn school credit next year.
---
Students on both the Ann Arbor and Wisconsin campuses can register now for the three-credit Religion elective course (REL476) which will take place over the 2017 Winterim term, Jan. 5-17.
The trip will be led by Rev. Dan Flynn of St. Luke Lutheran Church in Ann Arbor and Rev. John Rathje, dean of students at CUAA.
"This is a once in a lifetime opportunity for our students. I have seen Scripture come alive in a new way for people each time I have led a tour of the Holy Land," said Flynn. "This faith- and learning-centered experience is more than just a trip, it becomes a pilgrimage."
Titled, 'The Best of Israel: 13 Day Study Tour,' this particular trip is not a reoccurring short term study abroad program, therefore, students are encouraged to take advantage of this unique offering.
The trip cost of $3,634 covers international flight travel, two meals per day, hotel costs, tour guides and busses, as well as entrance fees for all tours and individual tips. Extra expenses not covered in the trip fee are optional excursions of a camel ride in the Negev Desert or climbing into a salt cave by the Dead Sea, as well as lunch each day. A $300 deposit will be due in September 2016.
As part of Concordia's commitment to encouraging students to participate in global study opportunities, the Board of Regents annually provides nearly $200,000 to fund Study Abroad Grants. Students must submit their applications for a study abroad grant for the 2016-2017 academic school year prior to April 1, 2016. Apply now for the Study Abroad Grant!
"Between all that is included and the potential to receive a Study Abroad Grant, our students will not see a lower price for an opportunity this special," said Rathje. "I want students to know that we want them to come. If you have interest, please ask myself or Pastor Dan any questions that you have."
To view the full itinerary of the tour, students can visit pilgrimtours.com. For more information, contact Flynn or Rathje.
— Rachel Thoms served on Concordia University's Strategic Communications team from 2015-2022. Any inquiries about this story can be sent to news@cuaa.edu.
If this story has inspired you, why not explore how you can help further Concordia's mission through giving.