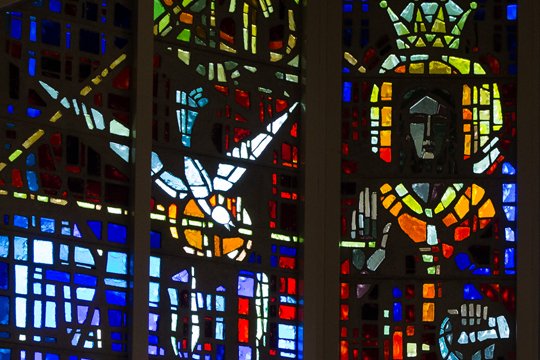 Concordia University Ann Arbor has released the results of a survey administered to students in an effort to help University officials provide and continually improve upon spiritual growth opportunities.
---
This is the first year the University chose to participate in the University Spiritual Life Survey, which was administered to a representative sampling of residential undergraduate students in October 2015. The survey was adapted for Christian higher education from the REVEAL, a survey widely used in congregations.
The survey is an important step forward in Concordia University's goal of comprehensively and consistently measuring student spiritual formation and faith in action, said Campus Pastor Ryan Peterson.
"It helps us understand our students, their faith journey, and how Concordia can help them grow in their lives and faith," Peterson said.
The survey is based on the expectation that the love of Christ and a commitment to Him grow together with love of and service to others.  The survey provides a snapshot of where students see themselves on that journey, and provides information about their spiritual beliefs, practices, relationships, and faith in action.
About a dozen other schools nationwide currently participate in the survey.
CUAA's results showed that 75 percent of students surveyed identified as Christian believers.  The degree to which they felt Christ's presence and guidance day-to-day varied, across a range consistent with the campus population.  The other 25 percent, despite not necessarily identifying as Christians, were nonetheless engaged in service to others.
Among the most interesting findings were those that underscored the campus' strengths in providing service opportunities and spiritually influential relationships, according to CUAA's Institutional Researcher Mae Keller, PhD.
For instance, the survey provides an index of students' perception of their own spiritual vitality, and a score for their view of their school's spiritual vitality.
"Our information is that there is almost always a gap between students' ratings of their own spiritual vitality and their view of their school. Often the school is about 10 points lower," Keller said.
However, CUAA had just a one-point gap between the two scores, among the lowest gap of any participating universities to date.
CUAA students saw faculty as spiritually influential, as is typical in Christian universities, said Keller.  A more distinctive finding was that, in addition, Campus Ministry was exceptionally influential and well-regarded at CUAA, and, for a significant subgroup of students, coaches were very spiritually important.
Of those surveyed, 80 percent indicated they have a favorable attitude toward CUAA Campus Ministry, and 75 percent indicated that Campus Ministry (chapel, mission activities) is an important part of their Concordia experience.
The plan is to administer the survey to CUAA students every two years moving forward. Concordia University's Mequon campus did not participate in the survey this year, but administrators say it will likely be administered to Concordia University Wisconsin students in the future.
Part of the purpose of the survey is to identify opportunities for improvement.  For CUAA, these include helping students develop the practice of prayer; assisting them in times of doubt, when they struggle with obstacles to faith; and fostering students' personal passions for service.
CUAA Campus Ministry, with collaboration with others on campus, welcomes the opportunity to address these areas, said Peterson.
"Our students see us as providing a spiritually vibrant environment," said Campus Chief Executive Curt Gielow.  "This is a great confirmation of our commitment to not only grow this campus and make it successful, but to move forward as a community, united in mission."
— This story is written by Kali Thiel, director of university communications for Concordia University Ann Arbor and Wisconsin. She may be reached at kali.thiel@cuw.edu or 262-243-2149.
If this story has inspired you, why not explore how you can help further Concordia's mission through giving.