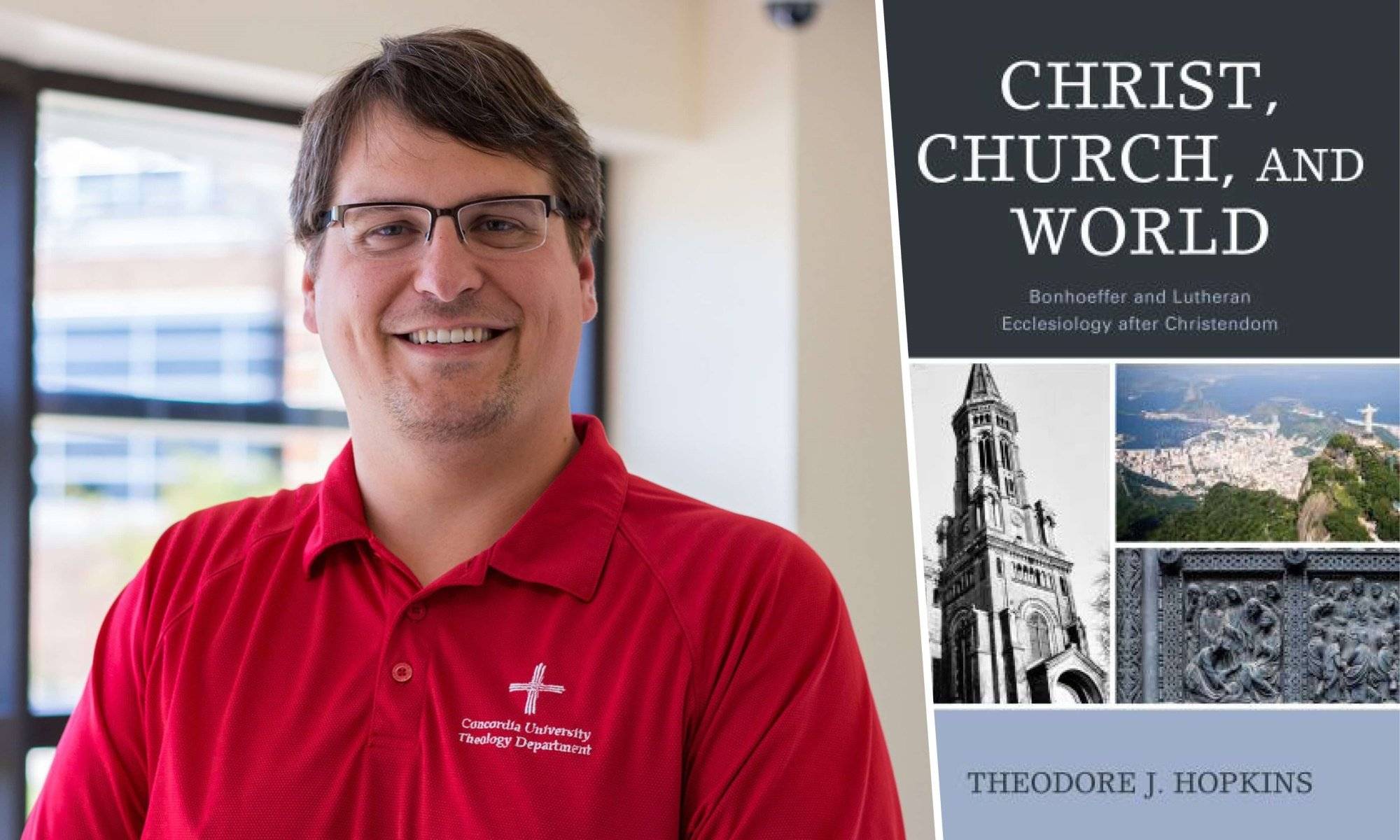 "The Christian faith is not an individual matter but a matter of the God of the Gospel who has brought us into community with his own Son and other Christians by the Spirit, which the apostle Paul radically calls the body of Christ." —Rev. Theodore J. Hopkins, PhD
---
Concordia University Ann Arbor celebrates with Rev. Theodore J. Hopkins, PhD, on the release of his book Christ, Church, and World: Bonhoeffer and Lutheran Ecclesiology after Christendom. Hopkins serves as CUAA's director of pre-seminary and family life ministry and is an associate professor of theology.
Hopkins shares with us insight on his selection of the topic, his excitement for releasing the book, and what he hopes readers will gain from it.
Brief synopsis of Christ, Church, and World: Bonhoeffer and Lutheran Ecclesiology after Christendom
As the church has lost its privileged place in society, Christians are struggling with how the church relates to the world. I argue that only when the church sees itself and the world as finding their identity in Jesus can the church engage the world properly. Church and world are not to be separated as if the church should sequester itself of from the world in a supposed holiness. Neither can the church lose its unique, distinctive vocation by melding itself into the world's social programs because the church is constituted by Jesus and his ministry and his made up of those who have been called by Jesus into his body and his mission. Dietrich Bonhoeffer is my guide for how to see the church and the world in Jesus, neither conflating church and world nor separating them, but forming the church for Christ's cruciform mission in the world.
Can you tell us a bit about how you chose the topic?
I love Dietrich Bonhoeffer, and I love the church. That's the short answer! The longer answer has to do with my own recognition of Christianity as a team sport, as a community-oriented faith. The Christian faith is not an individual matter but a matter of the God of the Gospel who has brought us into community with his own Son and other Christians by the Spirit, which the apostle Paul radically calls the body of Christ. Yet, we tend to think about Christianity as an individual thing: my personal faith and my personal salvation. Bonhoeffer locates the church in Jesus Christ to form it in Christ's story and shape it as the people of God with a corporate identity and mission: the very body of Christ in the world.
Share about your excitement to release this book.
This is a culmination of a lot of years! Parts of the book began as my dissertation as early as 2014, but I couldn't have written this book then, not even in 2016 when I finished the dissertation. I have completely reworked those texts into a much improved argument for the church's relationship to the world in Christology, in Jesus, through Bonhoeffer's theology. I'm excited but also humbled to have it be published, especially through a solid press like Fortress Academic. There are so many great books out there. I just hope that my little contribution will continue the conversation of theology toward faithful preaching and faithful Christian community as part of the mission of God.
How do you hope this book impacts readers?
I hope it impacts readers in two ways.
First, I hope it helps pastors and interested lay people recognize the world not as enemy but as created by God and redeemed by Jesus. When we see the world in this light, it changes entirely how we think about Christ's mission. I think the final chapter especially helps in how to read, teach, and preach the Bible with the church's identity in Christ and Christ's mission to the world in mind.
Second, I hope it helps readers engage in Bonhoeffer more faithfully and more fruitfully. I believe Bonhoeffer is an underutilized source for Lutheran theology, and I think my book will help readers to understand his thought and engage in his work better.
---
Pre-order your copy!
Christ, Church, and World: Bonhoeffer and Lutheran Ecclesiology after Christendom by Theodore J. Hopkins is available for pre-order at the below locations, among others.
Amazon Walmart Rowman & Littlefield
— Rachel Thoms served on Concordia University's Strategic Communications team from 2015-2022. Any inquiries about this story can be sent to news@cuaa.edu.
If this story has inspired you, why not explore how you can help further Concordia's mission through giving.