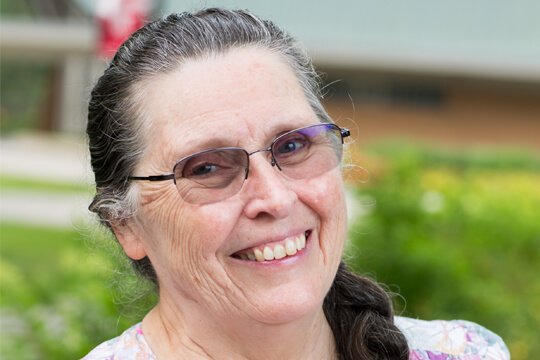 Professor Karna Doyle is known for three things: handing out chocolate Hershey's Kisses to students, responding with "I am blessed," and impacting the lives of uncounted individuals.
---
After a notable 18 years teaching in the family life education program at Concordia University Ann Arbor, in August this spirited professor stepped into the next season of life: retirement.
"I am so blessed to have shared in the lives of these young people," Doyle commented. "My work is all about them; we have the most wonderful, servant-hearted students on Concordia's campus."
Bidding Farewell
"Professor Doyle! You are a blessing to everyone you meet. Thank you for working tirelessly to build others and prepare them for lives of service in all areas. Your generous heart and work made Concordia special. Congratulations!!" —Zac Meyer ('05)
"What a special lady. Congratulations, Professor Doyle! Thanks for blessing the socks off of everyone at CUAA!"—Carolyn Milz ('13)
"You set an example of servant leadership that has stuck with me throughout my service in the church. Thanks for your faith legacy shared with so many students that continues to impact many today. God's blessings in your next transition, retirement. If you come visit Florida, let me know, I have a room with your name on it!" —Abby Moss ('06)
"Thank you Professor Doyle for working with a "non-traditional" student, helping a new father bring his newborn son on campus and finding suitable childcare while I was in class. This was the first of many ways that you showed support to me and my family. You treated me with the utmost respect, and I am blessed to have learned so much under your care. Thank you for all that you've done and know that you have blessed the lives of countless souls. May God continue to bless you." —Daniel Longden ('07)
Doyle, who spent much of her career working in international adoption and foster care, created the curriculum and served as coordinator for the family life education program's child life specialist, community services, and adult care service minors.
The program, which includes coursework in areas such as family dynamics, child and adolescent development, and sociology, prepares students to build up families through a variety of professions that include youth program directors, foster or adoption care workers, and marriage and family counselors.
In recognition of Doyle's service, CUAA held an early surprise retirement party for her on May 3, 2017. The party was a scene of merriment as reunited Concordians from across the country, and even the world, filled the Earhart Manor to share their congratulations and reminisce over their days under Doyle's tutelage.
When asked about the legacy she wants to leave, Doyle responded, "I want people to see that if you show up the Holy Spirit can work through you."
Jennifer Fieten succeeded Doyle on July 31, 2017. She brings 21 years of experience with children and families working in the roles of child development specialist, child life specialist, and professor.
The fall 2017 Arbor Light magazines hit mailboxes the first week of October. If you are not on our mailing list, but are interested in receiving a free copy, call 734-995-7317.
—
If this story has inspired you, why not explore how you can help further Concordia's mission through giving.