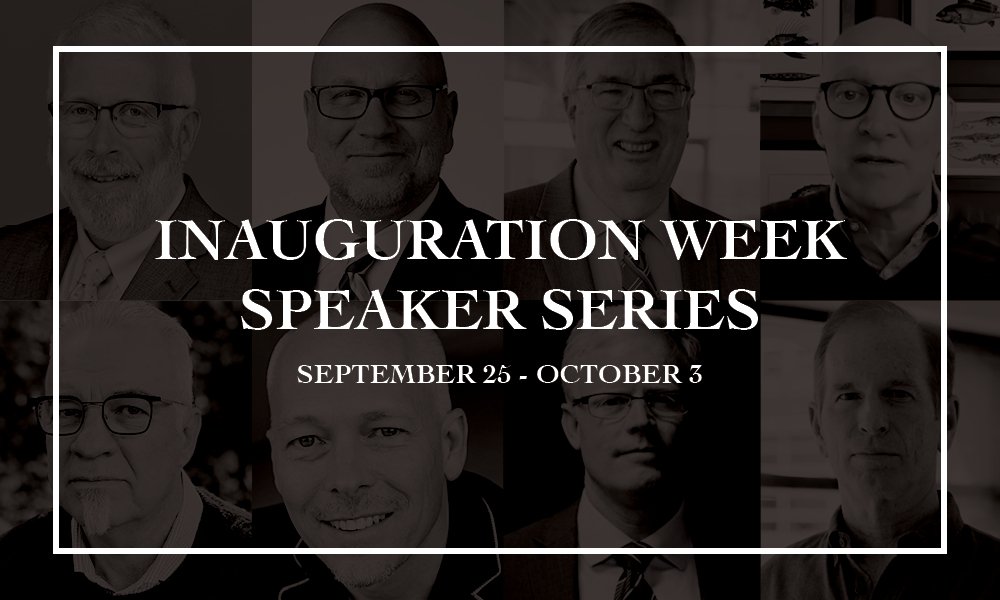 Students, employees, alumni, church partners, and beyond are invited to grow in wisdom and cultivate higher thought next week by joining in the Presidential Inauguration Speaker Series.
---
For generations in both Mequon and Ann Arbor, thousands upon thousands of students have learned of God's love in Christ and have been equipped in mind, body, and spirit to serve Christ in the church and in the world. The theme for President Erik Ankerberg's inauguration week celebration, "Looking Back, Looking Forward, Hearts Together," invites the CUWAA community to look back with thanksgiving for God's gracious providence, but also to look forward with confidence, knowing that the work that God has begun among us at CUWAA will, with His help, continue for generations to come.
Click below to view a full schedule of inauguration events.
Speaker Series Lineup
One of the hallmarks of the celebrations is the Presidential Inauguration Speaker Series. Throughout the course of the eight-day celebration, Concordia will welcome guest speakers who will address each of the week's daily themes. The featured address of the series will take place Thursday, Sept. 28 beginning at 7 p.m. Central.
The week's daily themes (Christ-centered, Excellence, Truth and Integrity, and Service) summarize the promises that CUWAA intends to keep. We pledge to acknowledge that Christ is at the center of our life together, to pursue excellence in all that we think and do, to seek truth and act with integrity, and, finally, to continue to equip our students for service to Christ in every place that God puts them. We enter the start of this new chapter in our history with joy and thanksgiving that we are, by God's grace alone, Concordia—those with hearts together.
All are invited to attend any of the Speaker Series events in person for free. The talks will also be available for viewing via livestream on the inauguration webpage.
Keynote speaker
"Higher Education and the Great Conversation"
Dr. Panayiotis "Pano" Kanelos | Founding President of the University of Austin
Thursday, September 28
8-9:30 p.m. Eastern | CUW's Todd Wehr Auditorium or livestream
Dr. Kanelos's keynote address will discuss the ways in which human beings, as logos-centered creatures, have created the institution of universities to give shape to our collective search for truth.
Kanelos is the Founding President of the University of Austin (UATX). Lauded by Forbes as one of higher education's "academic entrepreneurs," Dr. Kanelos was President of St. John's College, Annapolis, the nation's most storied great books liberal arts college. During his tenure, St. John's successfully launched a historic initiative that included the most significant tuition reduction at any American college, accompanied by a $300 million campaign. He is widely acclaimed as one of the country's most powerful advocates for liberal education. Other appointments include Dean of the Honors College at Valparaiso University, associate professor of theater at Loyola University Chicago, associate professor of English at the University of San Diego, and as a postdoctoral fellow at Stanford University. He is a Shakespeare scholar, who he has authored and edited numerous books, articles, and essays on Shakespeare, including the "Shakespeare and the Stage" series. Kanelos holds a Ph.D. from the Committee on Social Thought at University of Chicago, an M.A. in Political Philosophy and Literature from the University Professors Program at Boston University, and a B.A. in English from Northwestern University.
Concordia's history and future
"Questions from Concordia's Past that Shape Its Future"
Dr. William Cario | Special Assistant to the President at CUWAA
Monday, September 25
11 a.m. Eastern | CUW's Todd Wehr Auditorium or livestream
A historian of the American experience, Dr. Cario has spent much of his professional life as an academic administrator at Concordia University. He served for many years as CUWAA's Provost and, more recently, as the Interim President of CUWAA. He currently serves as Special Assistant to the President. He received is Ph.D. in American History from New York University.
"Every Now and Then"
Dr. Mark Looker | Professor Emeritus of English at CUAA
Tuesday, October 3
11 a.m. Eastern | CUAA's Chapel of the Holy Trinity or livestream
Dr. Mark Looker is Professor Emeritus of English at Concordia University, Ann Arbor where he has taught since 1975—the longest serving faculty member in the history of the school. He earned a BA degree at Concordia University Chicago, an MA degree at Washington University in St. Louis, and a Ph.D. in English Language and Literature at the University of Michigan. During his long tenure at CUAA as a member of the English Department, he served as Chair of the Division of Language and Literature and Vice-President for Academics. He was also director of the Kreft Arts Program and for eighteen consecutive years he conducted a May Term course in London for Concordia students. He currently serves on the CUAA advancement committee, is a member of the vestry at Historic Trinity Lutheran Church in Detroit, and is on the executive board of the Association of Lutheran College Faculties.
A Christ-centered community
"Christ at the Center"
Rev. Dr. Scott Bruzek | Senior Pastor at St. John Lutheran Church in Wheaton, Illinois
Tuesday, September 26
11 a.m. Eastern | CUW's Todd Wehr Auditorium or livestream
When Jesus touches us with his Holy Things, He pulls us into his orbit and makes us his disciples. Pulling us into his orbit puts Christ at the center of everything, especially here at Concordia Wisconsin. Making us his disciples prepares us for life in a world which still needs Him, but does not always know or welcome Him. Come hear how our University is preparing us for faithful lives in love for our Lord and service to our neighbors—how Christ can have best use of us for a lifetime, no matter where we go or what we do.
Rev. Dr. Scott Bruzek has been Senior Pastor at St. John Lutheran Church in Wheaton, Illinois for 26 years. His preaching, teaching, and writing have focused on the beauty and rhythm of the sacramental life that orbits Christ. He has an earned Ph.D. from Princeton Theological Seminary (1995) and a theological diploma from Cambridge University in England (1986). He is a 1985 graduate of the Concordia Seminary, St. Louis.
Excellence
"Shadowed by the Shabby and Seeking the Sublime"
Professor Paul Burmeister | Assistant Dean of Advising, Professor of Art at Wisconsin Lutheran College
Wednesday, September 27
11 a.m. Eastern | CUW's Todd Wehr Auditorium or livestream
Burmeister's speculation is that excellence is best understood in terms of faithfulness, a virtue which is bundled into Christian vocation. Using the Polish poet, Adam Zagajewski's essay on high and low styles, the presenter will posit our excellence or faithfulness in a vocational space that has room enough for both the shabby and the sublime. The presentation invites us to consider how a scholarly, Christian community can help its practitioners and its church understand what an excellent contribution looks like.
Paul Burmeister is a college educator and administrator, a studio artist, and a writer. He serves as the Assistant Dean of Advising and Professor of Art at Wisconsin Lutheran College. His colorful paintings of vernacular buildings are regularly exhibited regionally, in solo and group shows. As a writer, he is a regular contributor to Vocation Matters: Insights and Conversations from the Network for Vocation in Undergraduate Education (NetVUE.)
Paul Burmeister lives in Waukesha, WI, and is married to Stacy; they have two children and seven grandchildren.
Truth and Integrity Panel Discussion
Thursday, September 28
11 a.m. Eastern | CUW's Todd Wehr Auditorium or livestream
Dr. David Andersen | Co-founder and President of Synoptix Software
David Andersen holds a Ph.D. from Wycliffe Hall Oxford/Coventry University and has taught at several American universities, including Concordia University Ann Arbor. He is the author of Martin Luther – The Problem of Faith and Reason: A Reexamination in Light of the Epistemological and Christological Issues (2012); Faithless to Fearless: The Event that Changed the World (2019); In Defense of Christian Ritual: The Case for a Biblical Pattern of Worship (2021), and What Can We Really Know: The Strengths and Limits of Human Understanding (2023). He lives in Utah and is the Co-founder and President of a software company.
Dr. Erik Ankerberg | President of CUWAA
Dr. Ankerberg is President of Concordia University Wisconsin & Ann Arbor. He is a graduate of Marquette University with a doctorate in early modern British literature. He has a master's degree in British and American literature from Marquette University and holds a bachelor's degree from Concordia University Chicago.
Dr. Adam Francisco | Director of Academics and Scholar-in-Residence at 1517
Dr. Francisco is Director of Academics and scholar in residence at 1517. He earned his DPhil from the University of Oxford and has two decades of experience teaching history, philosophy, and theology. He is cohost of The Thinking Fellows podcast, author of a number of books, articles, and translations, and popular speaker on the topics of Christian apologetics, worldview, and the religion of Islam. He and his wife, Rachel, have four children, are care providers for foster children, and live in Wheaton, Illinois.
Service
"For or With?"
Dr. Richard Ray | Provost and Professor of Kinesiology, Emeritus, at Hope College
Monday, October 2
11 a.m. Eastern | CUAA's Chapel of the Holy Trinity or livestream
We often reduce the idea of service to "helping others." But too infrequently do we stop to consider what kind of help others need or want. What counts as "help" to the people who are the objects of our good intentions? This tendency is—or can be—a symptom of the possibility that we don't know what we want. And because we frequently don't understand ourselves, we fail in our efforts to serve others as our shared faith demands. This lecture will pose several questions intended to help audience members—especially undergraduates—discern the objects of their own desires, and thus be better prepared to serve others.
Dr. Richard Ray is provost and professor of kinesiology, emeritus, at Hope College, where he was a faculty member from 1982-2023. He also has served as the college's chief academic officer (2010-2016), dean for the social sciences (2008-2010), and chair of the Department of Kinesiology (2003-2008). He was active in a variety of leadership capacities in the athletic training profession. His scholarship was focused on health care leadership. He has taught courses and authored multiple volumes based on his pilgrimage experiences. He serves as the co-director of the Hope-Western Prison Education program, a BA degree program for incarcerated men at Muskegon Correctional Facility. He is the chair of the steering committee of the Michigan Consortium for Higher Education in Prison.
---
Show your support
In honor of Dr. Ankerberg's Presidential Inauguration, please make a gift to Concordia University Wisconsin and Ann Arbor to support either our students through scholarship aid or to support the university's greatest need, the Concordia Fund. Gifts of any size are appreciated and do make a difference!