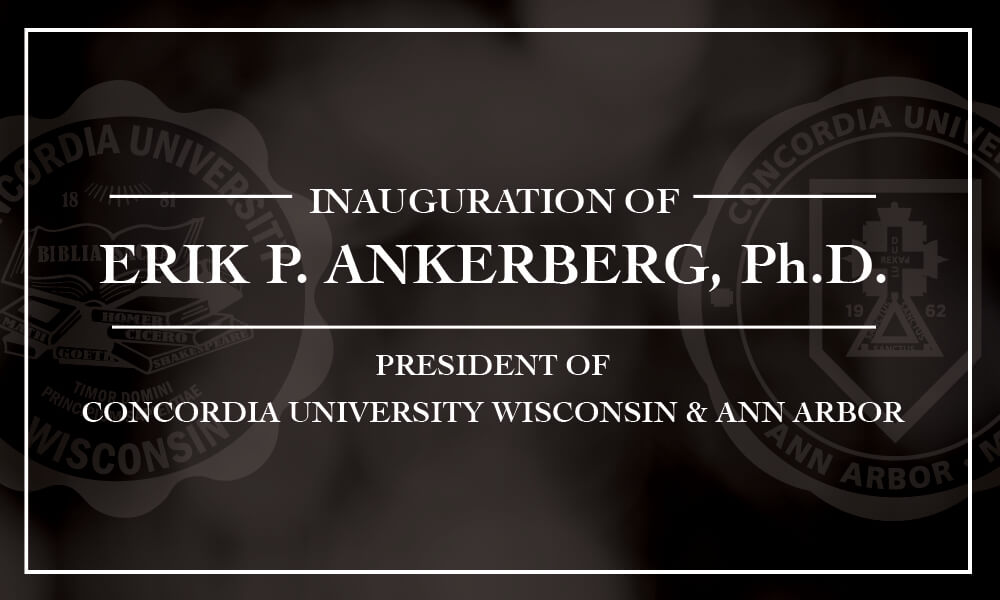 ---
Concordia will host eight days of events in Mequon and Ann Arbor to mark the inauguration of Erik P. Ankerberg, Ph.D. as president of Concordia University Wisconsin and Ann Arbor.
---
Students, employees, parents, alumni, and friends, help us celebrate our new leader! Dr. Erik P. Ankerberg officially began his tenure as president of Concordia University Wisconsin and Ann Arbor on Jan. 9, 2023, but now it's time to celebrate him in full.
An eight-day lineup of speakers and celebratory activities has been planned to allow the Concordia community to celebrate the next steps in the life of our institution.
All events are free. Speakers and ceremonies will be available for viewing via livestream, but guests are encouraged to attend in person whenever possible.
Featured events include:
Inauguration Ceremony
Friday, Sept. 29 @ 3 p.m. ET
Livestream or in person on the CUW campus
Speaker Series
Daily @ 11 a.m. ET
Livestream or in the Chapel of the Holy Trinity
Hearts Together Dinner
Sunday, Oct. 1 at 5 p.m. ET
DoubleTree Hotel by Hilton Ann Arbor North
For faculty, staff, students, and invited guests only
Inauguration theme—"Looking Back, Looking Forward, Hearts Together"
For generations in both Ann Arbor and Mequon, thousands upon thousands of students have learned of God's love in Christ and have been equipped in mind, body, and spirit to serve Christ in the church and in the world. The theme for Ankerberg's inauguration week celebration, "Looking Back, Looking Forward, Hearts Together," invites our CUWAA community to look back with thanksgiving for God's gracious providence, but also to look forward with confidence, knowing that the work that God has begun among us at CUWAA will, with His help, continue for generations to come.
The week's daily themes (Christ-centered, Excellence, Truth and Integrity, and Service) summarize the promises that CUWAA intends to keep. We pledge to acknowledge that Christ is at the center of our life together, to pursue excellence in all that we think and do, to seek truth and act with integrity, and, finally, to continue to equip our students for service to Christ in every place that God puts them. We enter the start of this new chapter in our history with joy and thanksgiving that we are, by God's grace alone, Concordia—those with hearts together.
Speaker Series
Throughout the celebration, special guests will unpack the daily themes of Excellence, Truth, Integrity, Service, and maintaining a Christ-centered community. We invite students, employees, alumni, church partners, and beyond to grow in wisdom and cultivate higher thought by joining in the Presidential Inauguration Speaker Series. All presentations will be available via livestream, but guests are invited to attend in person—at no charge—whenever possible.
The highlighted event of the Speaker Series is a Thursday night keynote by Dr. Panayiotis "Pano" Kanelos. Kanelos is the founding president of the University of Austin. He is widely acclaimed as one of the nation's most powerful advocates for liberal arts education. In 2020, Forbes lauded him as one of higher education's "academic entrepreneurs."
Kanelos will speak in Concordia University Wisconsin's Todd Wehr Auditorium on Thursday, September 28 beginning at 7 p.m. CT/8 p.m. ET. His address will also be available via livestream.
Other speakers throughout the week will include:
---
On-campus celebrations
The atmosphere on campus will be lively with plenty of activities for students and employees to enjoy, specifically Monday through Wednesday. Events that are exclusive to students, faculty, and staff include:
Monday, October 2
8-9 a.m. Pastries with the President | North Building | Enjoy some breakfast treats with President Ankerberg.
12:15 p.m. '80s Kahoot-style Trivia | Cafe | How well do you know Dr. Ankerberg's favorite decade? Play to win prizes!
3 p.m. Whiffleball Tournament (Students vs. Faculty/Staff) | East-side Field (Behind Krieger)
Tuesday, October 3
All Day Ankerberg Favorites Day | Represent Dr. Ankerberg's favorite sports teams. Wear your Chicago Bears gear/colors or Concordia Cardinals gear/colors.
11 a.m. – 2 p.m. Ankerberg Favorites | Cafeteria | Enjoy Dr. Ankerberg's favorite foods for lunch
---
What is an inauguration?
Much like the baccalaureate and commencement ceremonies during graduation time, Concordia's new president is celebrated with both a sacred (installation) and secular (inauguration) rite of passage. Ankerberg's installation service, which already took place on Feb. 5, 2023, marked the Christological sanctioning and blessing of Concordia's new president as a commissioned worker of The Lutheran Church—Missouri Synod.
The inauguration refers to the full eight-days of celebrations, including the formal ceremony on Friday, Sept. 29, during which Concordia's Board of Regents will sanction Ankerberg as leader of the university. The larger-scale inauguration provides Concordia and its stakeholders the chance to come together in celebration of the university's new leader and our institution's bright future.
---
Show your support
In honor of Dr. Ankerberg's Presidential Inauguration, please make a gift to Concordia University Wisconsin and Ann Arbor to support either our students through scholarship aid or to support the university's greatest need, the Concordia Fund. Gifts of any size are appreciated and do make a difference!
---