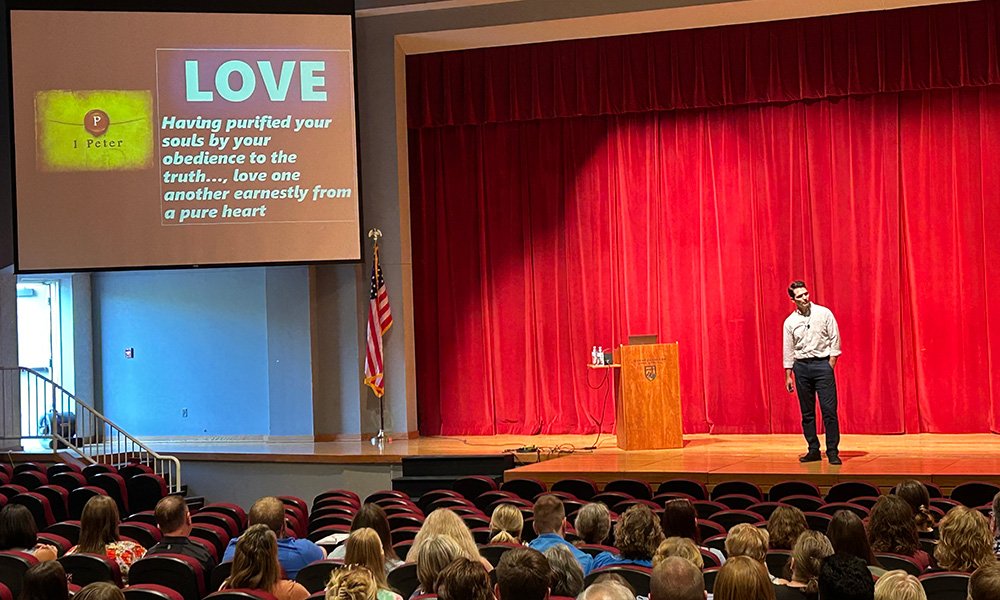 ---
CUAA's School of Education provides professional development to 1,350+ Lutheran educators within one month.
---
More than a dozen CUW and CUAA faculty experts recently extended two days' worth of professional development training to over 750 educators and administrators in Wisconsin and Minnesota. Over Labor Day, a CUW team will again hit the road to reach an additional 750 educators in Missouri.
That's three states covered by 20-plus CUWAA professors in order to impact more than 1,350 school partners in ministry within one month.
It's a massive undertaking for our Concordia professionals who are themselves in the countdown of back-to-school bustle and preparations on behalf of Concordia students.
Why go to the effort? Simply put: to provide exemplary content, training, best practices, and insights from a distinctly Lutheran worldview for brothers and sisters in ministry, explains School of Education Dean Dr. James Pingel.
"There is something that sets our Lutheran schools apart, and that is our dedication to keeping Christ first in all that we do," says Pingel. "There are thousands of teachers faithfully serving in Lutheran schools throughout the U.S. We were honored to connect with and support just a portion of them."
Professional Development from Minnesota to Missouri
On Tuesday, Aug. 8, ten School of Education professors traveled to Mayer Lutheran High School, near the Twin Cities, to provide a day of professional development to teachers there. That was followed up with the first-ever Concordia Summit for Lutheran Teachers and Leaders, held on the CUW campus on Thursday, Aug. 10. And soon, CUW faculty will travel to the St. Louis area over Labor Day weekend to share best practices and connect with more than 750 Lutheran educators at two sites: Concordia Lutheran Church in Kirkwood and The Lutheran Church of Webster Gardens in Webster Groves.
Presentations cover a range of topics relevant to Lutheran school educators, such as:
Wholehearted Teaching: Innovative Instructional Strategies and Insights for Lutheran Educators
Clarity for Gender Confusion
Multimedia in the Classroom
Nature Journaling with Children
Stretched versus Stressed: What's the Difference and Why Does It Matter?
The ABC's of Defending Your Faith
Building Math Fact Fluency Through Games
Responding to Challenging Behavior with Love and Grace
Manipulation vs Motivation: Ways to Positively Influence People
And attendees weren't the only ones to reap the benefits of the roadshow. Faculty carpools en route to Minnesota and Missouri provide ample bonding time.
"Road trips have a way of making you feel more like a family," says Pingel. "Bathroom stops together and all!"
---
Want in?
The Graduate Education department seeks to transform educators into servant leaders who pursue integrity and excellence in their professional services and personal lives. Whether you wish to focus on administration, special education, or any of the dozens other options we offer, we want you to emerge from Concordia with confidence and competence to boldly thrive in your calling. Our department places great importance on offering as many delivery options as possible to accommodate your busy life. Whether you join us in a seated class or online you will learn from faculty with relevant real world experience and build a valuable network of like-minded peers. Most importantly, our programs are Christ-centered, and help you understand topics like collaboration, innovation, and servant leadership in education through a Christian worldview.
---