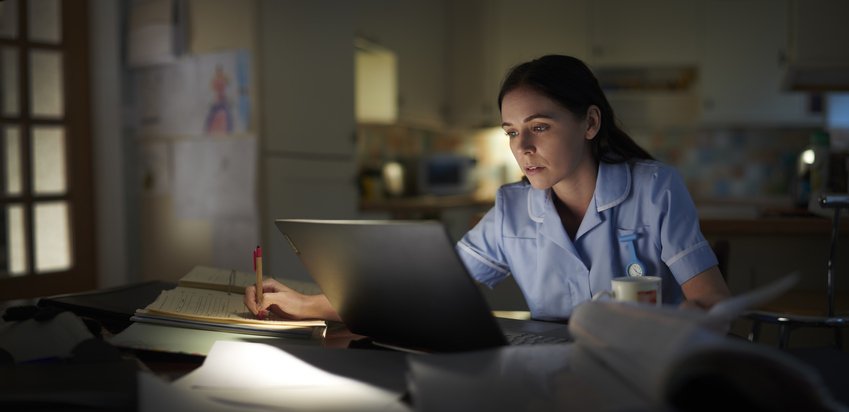 Debating if getting your MSN is worth it? Read on to find out if a master's in nursing could be worthwhile for you.
---
Should a nurse get an MSN?
Have you been asking yourself if getting a Master's in Science of Nursing (MSN) is worth it? If so, you're asking the right questions. Deciding to go back to school is a big decision and often requires a lot of thought and consideration. It might seem like a big, daunting task, but the Concordia University of Wisconsin and Ann Arbor (CUWAA) is here to answer your questions and help you along your journey.
CUW's Nursing Department has been helping students for 40 years to achieve their nursing dreams and potential. With a flexible and online format, students are able to obtain their degree in a way that works for them. Within our MSN program, you with be equipped with the skills necessary for ongoing personal and professional growth.
Where do you want to be in five years? Answering this question may help you decide if getting an MSN is right for you. You can also check out our list of the benefits of getting an MSN for more guidance.
Promising job outlook
Getting your master's often leads to a more promising job outlook. According to the Bureau of Labor Statistics, there is a 45 percent growth rate from 2020 to 2030. On average each year there are about 29,400 job openings for nurse anesthetists, nurse midwives, and nurse practitioners.
Expand your skills and area of impact
Getting a master's degree, no matter the field of interest, allows you to expand your skills and area of impact. It gives you a deeper understanding of a specific concentration.
By becoming a nurse practitioner, you are able to specialize in specific areas such as adult/gerontology or family practice. This allows you to concentrate on populations that you are passionate about.
With more education and responsibilities, nurse practitioners have more influence on patient care. They are also able to do more in their role such as performing exams, ordering labs, prescribing medications, and diagnosing medical conditions.
If you earn your MSN degree, you'll have more opportunities to explore other fields within nursing.
RELATED: Family vs. geriatric: All about these MSN concentrations
Educate others
If you're passionate about teaching, you could become a nurse educator. You can not only teach but also design curricula for hospitals and universities. In this role, you can be a leader in the field by inspiring future generations of nurses.
RELATED: Top 7 Reasons to become a nurse educator
Potential to earn more
Becoming a nurse practitioner can lead to a higher wage. In 2021, the median annual wage for nurse practitioners was $123,780, according to the Bureau of Labor Statistics. This is compared to the median wage of a BSN, which is around $77,600 per year. If you are worried about the cost of schooling, know that your earnings will increase, making it easier to afford.
Keeping up with new trends
By obtaining your master's degree, you can continue to educate yourself in the field. The medical field is always changing. Therefore, it's important to keep up with new practices and research.
Personal fulfillment
While there are plenty of professional benefits to receiving your MSN, there are also many personal benefits. Getting your MSN from CUWAA allows you to reach your goals and move forward in your career.
First, when you graduate with an MSN you will have built a community of support that you can continue to learn from. Never underestimate the power of a supportive community of nurses to have your back and keep you on track.
Secondly, having an MSN allows you to potentially have a better work schedule, depending on your area of specialization. In most cases, you are able to pick your own schedule. This creates more opportunities for a better work-life balance.
Finally, becoming an NP means you spend more time with patients individually. This means you can create stronger relationships and trust in your practice. Having more control over patient care, allows you to become a fierce advocate for your patients. Being involved more in a patient's care, and helping them improve their health, is very fulfilling.
So, is an MSN worth it?
Hopefully, by now you'd agree, because if you ask us, an MSN is completely worth the effort. An MSN can help you advance your career as a nurse, and allow you to help more people in their healthcare journey.
In the end, it's a critical question and the decision is yours. Take time to reflect on your passion for the health and flourishing of others through nursing and the desire to improve nursing practice.
Still have any questions? We are ready to help you and answer any questions you have about our MSN programs.
— Maddie Schueller is the Content Marketing Lead for Concordia University Wisconsin and Ann Arbor. In her free time, she enjoys listening to podcasts, anything music-related, and hanging out with her husband and daughter.
If this story has inspired you, why not explore how you can help further Concordia's mission through giving.