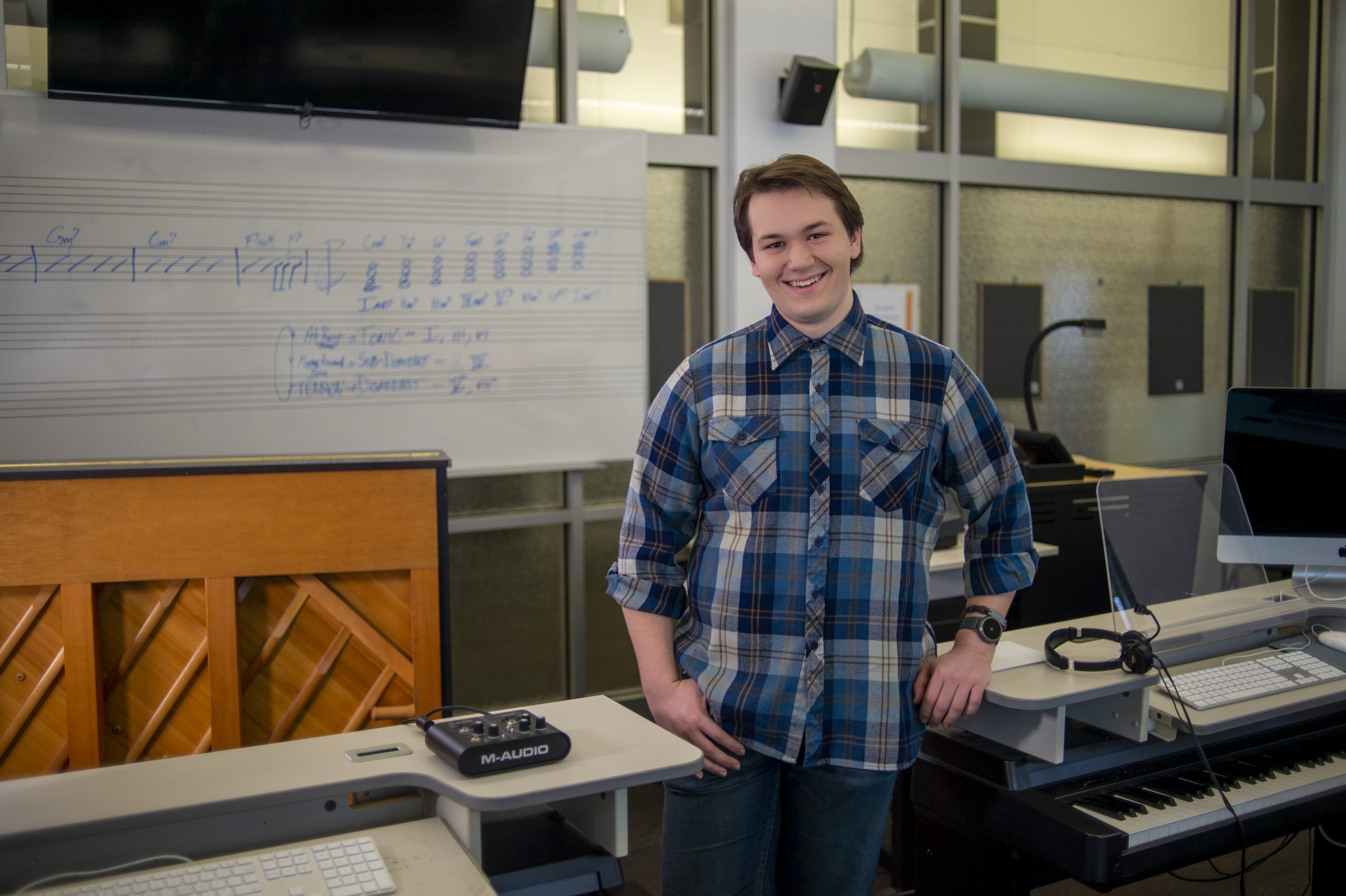 Isaac Riddle is graduating in the fall of 2022. He is majoring in Music Performance/Percussion, and minoring in Entrepreneurship. He is involved in a number of activities at Concordia, including the Wind Ensemble, Marching Band, Pep Band, Jazz Club, Worship Arts and eSports team.
---
What on or off-campus activities/ministries do you participate in?
I'm a percussionist/drummer in several music ensembles at CUAA, including Wind Ensemble, Marching Band, Pep Band, and the brand new Jazz Club. Plus, I'm on the Worship Arts team, which allows me to play in Chapel several days a week as well as at Tuesday Night Worship. In "normal" years we also travel to local churches on Sunday mornings, but of course, that's out of the question during the pandemic. In addition to all of that, as of this year, I'm on the esports team, playing Valorant.
In your own words, what does it mean to be a Concordian?
Being a Concordian means first reminding myself that I am "Uncommon," and then allowing that title to mold everything I do in Uncommon excellence.
What are your favorite things about the Concordia experience so far?
Like many of my peers, one of the biggest draws of Concordia is the small-campus aspect. The size allows me to feel that I'm legitimately making a difference and leaving a mark on the Music Department. I've been working in the department as a student worker for several semesters now, and am involved in a pretty sizable portion of music events besides. I know my voice is heard here, and that makes all the difference.
What role has Concordia played in developing your faith?
I'm very appreciative of Concordia for allowing me the opportunity to focus on my faith more than any other school could. Each semester, I've personally chosen to focus on a different aspect of my faith, allowing my day-to-day life to intertwine with Chapel messages and religion classes. More than anything, I've asked lots of questions: of myself, of my friends, and of my professors and mentors. And regardless of where it comes from, I always find an answer. I thank the Lord for that.
How are you adjusting to these uncertain times? Has the Concordia community provided some comfort and stability for you? Has your music been a helpful outlet?
This year has certainly been very different. At times it does catch up to me and I'm knocked down for a while, as I know so many people understand. But I always get back to where I need to be. The Concordia community definitely plays a part in that. It's stabilizing to know that my professors understand the situation we're all in and don't demand impossible standards from us. In addition, music has brought me a great deal of hope this semester. I've made a lot of personal progress in my music composition career goals, and I'm ready to move out of the pandemic stronger than I was going in, which is incredibly encouraging.
If you could give thanks to donors who support your education and experiences at CUAA, what would you say?
I'm so appreciative of all those who make the Concordia experience possible. It is very clear that donors make the difference, and especially in years like 2020, it's hard not to be grateful for people still contributing when they can. CUAA is constantly evolving to meet the demands of "the next thing." It's not stagnant; it's not dying; it's growing and flourishing even now. And that's because of the constant support from community members across the state, country, even around the globe. I hope that donors know how much they're doing for their Concordia family here in Ann Arbor.
—
If this story has inspired you, why not explore how you can help further Concordia's mission through giving.