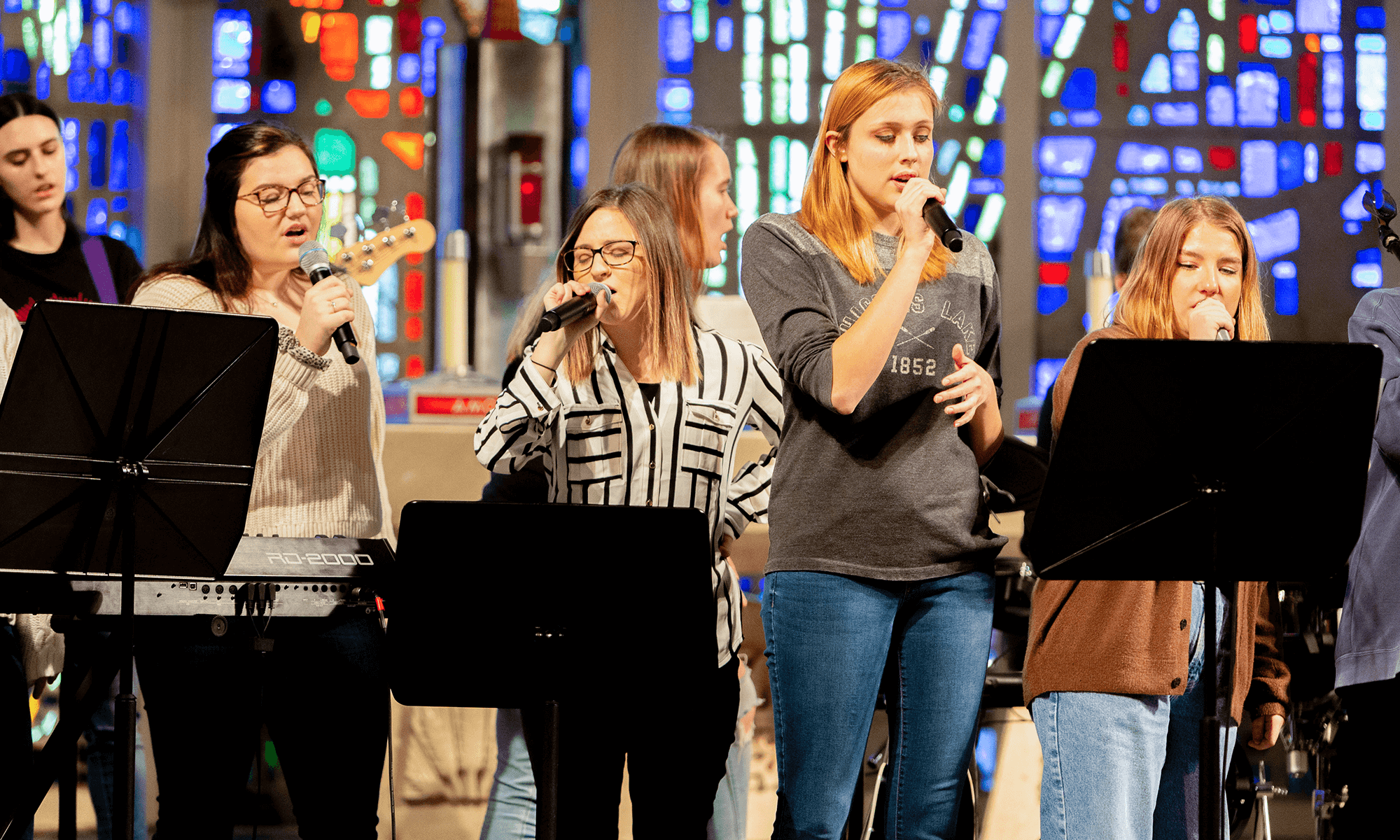 Hosted by the growing Worship Arts program within CUAA's music department and organized by Director of Church Music and Worship Arts Dr. John Boonenberg, Worship Arts Day was a hands-on learning experience and a chance to discover more about the Worship Arts at Concordia.
---
Seventeen high school students came to Concordia University Ann Arbor's campus for the second annual Worship Arts Day last weekend, February 7-8, 2020.
On Friday night, the high school students arrived and the fully immersive learning experience began. There was a meet and greet along with dinner and a campus tour with current Concordia students, followed by a masterclass also led by Concordia students. Day one concluded with "Worship in the Round" at 10 p.m., where students circled around one another and worshiped together with their instruments and voices. Students who opted to stayed the night on campus with Concordia student hosts.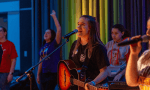 "Worship in the Round on Friday night was the most impactful and moving events I've ever been a part of. You knew Jesus was in the room, and the worship was so genuine," says one of Concordia's two worship arts coordinators, Alex Elliott ('22).
Related: CUAA to host Honor Band Day for high school students, Feb. 28-29
Saturday began early after breakfast with breakout sessions incorporating different elements that make up a worship band like guitar, bass, voice, and drums. There were also bible study sessions that were incorporated into the morning as well.
Rehearsals for the closing worship began after a mid-morning break and the students were divided into two groups to lead worship later in the day. Once 3 p.m. came around, the final worship event began for families and friends of the students to enjoy. Everyone gathered in The Chapel of the Holy Trinity to see what the students had learned over the past 24-hours together.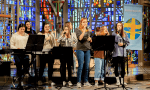 "It was the best," Elliott says, reflecting on the events of the weekend, "I thought the weekend went really well! All of the students grew so much, not only musically, but spiritually".  
Questions about Worship Arts at Concordia University Ann Arbor? Visit our website or connect with John Boonenberg at John.Boonenberg@cuaa.edu.
Join us for more upcoming CUAA Music Department events:
February 28-29 / Honor Band Day
February 29 / Honor Band Day Concert
March 1 / Concordia Vespers
March 10 / Music Festival for Lutheran Schools
March 24/ Concordia Choir Concert
April 27 / Spring Orchestra Concert
May 3 / A Night of Singing
May 7 / Wind Ensemble Concert
View all Concordia University Ann Arbor events.
— This story is written by Allie Milot, social media manager for Concordia University Wisconsin and Ann Arbor. She may be reached at alexandria.milot@cuaa.edu or 734-995-7403.
If this story has inspired you, why not explore how you can help further Concordia's mission through giving.