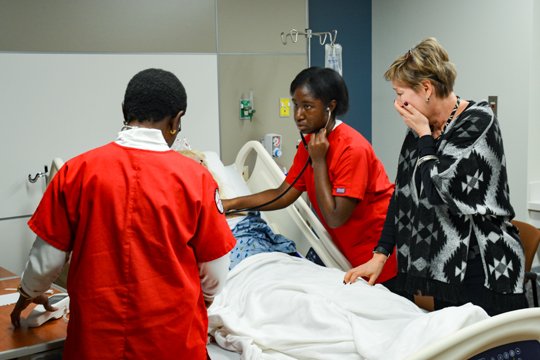 Concordia University Ann Arbor's School of Nursing and justice and public policy program joined together for an inter-professional education (IPE) simulation on Monday, March 27 as they prepare for careers in nursing and public service.
---
The scenario was spring prom season. The patient, a high-acuity mannequin named Katie, was in a car with three of her friends leaving a post-prom party at 3:30 a.m. when the vehicle rolled over, the driver under the influence of alcohol
Complete with a prom dress laid over the side of the hospital chair, Katie's mom sobbing in the corner, and unexpected hospital room guests that evolved into a series of altercations, the scene was a completely interactive replication of the real world.
"We don't have to say 'pretend like this is happening' or 'make believe this is going on,'" said Anita Simmons, director of simulation in the CUAA School of Nursing. "We actually make it happen by creating a detailed scenario, bringing it to life with an interactive mannequin along with actors and actresses, and immersing our students in a situation to see how they will respond based off of what they have learned in class."
The simulation took place in the CUAA North Building simulation center, part of the School of Nursing's recently renovated, state-of-the-art facility. In this particular simulation, the nursing students were assessing the patient, Katie, after her car accident, when her mother entered the room in a very emotional state. The patient's mother learned that her ex-husband allowed Katie to attend the party, leading to an altercation when he entered the room to check on his daughter.
This is where the justice and public policy students intervened. Students stood watch over an inmate patient as he awaited treatment in the hallway.
"Little did the justice and public policy students know, they were being tested on both their attunement to the hostile situation in the hospital room and their decision to maintain surveillance of the inmate they were to be guarding, despite all of the distractions around them," said Simmons.
This particular scene ran for about 20 minutes, also including a visit from the father of the boy who was driving the vehicle, leading to another altercation with Katie's parents, and a hysterical visit from a few of Katie's friends who thought she would be dead. They ran through the simulation three different times, changing up the scene so that students can see how a different variable might lead to a new outcome.
Concordia nursing students are in simulation labs for at least 90 minutes every week for the entire six semesters of their nursing curriculum. Simulations are based on the di-dactic material covered in the classroom that week, including both nursing-focused simulations and IPE simulations that integrate students from other majors and professional fields on campus.
This simulation was the fourth IPE simulation that the School of Nursing has done since its launch at the beginning of the fall 2016 semester.
"Through IPE, our nursing students learn to collaborate with other professionals and discover what it means to have the right assessment data for whomever they're turning the situation over to," said Betsy Cambridge, simulation instructor. "Medical care is not just a nurse or doctor, it's a team of people working together."
In addition to the five, high-acuity simulation rooms, the School of Nursing features a simulation apartment, assessment lab with eight exam rooms, a 10-bed skills lab, and pod-style learning stations to facilitate student collaboration.
In a previous IPE simulation with the justice and public policy program, a patient with a traumatic brain injury became volatile in one of the simulation hospital rooms. Nursing students had to assess what potential, unconventional weapons could be used in the room and ensure a cooperative environment to do their assessment.  In another IPE simulation, the homecare nurse had a police escort along for the home visit to the simulation apartment, investigating possible evidence of domestic violence abuse while the nurse cared for the patient.
The School of Nursing at Concordia is in the process of planning IPE simulations with other programs on campus in addition to the justice and public policy program, including athletic training, education, psychology, social work, and family life education.
"A big learning piece with simulation is the debriefing that takes place afterwards," said Simmons. "We typically videotape simulations so we can discuss with the students what occurred, why they made certain decisions, and how they can improve."
The simulation took place in the simulation center within the CUAA School of Nursing. Complete with actors and actresses playing the roles of the patient's family members and friends, nursing and justice and public policy students had to manage the situation as they would in their professional careers.
— Rachel Thoms served on Concordia University's Strategic Communications team from 2015-2022. Any inquiries about this story can be sent to news@cuaa.edu.
If this story has inspired you, why not explore how you can help further Concordia's mission through giving.