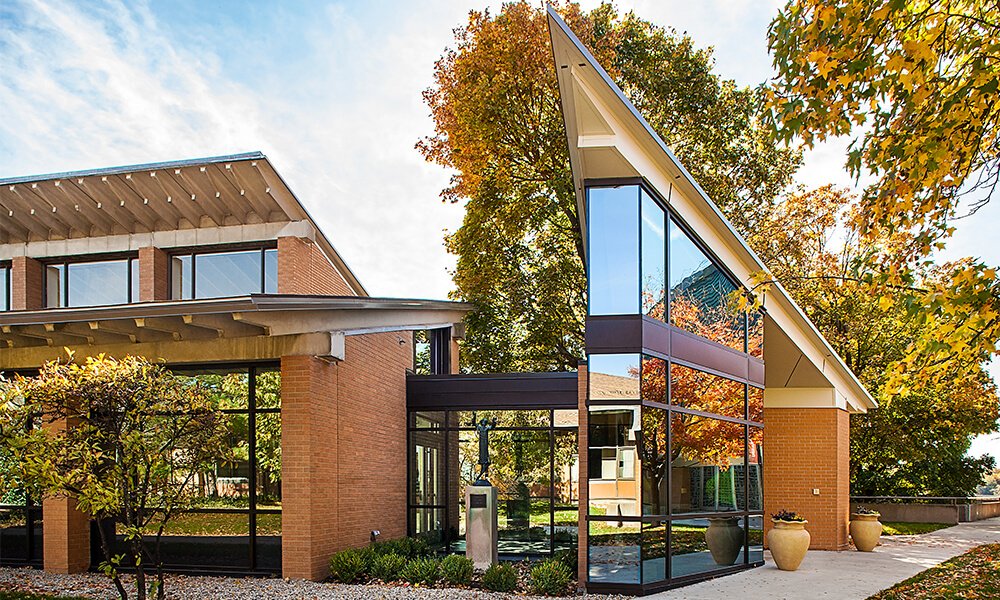 From a strings musician who accompanied icons like Stevie Wonder and Aretha Franklin to an examination of mass incarceration led by author and sociologist Reuben Miller, the fall 2021 Kreft Arts Program lineup promises not to disappoint!
---
Concordia University Ann Arbor is pleased to announce the in-person return of its annual Kreft Arts Program.
Through the generous support of Karl and Shirley Kreft, the Kreft Arts Program strives to inspire the artistic, intellectual, and creative experiences of CUAA students and surrounding community members. Each fall and spring, the program welcomes artists of various disciplines and backgrounds to campus to enlighten others and share their unique insights.
The fall 2021 schedule, listed below, is open to the public. Outside of the Boar's Head Festival, all events are free, and no registration is required. Guests are invited to simply show up. Please note that, until further notice, Concordia requires all individuals, including those who are vaccinated, to wear a mask while indoors. Click here to view a campus map.
---
Brian Nelson Gallery Show: "Thinking Out Loud"
Monday, September 13 through Friday, October 8 | Kreft Gallery
Brian Nelson's sculptures will be one of two featured galleries for the fall 2021 Kreft Arts Program. Born in Coldwater, Michigan, Nelson received a BFA in Sculpture from Western Michigan University in 1989 and an MFA in Sculpture from Michigan State University in 1995. He began teaching at Eastern Michigan University in 2000.
Opening Night: Thursday, September 16 at 6 p.m.
Add to Calendar: Google | iCal | Outlook
---
"Graven Images: Martyrdom and the Good News of John Donne?" with Dr. Neal Migan
Tuesday, September 21 at 4 p.m. | Manor Living Room
The trajectory of the life of John Donne, the 17th-century English poet (and eventual Dean of St. Paul's Cathedral in London), was Augustinian in nature. A contemporary of Shakespeare's, he began as something of a libertine and ended up an Anglican saint. CUAA professor Dr. Neal Migan's discussion traces the course of his research over the last decade as he attempt to make some sense of Donne's life by examining some of the most ghastly images from his poetry, arguing, finally, that these "graven" images in their way make a case for his sainthood.
Add to Calendar: Google | iCal | Outlook
---
Brad Phillips: The Story of a Midwestern Sideman
Wednesday, October 6 at 7 p.m. | Black Box
Come experience an evening of heartfelt acoustic music and storytelling with one of Michigan's best-kept musical secrets. For more than 15 years, Brad Phillips has served as a sideman for some of Michigan's most prevalent singer/songwriter acts.
Phillips is most known for his appearances with Jeff Daniels, The Verve Pipe, and the Celtic-fusion super-group Millish. He has also appeared with May Erlewine, Joshua Davis and played violin for Stevie Wonder, Aretha Franklin, Pat Metheny, and Iggy Pop and the Stooges.
Add to Calendar: Google | iCal | Outlook
---
National Day on Writing
Wednesday, October 20 from 11 a.m. to 1 p.m. | Outside the Cafe
The National Council of Teachers of English has designated October 20 as the National Day on Writing. So, what are you going to write? Don't know where to start? Stop by the Cafe and let the Kreft Arts Program inspire you!
---
Author Reuben Miller Book Talk: "Halfway Home: Race, Punishment, and the Afterlife of Mass Incarceration"
Monday, October 25 at 7 p.m. | Chapel of the Holy Trinity
Each year, more than half a million Americans are released from prison and join a population of twenty million people who live with a felony record. Reuben Miller, a chaplain at the Cook County Jail in Chicago who is now a sociologist studying mass incarceration, spent years alongside prisoners, ex-prisoners, their friends, and their families to understand the lifelong burden that even a single arrest can entail.
What his work revealed is a simple, if overlooked truth: life after incarceration is its own form of prison. The idea that one can serve their debt and return to life as a full-fledge member of society is one of America's most nefarious myths. Recently released individuals are faced with jobs that are off-limits, apartments that cannot be occupied and votes that cannot be cast. His book, Halfway Home, shows that the American justice system was not created to rehabilitate. Parole is structured to keep classes of Americans impoverished, unstable, and disenfranchised long after they've paid their debt to society.
Add to Calendar: Google | iCal | Outlook
---
Seipp/Sheets Trumpet and Organ Duo
Thursday, November 11 at 7 p.m. | Chapel of the Holy Trinity
The Seipp/Sheets Trumpet & Organ Duo is unlike any ensemble performing today. Custom musical arrangements of virtuoso, beautiful, entertaining, humorous and patriotic selections enhance the exquisite blend of their instruments. Coupled visually with specialized videos, Seipp and Sheets craft a unique and engaging concert experience for all ages, creating extraordinary connection with their audiences. The duo's thoughtful programming, artistic arrangements and powerful, innovative and interactive video presentations make the Seipp/Sheets Duo today's musicians to watch.
This concert will be a part of CUAA's Veterans Day celebrations taking place throughout the week. More details to come.
Add to Calendar: Google | iCal | Outlook
---
Fall Finesse (Fall Student Art Show)
Tuesday, November 30 through Friday, December 17 | Kreft Art Gallery
CUAA students will showcase the artwork they completed during the fall 2021 semester. Come out and support our student artists!
Add to Calendar: Google | iCal | Outlook
---
Boar's Head Festival
Friday, December 3 through Sunday, December 5 | Chapel of the Holy Trinity
Students, faculty, and staff come together to enact medieval Christmas traditions and the story of Christ's birth in this moving spectacle. Beginning in 1978 through the vision of three Concordia professors—Paul Foelber, John Sturmfels and Quentin Marino—the Boar's Head Festival has become a treasured memory for many. It remains a vibrant and living tradition as it continues to profess the wonder of the Christmas miracle.
Advanced tickets are required. Watch the Boar's Head website for tickets to go on sale beginning October 1, 2021!
Add to Calendar: Google | iCal | Outlook
---
First Look: Music Department's fall 2021 line-up
Outdoor Concert (Band & Orchestra)
Tuesday, October 19 at 6 p.m.
Earhart Manor Patio
Concordia Vespers (Choir)
Sunday, November 14 at 5 p.m.
Chapel of the Holy Trinity
Boar's Head Festival (Choir, Band, & Orchestra)
Friday, December 3 – Sunday, December 5
Chapel of the Holy Trinity
Christmas Concert (Band & Orchestra)
Thursday, December 9
Black Box Theater
Learn more about CUAA's music department.
—
If this story has inspired you, why not explore how you can help further Concordia's mission through giving.