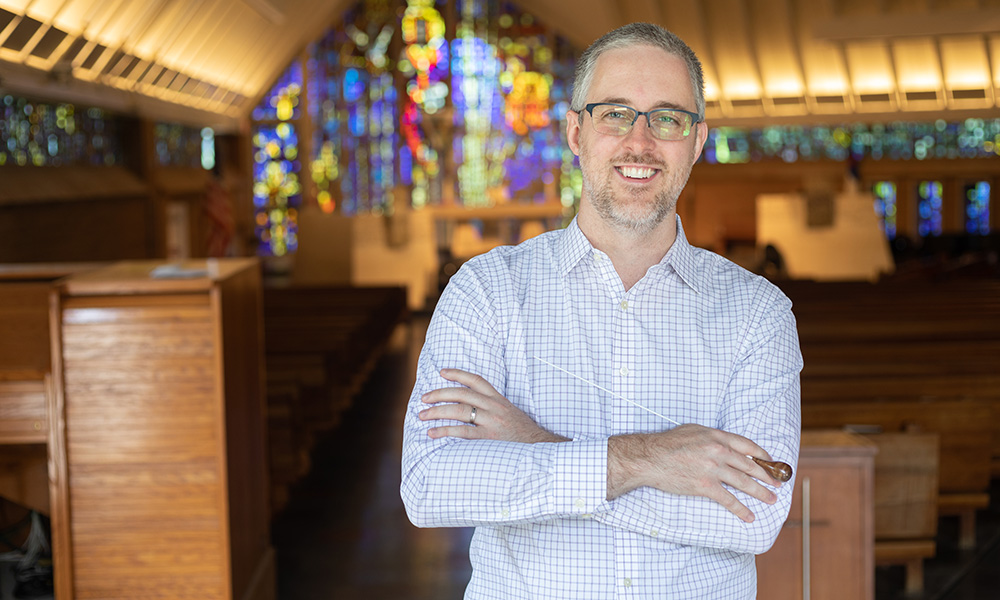 The new position is made possible by a generous gift from two faithful donors.
---
The Department of Music at Concordia University Ann Arbor (CUAA) is pleased to announce the appointment of Dr. John Boonenberg as the university's new Kreft Endowed Chair in Music. The endowment is made possible thanks to significant support of longtime CUAA supporters Karl and Shirley Kreft.
"This generous gift in support of the CUAA Kreft Endowed Chair in Music is a game-changer for the music ministry program on our Ann Arbor campus," said Dr. Leah Dvorak, interim provost at Concordia University Wisconsin & Ann Arbor (CUWAA). "Dr. Boonenberg is an outstanding musician and educator. Under his leadership, we are confident that the CUAA music programs will soar even higher."
"I'm honored and humbled to serve in this new capacity, and to be a part of this exciting inflection point for the Music Department at CUAA," Boonenberg said.  "We have so many wonderful things happening in our ensembles and academic programs, and I'm thrilled to be able to elevate the public's awareness of the quality of music-making and training happening at CUAA."
In addition to teaching music courses and leading choral music programs as Director of Choral Activities and Church Music, Boonenberg will now focus his energies on promoting all CUAA music programs regionally, nationally, and within the Lutheran Church Missouri Synod (LCMS). He will actively recruit students with exceptional gifts in music who will elevate the quality, visibility, and reputation of these programs, while also developing new ensembles to serve both the CUAA campus community and the LCMS.
The Kreft Endowment
The Krefts say they are inspired to support the music program by Martin Luther's own passion for music as a form as worship, as expressed by this beautiful Luther quote:
"I plainly judge, and do not hesitate to affirm, that except for theology there is no art that could be put on the same level with music, since except for theology, [music] alone produces what otherwise only theology can do, namely, a calm and joyful disposition …. This is the reason why the prophets did not make use of any art except music; when setting forth their theology they did it not as geometry, not as arithmetic, not as astronomy, but as music, so that they held theology and music most tightly connected, and proclaimed truth through Psalms and songs."
"The Krefts' vision for this endowed chair is one we enthusiastically endorse," Dvorak said. "We expect it to drive enrollment in CUAA music programs, to substantially increase the number of new, dynamic music ensembles, and to foster increased recognition of the quality of our music offerings and performances."
"In addition," said CUWAA Interim President Bill Cario, "this gift will help Concordia strengthen its connection with the LCMS, build on its Lutheran music heritage, and prepare students and graduates to make an even bigger impact through church work."
Dr. John Boonenberg
Boonenberg, who holds degrees from The University of Michigan (B.M., D.M.A.) and The Juilliard School (M.M.), has used his musical gifts to serve God and the Church in a wide variety of ways throughout his career. He plays organ, piano, guitar, and other instruments for worship services; conducts award-winning choirs and instrumental ensembles; and has taught general music and drama in Lutheran schools.
Areas of particular interest include liturgical renewal in the church, historic Lutheran hymnody, contemporary Christian songwriting, and the music of J.S. Bach. He believes in utilizing the varied musical gifts of students and congregation members to glorify God in word and in song, and to edify the community of believers.
"As stewards of God's great gift of music, the music department at CUAA looks forward to continued growth that allows us to serve our students, equipping them to go out and serve others," Boonenberg said. "A blossoming music department at CUAA mirrors and enhances our life together—the faith that we share, and the uncommon goal of working toward achievements that glorify God."
It is this devotion to God and passion for serving Christ in the Church and in the world that makes him such a good fit for the Kreft Endowed Chair in Music, said Rev. Dr. Ryan Peterson, vice president of administration at CUAA.
"Our Concordia community gives thanks to God for the faithful generosity of Karl and Shirley Kreft," Peterson said. "Because of their vision and passion for the beautiful gift of music, we are poised to significantly increase the visibility of all our CUAA music programs under Dr. John Boonenberg's leadership.
"Most importantly, our students—both current and future—will continue to learn and train in a Christ-centered environment that prepares them, more than ever, to Live Uncommon."
---
For more information about music programs at Concordia University Ann Arbor, visit the Department of Music at cuaa.edu.
—
If this story has inspired you, why not explore how you can help further Concordia's mission through giving.