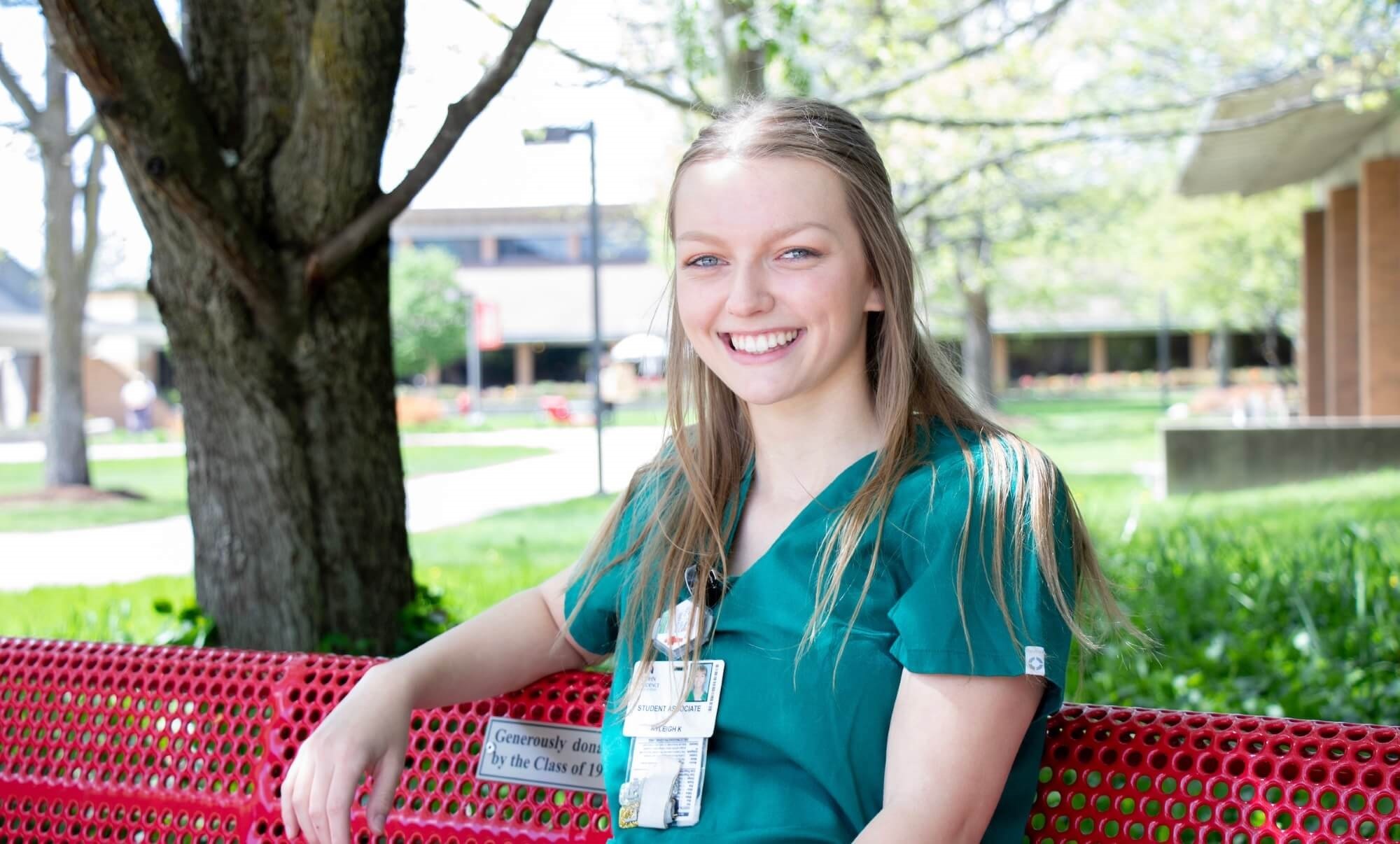 Concordia University Ann Arbor will celebrate 148 graduates on May 19. The graduation candidates are students who have spent their years at CUAA developing in mind, body, and spirit for uncommon lives of service and impact.
---
Editor's note: This is one in a series of stories featuring Concordia's unique or exemplary May graduates.
Ever since she was 15-years-old, Kyleigh Kinsel knew she wanted to study radiologic technology.
Thanks to an innovative program offered at her high school in Toledo, Ohio, Kinsel was exposed to several different occupations within the health care industry, but one, in particular, captivated her attention.
"I always thought that X-ray was interesting," says Kinsel. "When I had the opportunity to learn more about the occupation and shadow the professionals in the field, I knew that was what I wanted to do."
Related: The uncommon child life specialist cheering on through trials
As a high school student, Kinsel was able to split her days between regular class work in the mornings and afternoon clinicals where she observed professionals in the field. By the time she graduated high school, Kinsel earned her Certification as a Nursing Assistant (CNA) and had plans to attend her local college in Toledo to earn an Associate degree in Radiologic Technology.
Her plans were altered slightly.
Between high school and college, Kinsel decided to go on a summer mission trip to Africa. That trip not only reinforced her decision to pursue a career in the health care industry, but, for the first time, had Kinsel living and working within a Christian community. For this life-long Lutheran, that was an epiphany.
"It was a God-thing," says Kinsel. "I had known about Concordia, and even checked it out, but I had no plans to enroll there." She continues, "That summer, everything changed. I discovered that I thrive in a faith-filled environment and immediately recognized that I belonged at Concordia University."
She goes on to describe the scramble she went through to get enrolled in time to start in fall.
"It was the daily chapel and the caring people who worked there that brought me in," says Kinsel. "After touring the campus I made the decision to go to Concordia one week before school actually started."
From that day forward Kinsel never looked back.
The Radiologic Technology program is a "two plus two" program. Students spend their first two years on campus taking prerequisite classes, and then they apply for the next phase that consists of didactics courses and clinical experiences. Students must demonstrate exemplary grades, prior health care experience, and job shadow hours to get accepted. Kinsel's high school experience made her a strong candidate.
While living on campus, Kinsel played lacrosse on CUAA's inaugural team and continued working as a CNA at area clinics.
Related: The uncommon parish musician playing a major role behind the scenes
For the past two years, Kinsel has been living in Detroit, working in clinicals, and completing the second half of her program. She was recently hired as a student technician in a hospital where she will complete the final leg of her program.  After she takes the licensure exam in August, she hopes to return to the Ann Arbor area to work as an X-ray technician in a hospital and be closer to her alma mater.
As Kinsel reflects on her journey to commencement and the different opportunities that God has presented to her she pauses for just a second before surmising, "all is really coming together."
Learn more about Concordia's radiologic technology program here. 
—
If this story has inspired you, why not explore how you can help further Concordia's mission through giving.