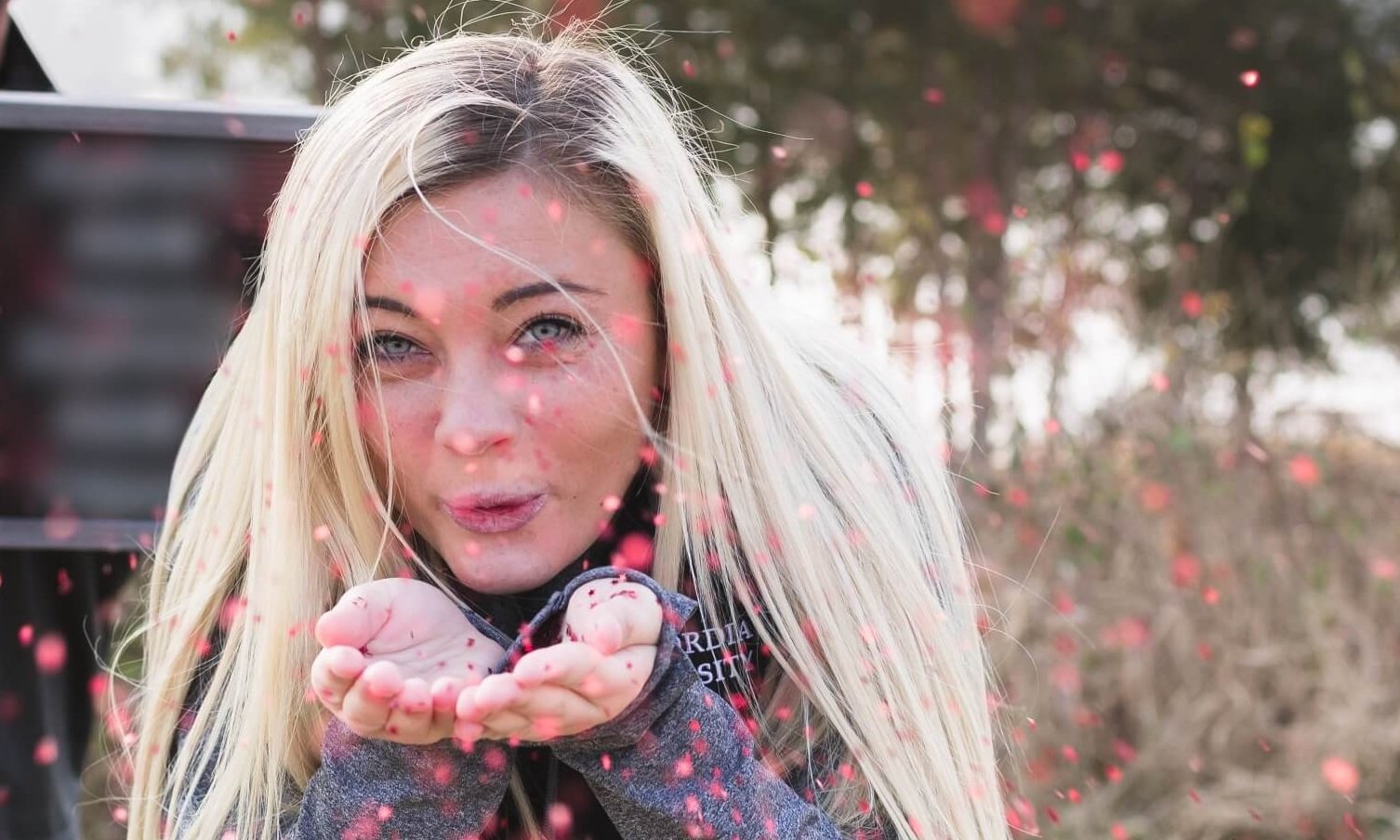 Concordia University Ann Arbor will celebrate 148 graduates on May 19. The graduation candidates are students who have spent their years at CUAA developing in mind, body, and spirit for uncommon lives of service and impact.
---
Editor's note: This is one in a series of stories featuring Concordia's unique or exemplary May graduates.
May 19, 2019 will be quite a celebration for Ashtyn Hare.
The date marks the completion of her bachelor's degree in family life education and the launch to her career as a child life specialist—and she gets to do it all on her 22nd birthday.
The road to Hare's campus-wide "birthday party" has not been easy, though, and Hare will be the first to say she went through both peaks and valleys to get there.
"I feel like Concordia has prepared me for whatever comes my way, and I know there will still be challenges to overcome," said Hare, from Freedland, Michigan. "My faith has been strengthened by the challenging things in my life, and I know that has prepared me for my career as a child life specialist."
The health care settings that hire child life specialists (CLS) have high expectations when it comes academic requirements and experience in the field, and Concordia's program rises to the occasion. In their roles as child life specialists, CUAA's graduates are expected to bridge the gap between complex medical terms and procedures and patients' (and their parents') understanding all while caring for their emotional well-being during what can be an incredibly tumultuous time.
In her undergraduate work alone, Hare will have spent a total of over 600 hours interning in hospitals and an additional 3,000 hours in part time work and volunteering.
For four years, Hare had to balance the demanding schedule of her course and field work with the athletic requirements of her participation on the Concordia Cardinals competitive cheer team, whom on March 9, 2019, became CUAA's first-ever team national champions.
Related: The uncommon undergraduate using setbacks as fuel for serving others
When it was announced that the Cardinals took first, Hare said it almost didn't feel real. "For me, I felt God's presence. No matter if we won or lost, we were truly completing for His glory and that made the victory so much more fulfilling."
As a student athlete, Hare had to battle back from—not one—but two significant injuries to ligaments in her left knee. The injuries affected her ability to fly, stunt, and tumble; all crucial elements necessary for her participation on a competitive cheer squad at the Cardinals' caliber.
Hare's first injury, a simultaneous ACL, medial, and lateral meniscus tear took place February of her freshman year. She underwent corrective surgery and eight months of rehabilitation to get back on the mat. Later that year in November, the same week Hare was hoping to be cleared to join her team, her ACL tore again.
Related: All comes together for radiologic technology graduate
"Honestly, I definitely was in a struggle of faith at that time," said Hare. "People kept telling me that everything happens for a reason, but I couldn't' possibly think of a reason why this could be happening."
Hare was devastated, but found joy when she was able to spend time with children through her hospital work and volunteering. It was her escape, a reminder that many people had it way worse than her. The patients she worked with were fighting for their lives, and her injuries' significance seemed to fade away.
Since she wasn't able to compete with her team, Hare remained busy with other campus opportunities like leading the Student Athlete Leadership Team and joining campus ministry for a mission trip to Houston.
Finally, Hare was able to rejoin her team on the mat in a limited capacity in December 2018. The team continued to improve and stay focused on their goals for the season, allowing them to take home the program's first conference championship, first place at the regional qualifier, first place in the NAIA national championships first-round, and then, ultimately, first in the nation.
As one of two seniors a part of the national championship team, Hare will walk across the stage to receive her diploma, and there, across the field house in perfect sight, the Cardinals national championship banner will hang high.
Forget your traditional birthday banner, this one is much better.
Following graduation, Hare has plans to work at North Star Reach for the second consecutive summer and to pursue her master's in child life.
Click here to learn more about CUAA's family life education program, and click here to learn more about CUAA's new child life master's program, launching in summer 2019.
— Rachel Thoms served on Concordia University's Strategic Communications team from 2015-2022. Any inquiries about this story can be sent to news@cuaa.edu.
If this story has inspired you, why not explore how you can help further Concordia's mission through giving.