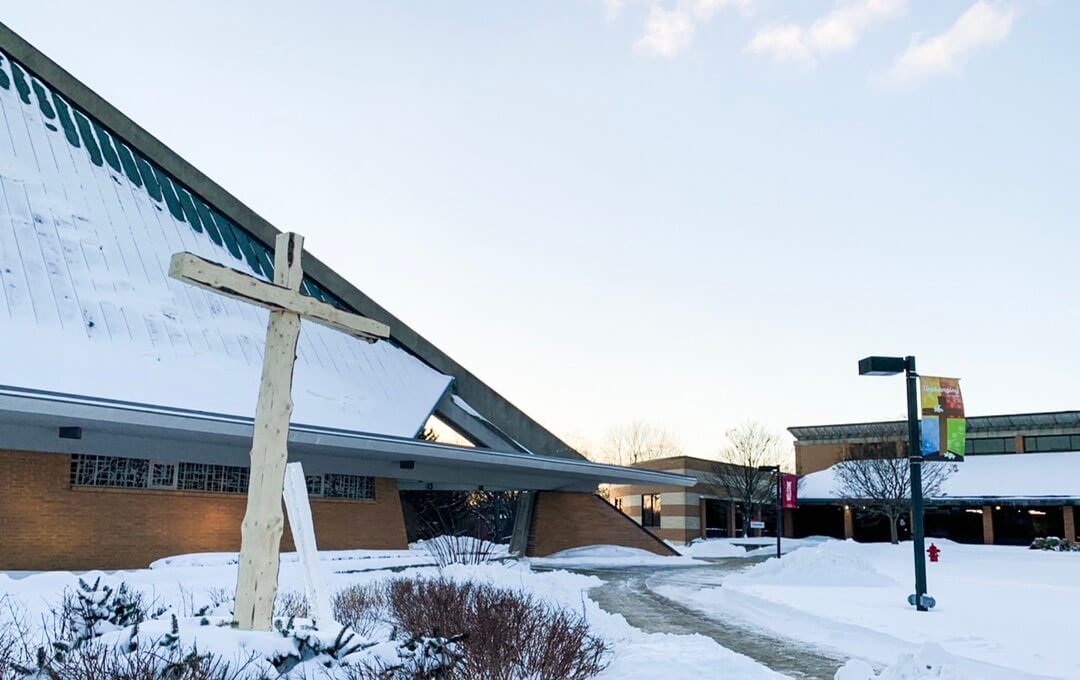 What started as an on-the-fly solution has turned into a meaningful Concordia University Ann Arbor tradition.
---
The CUAA Christmas tree, standing tall at the center of campus, reveals the story of Jesus' life and Jesus' mission to anyone who steps onto campus from Advent to Easter.
In October 2010, the city of Ann Arbor decided to replace an existing traffic light in front of campus with a single-lane roundabout, meaning a flourishing 20-foot evergreen would need to be chopped down.
"I said to my staff, 'That's a beautiful tree, we should do something with that!'" said Jerry Novak, director of buildings and grounds. The staff decided to transplant the tree in front of the Chapel of the Holy Trinity, lighting the tree the first week of Advent.
"We purposefully light the tree during daily chapel the first week of Advent in reference to John 1:9," said Ryan Peterson, campus pastor. "Students walk passed the Christmas tree throughout Advent, reminded each day and each night that Jesus is the light of the world."
"The true light that gives light to everyone was coming into the world." —John 1:9
Upon the new year in 2011, Novak approached Bob McKinney, director of campus ministry (at the time), with an idea to shave the branches of the Christmas tree on Ash Wednesday, forming the trunk into a cross to mark the beginning of Lent. CUAA has upheld the tradition of the evanescent evergreen ever since.
"Jesus' journey ultimately takes him to the cross, so we shave the branches upon the commencement of Lent," said Peterson. "Now, students are reminded that Jesus bore their sins on the cross, so that by His wounds we are healed."
"He himself bore our sins in his body on the cross, so that we might die to sins and live for righteousness; by his wounds you have been healed." —1 Peter 2:24
On Easter, the cross is brought inside to the front of the Chapel. The cross is surrounded by Easter lilies, celebrating Jesus Christ's defeat of death through his resurrection.
"When Jesus spoke again to the people, he said, "I am the light of the world. Whoever follows me will never walk in darkness, but will have the light of life." —John 8:12
"The life of the tree is not only a cool continuum, it's a clear illustration reminding us that Jesus was born to conquer death through His own death and resurrection," said Peterson.
Watch a time-lapse of the Christmas tree's transition to a cross on the CUAA YouTube channel by searching "CUAA: Life of the Tree" in the YouTube search bar.
— Rachel Thoms served on Concordia University's Strategic Communications team from 2015-2022. Any inquiries about this story can be sent to news@cuaa.edu.
If this story has inspired you, why not explore how you can help further Concordia's mission through giving.