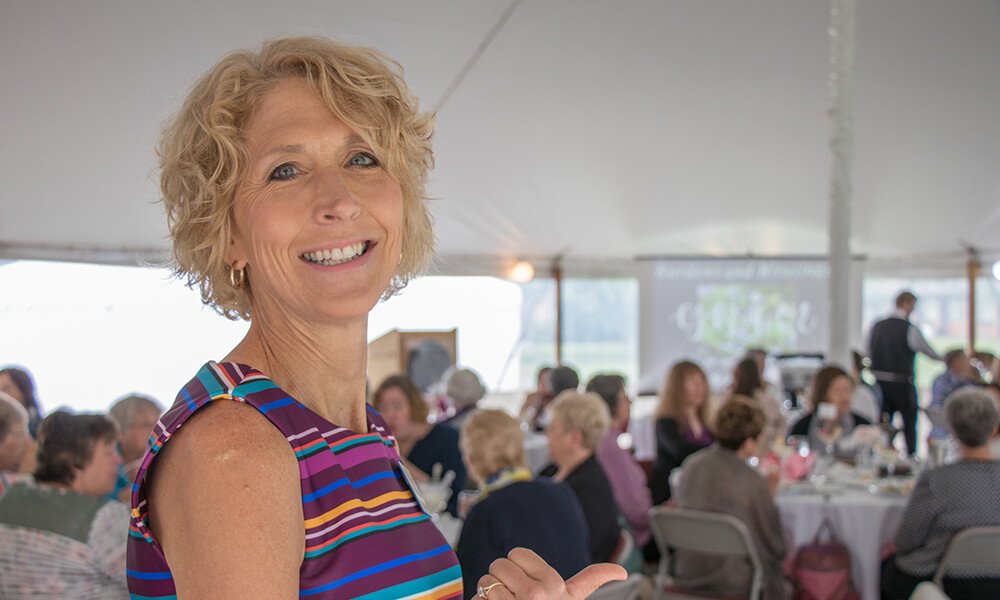 A Living Grace Virtual Luncheon booklet brought the look and feel of the actual summertime event to nearly 350 ladies when it arrived in their homes earlier this month in the mail.
---
"While we cannot be together physically, we can still be together in our hearts," said Executive Director For Institutional Effectiveness Dr. Tamara Ferry, who co-authored the 16-page document with Senior Director of Advancement Services Michelle Buss. "This pandemic cannot keep us down and while nothing can take the place of our luncheons, we miss you, we're praying for you and we can't wait to see you again," stressed Ferry, who emcees the annual event.
During her Welcome, she said strategies are coming together for the bold reopening of campus and introduced Concordia University Ann Arbor's three post-Covid plans:
The Return Plan for students, faculty and staff in August
The Recovery Plan
The Re-Imagination Plan for academic and administrative operations
A devotion and prayer based on Nahum 1:7 by administrative assistant Aimee Wiley was followed by a Simply Elegant Lunch Menu that would have been served, complete with recipes when people believe conditions allow for having their friends over for lunch. The menu included an avocado Greek yogurt chicken salad, salad skewers with fresh fruit, vegetables and cheeses, a spritzer with edible petals, and a creamy dessert duet.
President Dr. Patrick T. Ferry provided a campus update on CUAA's new Office of Multicultural Engagement, its two newest graduate professional programs – a doctorate of occupational therapy and a doctorate of physical therapy – and personal protective equipment provided to Detroit's Covenant Community Care Clinic by faculty from the School of Nursing during this pandemic.
"We all have a part to play in this moment," said Ferry. "I am convinced that our students' faith and their Concordia education give them an opportunity to truly, remarkably, and courageously Live Uncommon. We are, always, Concordia, hearts together in Christ."
Buss wrote an inspiring, featured message entitled Finding Peace in Turbulent Times. "On our own, we are vulnerable and helpless. But in Christ, we have a way through the troubles and trials of this life. We can best cope with hard times by walking with Jesus every day. We learn to share our burdens with Christian friends, and, in turn, help and encourage others," Buss noted.
The virtual booklet event encouraged ladies to reach out to their friends and ended with the traditional doxology that has closed Living Grace lunches since they began at CUAA in 2015.
Living Grace was founded on Concordia University Wisconsin's campus in 1996 to provide Christian growth and fellowship opportunities for women to support one another in their spiritual walk. Individuals visiting the website can view the latest campus news, submit prayer petitions, provide a financial gift, or enter a drawing for a complimentary ticket to the next event.
—
If this story has inspired you, why not explore how you can help further Concordia's mission through giving.