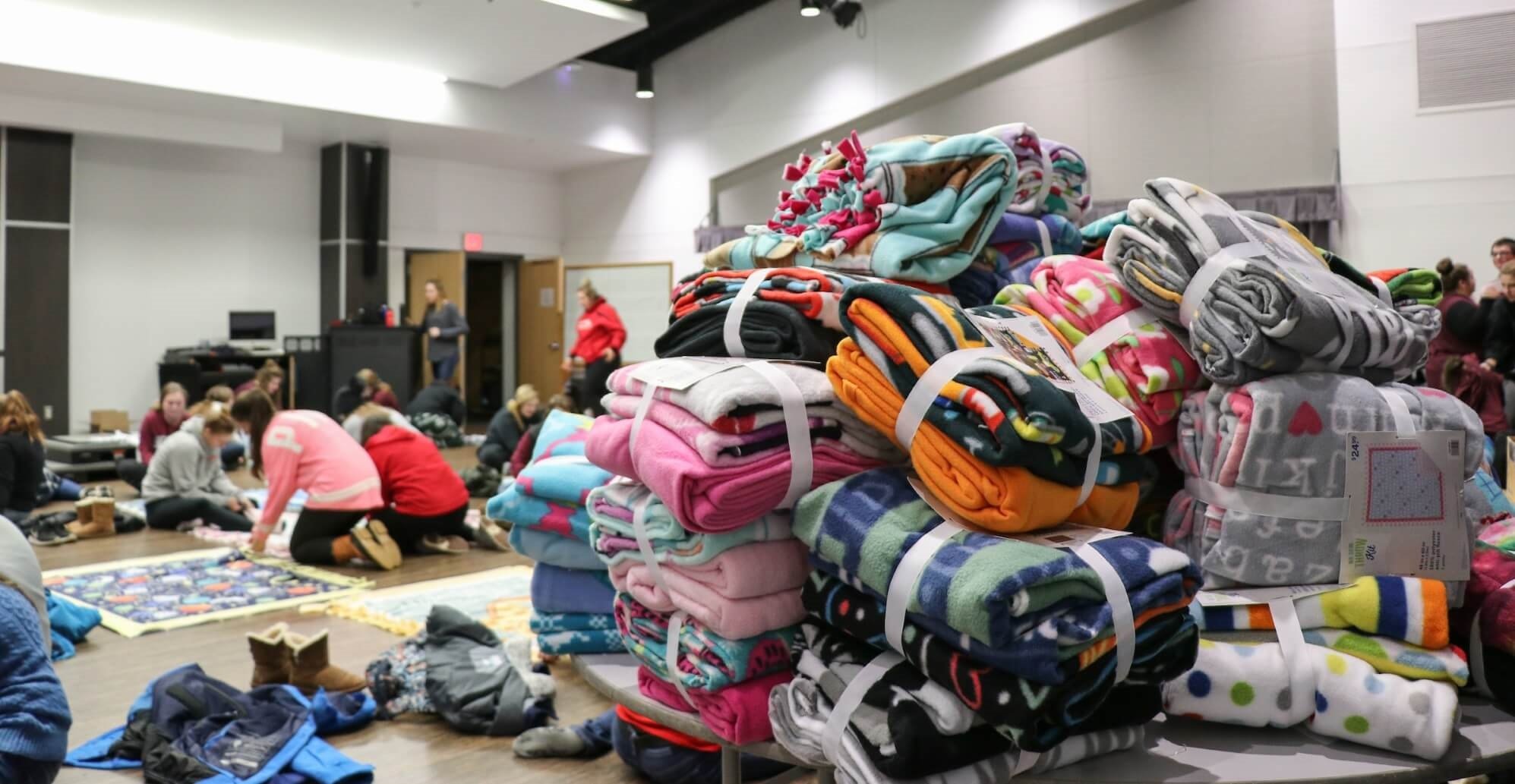 This holiday season, students from Concordia University Ann Arbor joined together to warm the spirits of children at a local Ann Arbor children's hospital.
---
Over 100 students gathered together throughout the two hours of the Make Some Ties annual event to cut and tie fleece fabric and write notes of encouragement to the children that would be receiving each of the cutely-patterned cozy covers. 
The students made 80 fleece tie blankets in total.
"Seeing so many students so excited and wanting to help is was amazing," said Sami Miller, the student organizer of the Make Some Ties event through her student service club Cardinals In Action. "Last year, when we started this event, we put together 25 blankets. We set our sights on a higher goal this year with 80 blankets that needed to be made and so many people showed up and helped us crank them out."
Miller, a junior computer science major, originally reached out to C.S. Mott Children's Hospital in Ann Arbor to find out what Concordia students could do that would benefit and bring joy to patients.
The hospital suggested to Miller that they are always in need of more fleece blankets.
"We try to make the gift of the blanket as personal as possible by doing three things; two of which the kids see and a third that they don't," said Miller.
Included with each blanket is a handwritten card of encouragement. Inside of the card is also a photo of the group with their blanket after it has been finished so that the children can see the faces of those who made it. Concordia students also pray over each blanket and the patient that will be receiving it.
"A Concordia education and service go hand in hand," said Miller. "One of my favorite things about being a student here is being able to serve as God's hands and feet, sharing His love constantly through service projects like this one."
— Rachel Thoms served on Concordia University's Strategic Communications team from 2015-2022. Any inquiries about this story can be sent to news@cuaa.edu.
If this story has inspired you, why not explore how you can help further Concordia's mission through giving.