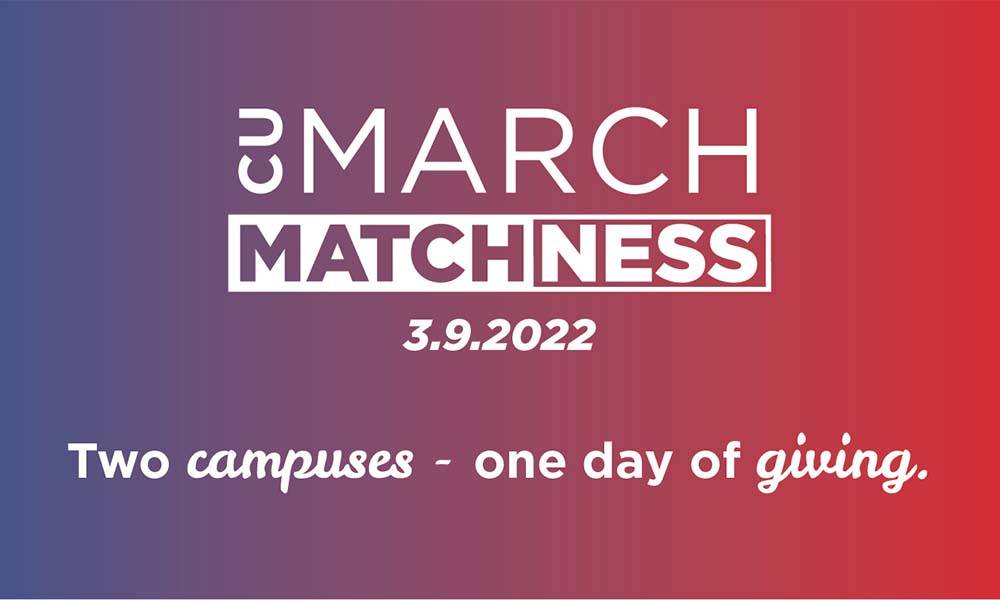 Join us for the tipoff of March MATCHness!
---
Our annual giving day is right around the corner – March 9, 2022! On this special Giving Day—called March MATCHness—YOU can change the lives of our uncommon students and all those they impact through their vocations.
The entire CUW and CUAA community, including students, alumni, faculty, staff, parents, and friends are encouraged to join March MATCHness to make a difference.
We need your help to make this event a success! Here's what you can do.
Give… and it magnifies!
We're not calling the celebration "March MATCHness" for nothing! To make things more exciting, we have a series of challenges that will magnify your gift with a matching amount. Thanks to generous Concordia supporters, your gift can be magnified through the match challenges!
Give to a campus area of your choice
When you give, you will be able to select from one of five campus-specific areas where you want to direct your support. You can choose from any of the below for each campus:
Concordia Fund
Athletics
Campus Ministry
Fine Arts
Scholarship Support
Give for the first time
Perhaps you've only recently graduated or just never considered giving to Concordia. This is the time! No matter the size of your gift—if it's $5 or $20—all first-time donors will have their gift magnified.
Stop by our in-person activities on March 9!
If you are on-campus on March 9, we will have special opportunities to qualify for food, giveaways, and drawings with your donation.  Find us from 10:00 am – 2:00 pm ET in the Student Union at CUAA or at the North Building.  At CUW, find us from 9:00 am – 2:30 pm CT in the Chapel Hallway.
Give your family and friends a heads up!
Encourage your friends and family to participate by sending them the link. Every dollar matters! Click here for our "Spread the Word" toolkit.
Keep us in your prayers
The purpose of March MATCHness is to have fun and celebrate Concordia. Your gifts help us to make a difference in the lives of our uncommon students, and we appreciate your prayers for our students, faculty, staff and university.
Note: While Giving Day is Wednesday, March 9, 2022, the Match MATCHness campaign is open now and will remain open through Sunday, March 20, 2022.
—
If this story has inspired you, why not explore how you can help further Concordia's mission through giving.