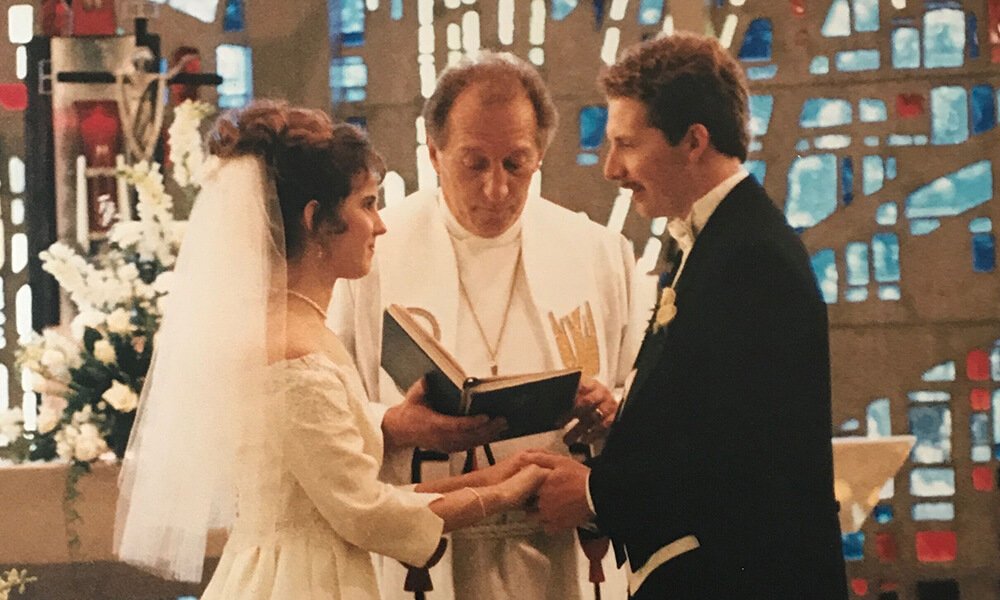 First impressions are important; you never know where a relationship will lead. Simple eye contact or a handshake could lead to a job, a lifelong friend, or even a spouse!
---
In romantic comedies, a "meet cute" is the serendipitous meeting of two characters that will later fall in love. CUAA has been the backdrop of many a "meet cute" over the course of its 56 year history. To celebrate Valentine's Day we have gathered a few of our favorite love stories from Concordia alumni. These are their stories, and we love that we are a part of them.
Dex ('67) and Connie Hoyer ('67)
We met in government class our freshman year, but we didn't 
start dating until that spring.  We really began to get to know each other when we both volunteered for a weekend mission trip to a home for boys in Whitmore Lake.  Aside from getting to know the boys and participa
ting in various activities (we played a lot of Euchre), we also had time to talk. Following that weekend, we began dating.  
In August of 1968, we were married in the chapel at Concordia, Ann Arbor.  Dex's friend from Paul Hall and Connie's roommate from Esther were part of our wedding party.  It was great to once again worship there and also to reconnect with old friends when we attended our fiftieth reunion in May of 2017.
We just recently celebrated our fiftieth wedding anniversary and feel so blessed in so many ways.  God has been very good to us!

Rev. Paul ('67) and Jane Hoffman ('67)
In 1967 it was the custom at Concordia College, Ann Arbor for the freshmen to wear red and white beanies to identify themselves on campus.  A few days before the start of classes, the freshmen had a mixer where the girls stayed in their dorms and the guys came over as a dorm to visit in the central area for fifteen minutes or so before they moved on to the next dorm. Jane was in Hannah dorm and the girls decided to put their beanies in a box so the guys could pick up a beanie, find that girl and visit with them for awhile. I was in Barnabas and when my dorm came calling, I picked Jane's beanie and we enjoyed a nice visit. I enjoyed it so much that the next day I wrote her a five-page letter and got it put in her mailbox. Then we started to study and go out together. In fact, I asked Jane to iron my shirts and she's still doing it 50 years later!

Rev. Jon ('75) and Sue Trinklein ('75)
We met for the first time during the orientation prior to the beginning of classes at CUAA in 1974. A group of us students decided to walk down to the Huron river after discovering  a small wooden pier that went over the water. As I got close to the edge and looked in the water, suddenly someone pushed me in! I was shocked that some girl I didn't even know would push me into the river, and never did I dream she would one day become my wife!
Once we started dating, we were inseparable: at meal times, "studying" in the library, going to chapel, walking across campus.  On cold winter nights, I walked Sue across campus to her dorm and we discovered we could zip our coats together in such a way we looked like a really big, two headed person.  

Justin ('94) and Miriam Rossow ('97)
My husband likes to tell the story this way: "Miriam was dating my suitemate and would stop by our dorm to see him. I was on the soccer team and, low and behold, every time she would stop by, I would just be getting out of the shower after practice and have to open the door with just a towel to let her know that her boyfriend was not around." Of course, he says it happened all the time! I remember this happening once! It is true that I was dating his suitemate, and when my boyfriend was not around, Justin and I would talk. (After he changed out of his towel.) We were also in choir and ArborSong together and got to know each other well through those groups.
Let it also be known I met Justin's parents before we officially started dating and after my boyfriend and I had broken up. At a Boar's Head dinner I got seated at a table with his parents. Justin was entertaining guests in a quartet which included my ex-boyfriend. My ex whispered in my ear, "How is it going with the in-laws?" So I think this marriage was God-ordained from the get go!
Justin proposed  to me the night before Christmas Eve, under a snow-laden pinetree and a lamppost that was giving a golden glow to the heavy, falling snow; that was  up on The Hill, where many professors lived when we were at Concordia.

Danielle ('11) and Austin Cook ('11)
Concordia is a small school where most students know of each other. Austin and I had a couple classes together freshman year and knew of each other. It wasn't until the last two weeks of the spring semester sophomore year that we ran into each other in the library. Those two weeks our friends would all get together to "study" for finals. Really we all just hung out playing cards or corn hole in the quads outside the res hall. I think we both knew something was different about one another when we first hung out, but it was not until the beginning of our senior year that we started dating. Austin never really asked me out, but on Oct. 15, 2011 I was sitting in the stands next to Mr. and Mrs. Cook (Austin's parents) while we watched the men's basketball team's inter-squad scrimmage. At the end of the scrimmage the coach asked each player to introduce the family and friends they had sitting in the stands. So, it was Austin's turn he said, "That's my mom Sharron, dad Rick, and girlfriend Danielle." The team and some parents yelled and started clapping. They all knew we were going to get together!
So from that day forward we were boyfriend and girlfriend. We graduated with our friends in May of 2012. Austin proposed to me on July 4th, 2012. We were with family and he surprised me with my best friend showing up shortly after. It was the perfect engagement. We said "I do" on May 25, 2013. We have gotten to live life together for almost 6 years. We have never left Concordia as I worked as an RD and we lived on campus for the first 5 years of marriage and then I accepted the volleyball coaching job. We have a son named Isaiah who is turning 2 years old in March.
Madelyne Arrigoni is a freshman at CUW studying English and Mass Communications. She plans to graduate in 2022.
—
If this story has inspired you, why not explore how you can help further Concordia's mission through giving.