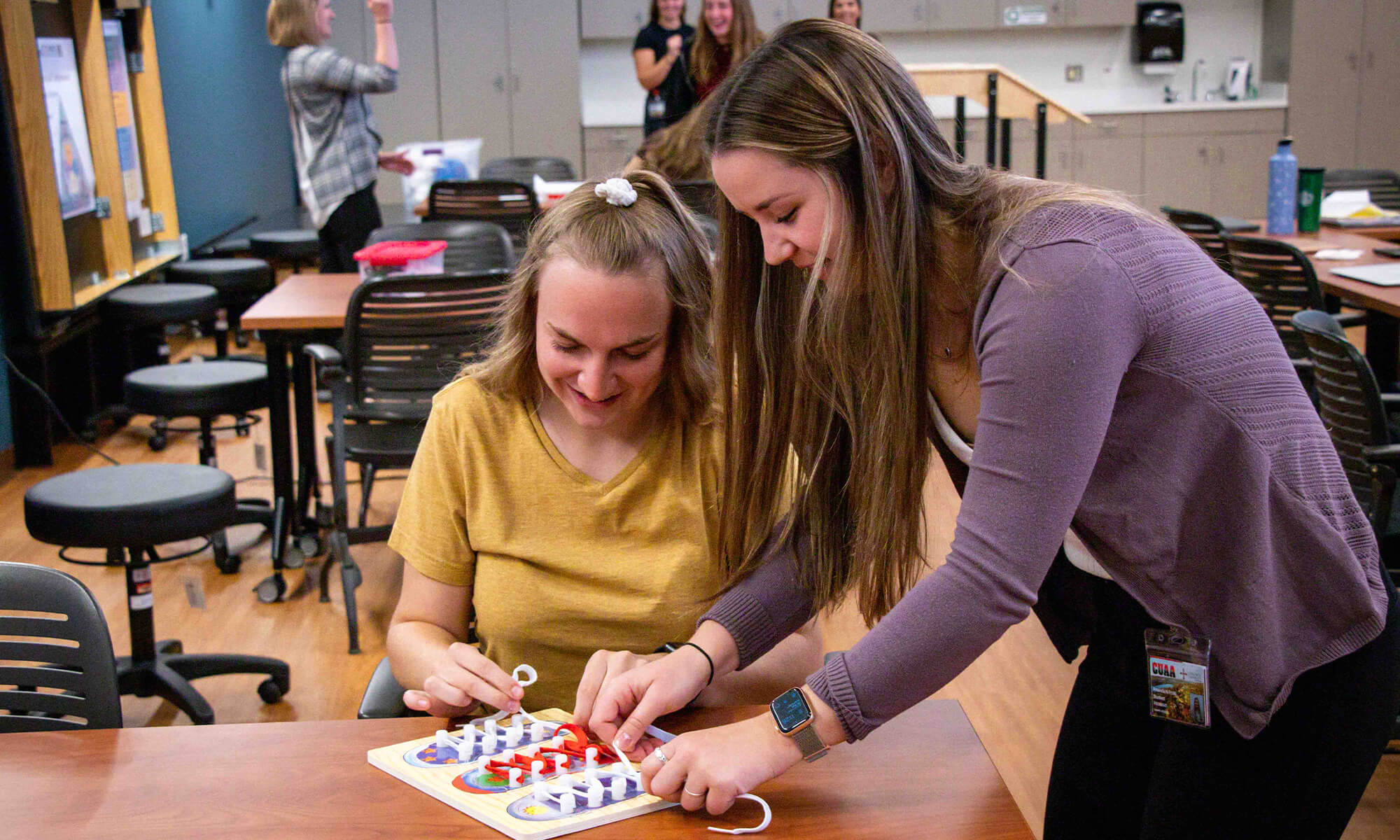 ---
Students from the Occupational Therapy Doctorate (OTD) program took part in the National Council for Mental Wellbeing's Mental Health First Aid training and certification program on Thursday, March 23.
---
Note: Some information for this release was adapted from www.mentalhealthfirstaid.org.
Assisting the students with certification were Michael C. Brown, Pharm.D., Associate Dean for Academic Affairs for the School of Pharmacy at Concordia University Wisconsin, and Lauren Dixon, Director of Student Affairs and Alumni Relations for the School of Pharmacy at CUW.
Mental Health First Aid (MHFA) was created in 2001 by Betty Kitchener, a nurse specializing in health education, and Anthony Jorm, a mental health literacy professor. The course teaches about recovery and resiliency – the belief that individuals experiencing these challenges can and do get better and use their strengths to stay well. This aligns with the CUAA occupational therapy program's vision for graduates to be recognized as highly compassionate professionals with the skills to empower effective change in individuals, communities, and in health care.
"Most people, including other health professionals, are unaware that occupational therapists (OTs) are trained to address mental health and well-being with individual clients and community organizations," commented Assistant Professor Dr. Nicole Onori Hansen, DrOT, MS, MOT, OTR/L. "As an educator who is also certified in Mental Health First Aid (MHFA), I advocated integrating MHFA into the OTD curriculum so that our students would have the skills and tools to compassionately respond to mental health emergencies."
Topics covered include depression and mood disorders, anxiety disorders, trauma, psychosis, and substance use disorders.
"Almost anyone can benefit from being trained in Mental Health First Aid," continued Hansen, "as the program provides sound education on common mental health conditions, while actively engaging participants in conversations that support human connections and shatter the stigma surrounding mental illness."
---
Want in?
For more information about Concordia University Ann Arbor's Entry-level Occupational Therapy Doctorate program, click the link below.
---
—James Dreher is the administrative assistant for Concordia University Ann Arbor's Occupational Therapy program.