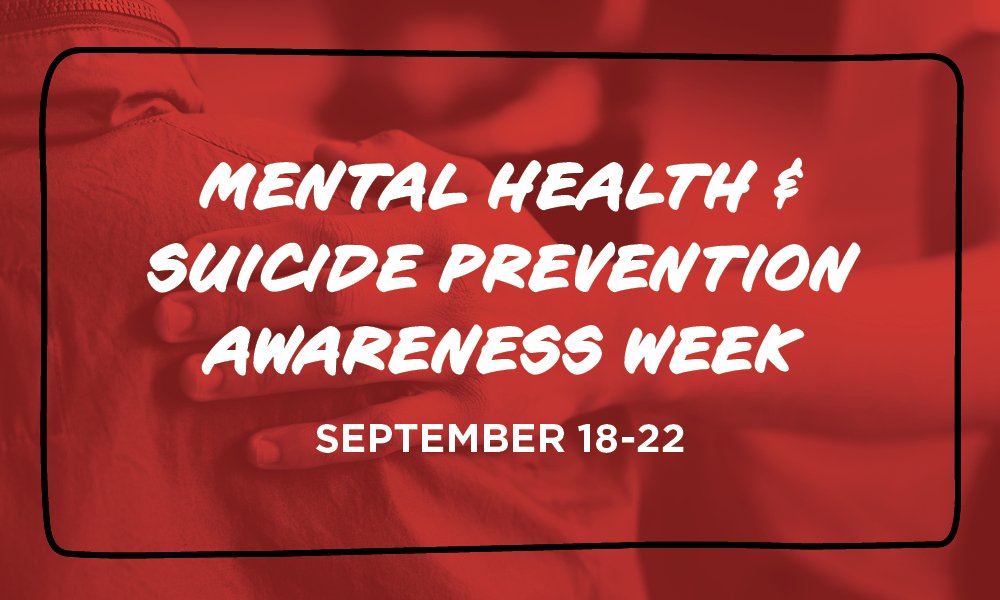 ---
In an effort to equip CUAA students and employees with the resources they need to care for themselves and others, Concordia will host Mental Health and Suicide Prevention Awareness Week Sept. 18-22.
---
In honor of Suicide Prevention Month, CUAA will set aside the week of Sept. 18-22 for Mental Health & Suicide Prevention Awareness Week. Throughout the week, trainings, information, and activities will be made available to help educate the CUAA community and extend care where needed.
Monday, Sept. 18
"Showing Up" Student Workshop
11 a.m.-12:30 p.m. | Kreft Recital Hall | Facilitated by Beth Heiss, MBA
It can be awkward when a friend, teammate, or roommate shares a personal struggle with you. Learn how to navigate uncomfortable conversations, strengthen relationships, and provide meaningful support.
Tuesday, Sept. 19
Eating Disorder Speaker Event
Dawn Cataldo, LPC, a member of CUW's Counseling Center staff, will share about her personal struggles with an eating disorder and how she helps others through their healing journey.
Wednesday, Sept. 20
Visit with Gracie Maize
10 a.m.-12 p.m. | Chapel, Central Campus | Facilitated by Karen Baker, LPC
Nothing calms the soul like spending time with our campus comfort dog, Gracie Maize!
"Showing Up" Student, Faculty & Staff Activity
12-1:30 p.m. | Kreft Recital Hall | Facilitated by Beth Heiss, MBA
Create comfort plaques and learn to build deeper relationships by showing up for others.
Thursday, Sept. 21
Visit with Gracie Maize
10-11:30 a.m. | North Building | Facilitated by Karen Baker, LPC
If you missed your chance on Wednesday, spend some time with campus comfort dog Gracie Maize at the North Building.
"Showing Up" Next Steps Faculty Session
3-4 p.m. | Science 102 | Facilitated by Dr. Susannah Steele, PT, PCS
Learn how to better show up for students and colleagues. This session will be led by a certified Inspiring Comfort trainer.
Friday, Sept. 22
Staff to Faculty Connection "Brown Bag"
11 a.m.-12 p.m. | Krieger 109 | Facilitated by Reggie Kehoe, OTD, OTR/L
Bring a lunch and join a workshop designed for CUAA employees to get to know each other.
All Week
Check out @cuaacardinals and @cuaaCAPS on IG to learn more about CUAA's Peer Support Program, and meet the peer supporters.
---
Learn more
Counseling and Psychological Services (CAPS) at Concordia University Ann Arbor is dedicated to helping students reach and maintain mental, physical, and spiritual health. CAPS is a free and confidential resource for enrolled students to use at any point during their time at CUAA. Trained counselors will give you focused attention to help you process your feelings, set obtainable goals, and explore your concerns about any topic you may be struggling with.
---