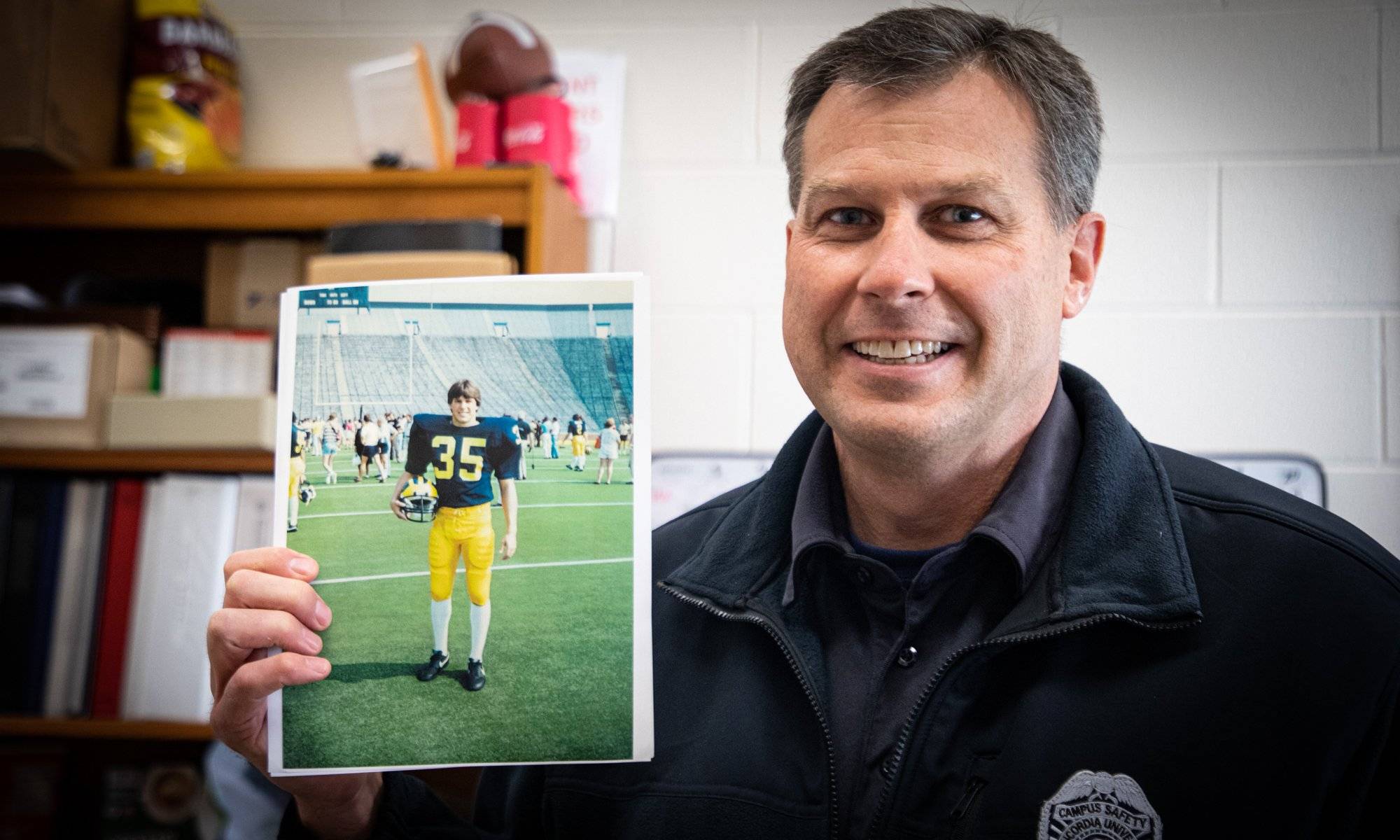 Celebrating some of our favorite hidden treasures in the nooks and crannies of the offices at Concordia University Ann Arbor.
---
Editor's Note: This is the second story in a series. Did you miss the first one? Click here to read it.
Tipped Off
Dieter Heren, Director of Campus Safety
Okay, let's make this one personal. When I visited the CUAA campus for the first time this year, I was introduced to Dieter by Rachel Thoms. "Dieter played football at the University of Michigan," she said.
I was intrigued. "When were you there?" I asked. From 1982-1986, he replied. Hmmm. "I was at the University of Illinois about then," I said. "We went to a lot of football games, maybe I've seen you play."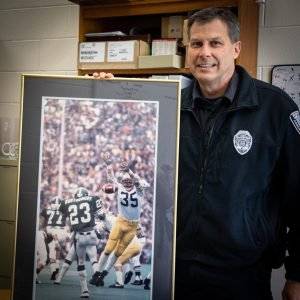 A slight grin crept over his face. "Do you remember a game at Illinois when Illinois and Michigan played to a 3-3 tie?"
"Are you kidding?!" I answered. "I was there, and of course I remember! In the final seconds, Illinois had a field goal attempt to win. The kick was tipped at the line but the ball kept going. The whole stadium went dead silent as the ball fluttered toward the goal posts, like it was in slow motion. You could actually hear the 'clank' as the ball hit the crossbar and bounced back onto the field, no good! My friends and I still talk about it!"
"Well," Dieter said flatly, "I'm the guy who tipped the ball."
Yep, his story checks out. It was a big game, too, with both teams vying for a trip to the Rose Bowl. Neither team made it, but Michigan won the Fiesta Bowl that season and finished #2 in the national polls. Dieter had a stellar career at U of M, even winning the school's Dick Katcher Award as a senior as the team's best defensive lineman or linebacker (a year in which he also blocked a punt against Illinois, he pointed out).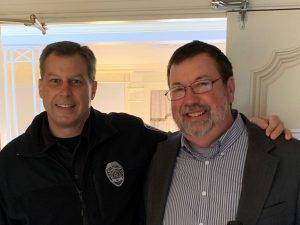 He is still a big Wolverines fan, of course, and regularly attends U of M football games at "The Big House." This year, his former team is in the hunt for the national championship. Going in with the second seed, they play #3 seed Georgia in the Orange Bowl on New Year's Eve. If they win, they'll play for the national title on January 10!
I'll just say this, for the first time ever: "Go Blue!" It was a thrill to meet the guy who blocked that kick—and I'm really glad we're both playing for Concordia now!
---
Make your mark, get set, go!
Kathie Pereira, Director of Clinical Oversight, School of Nursing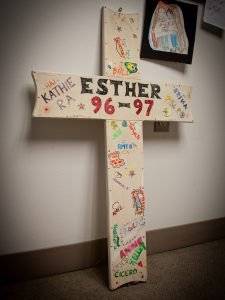 When you're pretty sure that you have "the best group in the best dorm" your senior year of college, you kind of want to make your mark, leave a legacy. Something for future generations to reflect on and realize how awesome you were back in the day.
The year was 1997 and the dorm was Esther. The legacy left behind was a large, white, wooden cross decorated with the names of (almost) every girl on Kathie's floor.
"I don't quite remember what started the idea, but I remember asking my grandpa if he could make us a cross," Kathie reflects. "He was a carpenter, and he was happy to oblige. I painted it, and then I had a ton of stickers and markers and glitter and all sorts of stuff, and I had everybody put their name on it and decorate it before they left for that year."
For at least a few years, the cross remained at Esther Hall. But then, "it disappeared." If it's not going to be at the dorm, she would love to have it back, Kathie thought. After all, her grandpa made it. But time passed and she forgot about it.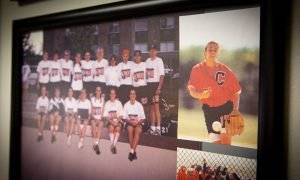 That is, until she came back to work for the new School of Nursing in 2016. One of the first things she did on campus was ask about the cross. Lo and behold, someone found it, in a box in a storage room at Esther Hall. It's now in her office.
"I can't explain that feeling when I laid eyes on it!" Kathie says. "I hadn't seen it in so long. I don't think I even had a picture of it. You could see that it had been broken, but somebody took the time to fix it. That just meant the world to me, because my grandfather [who passed away in 2008] made that!"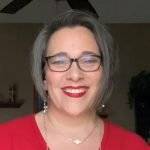 Sadly, Kathie's time working at CUAA is coming an end, though she's not leaving the Concordia family. She's leaving her position at the end of the year to devote more time to completing her Family Nurse Practitioner degree from Concordia University Wisconsin. As for the cross, she's not sure yet what will become of it.
"I would love to leave it with the dorm, if they would put it up somewhere," she says. "I think it would be fun if other dorms had things like that, to preserve little moments in time."
It's not a bad idea. Even if not everyone can rightfully claim that they "really did have the greatest dorm on campus."
---
A Place to Belong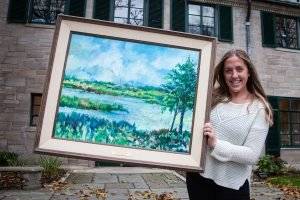 Rachel Thoms, Manager of Campus Communications
When you literally grow up as part of the Concordia family, it's a little easier to feel "at home" when you move to a new campus. But it still requires an adjustment period—and maybe something special to help you connect.
"I found this painting in storage in the Manor in 2013, my first year as a staff member at Concordia University Ann Arbor," Rachel writes. "I was an admissions counselor and still getting to know the campus myself since I had just moved here from Austin (I'm a graduate of Concordia University Texas). The view and perspective of The Chapel of the Holy Trinity from the south side of the Huron River took my breath away. Plus, I had just enrolled in a community painting class because … well, I didn't have any friends in town yet! I needed something to do in the evenings. So this painting also inspired me to want to work on my painting skills!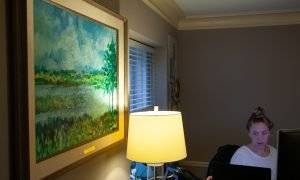 "Between two years working in Admissions and now, in my seventh year as the manager of campus communications, I've had six different offices on campus! Two of the moves were in Admissions, but most have come in my current role; I'm a small department (party of one!), making it easy to move me around when space is needed in different areas. The painting has gone with me to each space. The maintenance team knows that my one office request is a sturdy nail to hang this piece!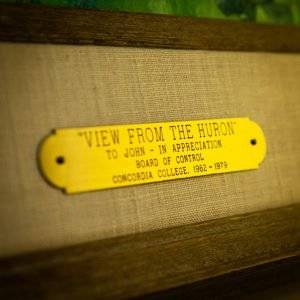 "When I looked at this painting in 2013, I saw a beautiful vista. Now I see a place I have grown to love—and a place that has changed my life forever! I see the Chapel, where I worship daily, and where I exchanged vows with my husband Kyle in 2018. Before, the painting's dedication to "John" didn't mean much to me, nor did the "Sturmfels" signature in the lower right corner. But now, after writing countless stories about CUAA and getting to know the campus, I am quite certain this painting was created by the late John Sturmfels, a beloved CUAA art professor and co-founder of The Boar's Head Festival.
"I don't know the identity of the 'John' he dedicated the painting to, but I hope to one day make the connection. Maybe I'll even write about it! John, if you're out there, I want to hear from you—but that doesn't mean you're getting your painting back without a fight! 😉"
---
Do you have an interesting item to share?
Or, do you know of someone on Concordia's campus who's office item has a story to tell? Let us know! Share with us a summary at news@cuaa.edu.
—
If this story has inspired you, why not explore how you can help further Concordia's mission through giving.