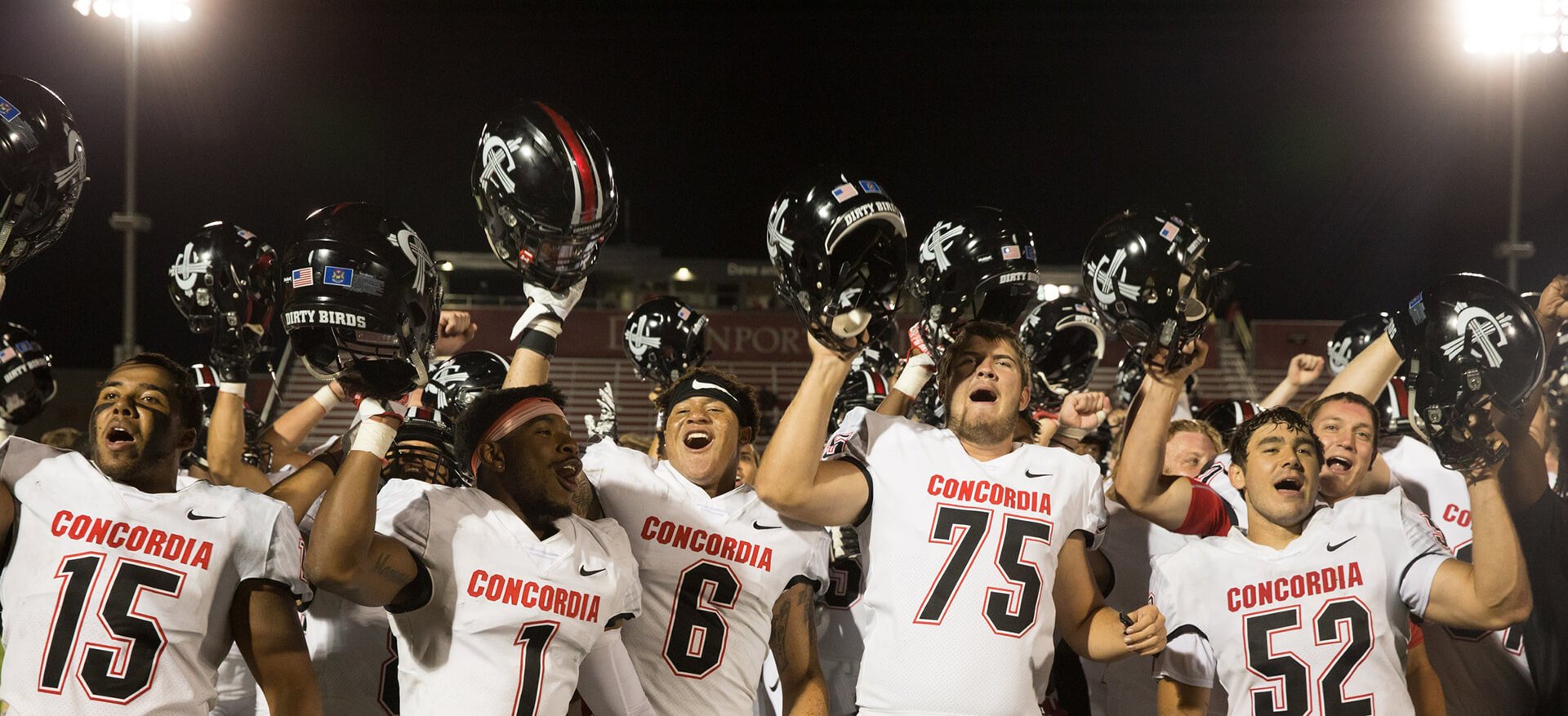 It's the kind of compelling success story only made possible by extraordinary hard work, tremendous heart, and a foundation rooted in faith.
---
In 2013, just four years ago, the Concordia University Ann Arbor football team members were celebrating their first win ever, completing their third season as a new varsity program with a 1-9 record.
Now, with a current record of 9 wins and just 1 loss to the defending national champions, the Concordia Cardinals are celebrating a bid to the 2017 NAIA Football Championship Series First Round.
"This accomplishment is an example of the progress and growth that can take place when people believe in something bigger than themselves," said Head Football Coach Joshua Schumacher. "This is a special place because we have special people who believe in each other."
Announced on Sunday, November 12 by the National Association of Intercollegiate Athletics (NAIA) Championship Series Selection Show, the 14th-ranked Concordia Cardinals will face the 2nd-ranked Reinhardt University Eagles on Saturday, November 18 in Waleska, Georgia. Of the 16 teams competing, CUAA is the only team making their first appearance to the big dance.
Schumacher joined the Cardinals football program in December 2012 as defensive coordinator under brand new head coach and athletic director Lonnie Pries. Concordia's football program had only been around for two years, and it was time to get to work.
"We are Concordia football coaches because of our mission statement; we exist as a program to develop our members as athletes, students, men, and Christians," said Schumacher. "We had no football field and 25 guys on the roster when Coach Pries and I first started, and now we compete in a beautiful stadium with nationally ranked teams. Through all of that change and growth, our purpose remains the same," said Schumacher.
The road to this season's national playoffs has been built brick by brick.
2011: Concordia held its inaugural season as a varsity program.
2013: Along with the first and only program victory, the 2013 season was the first for an entirely new coaching staff that spent the prior months tirelessly building a roster of players willing to take a chance on a winless team without a home field.
2014: The Cardinals added three wins to the victory column and played their first games on a new pro turf field laid the summer prior to the season start.
2015: With a new offensive coordinator at the helm, Concordia ended the season with a 5-6 record, including their first defeat of a nationally ranked team, the Saint Xavier Cougars. Construction around the new field was completed and spectators watched the team from the elevated heights of Cardinal Stadium.
2016: The Cardinals notched their first winning season (7-4). The team cracked the NAIA Top 25 coaches' poll for the first time in the 2016 season with a national ranking of 23. After a successful season, Athletic Director Lonnie Pries stepped down as head coach and promoted defensive coordinator Joshua Schumacher. Pries was later named Mideast League Coach of the Year in the Mid-States Football Association (MSFA), and 10 CUAA players received MSFA conference honors.
2017: The Cardinals have maintained an NAIA national ranking since mid-September, climbing the poll from 25 to their current seat at number 14. The team learned of their secured playoff spot on Sunday, November 13 and will travel to Georgia to play Reinhardt University on Saturday, November 18.
"No matter the success, in winning seasons and losing seasons, what matters is that this program continues to impact the people who are a part of it," said Athletic Director Lonnie Pries. "Our football program is a great representation of our university that is growing significantly and accomplishing great things, and it's through that growth that we can reach more people and instill in their lives a foundation of faith. When it's all said and done, that is what is going to last."
Since the players reported for pre-season camp on August 7, 2017, the team has embodied this year's theme Compelled, a powerful and irresistible force to be great and together accomplish something that has never been done before.
The Concordia Cardinals do not know where the road they've built to the playoffs will lead, but they have faith that this journey was made possible by believing in something greater than themselves.
— Rachel Thoms served on Concordia University's Strategic Communications team from 2015-2022. Any inquiries about this story can be sent to news@cuaa.edu.
If this story has inspired you, why not explore how you can help further Concordia's mission through giving.