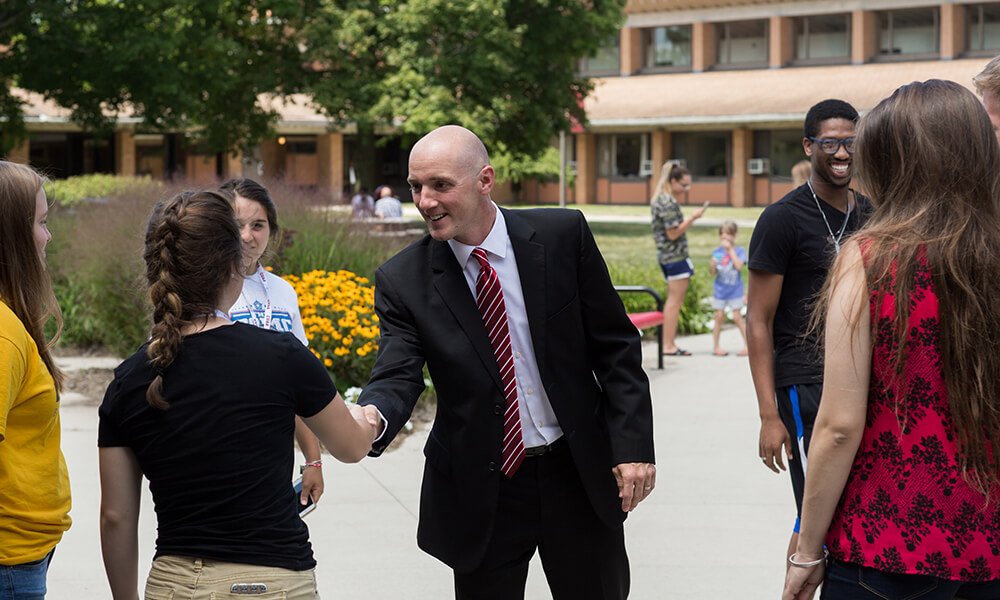 This story first appeared in the spring 2019 issue of the Arbor Light, the official magazine of Concordia University Ann Arbor.
---
Spring is a season of new life, and the effects of this season are immediately apparent when you walk on Concordia's campus. Even as the academic year winds down and students look forward to Commencement, the campus enlivens with green grass, blooming plants, beautiful flowers, and a sense of optimism and hope. In the midst of academic intensity, there is a sense of "new."
There is also a sense of "new" in my own life. It is my privilege and honor to serve as the vice president of administration and chief liaison to the Office of the President at Concordia, a position that is new to me since Jan. 1, 2019. Because of the excellent and committed service of Curt Gielow, who retired in December as chief campus executive, our campus is strong and vibrant. I am eager to build on these successes and look for more open doors of opportunity so that our mission might be more fully realized and our students served in more robust ways.
My commitment to Concordia is stronger than ever, even and especially in this new role. I have described my role to our Michigan Committee of Overseers as "a key collaborator for Concordia," working with many different programs, people, departments, friends, and even campuses (Mequon and Ann Arbor) to further our Christ-centered mission. My hope is that our campus continues to bloom and grow in the years ahead. Because of this hope, I am focusing a portion of my energy on working closely with our admissions team. But how will I do that on a daily basis?
Here are a few ways:
Leading Chapel at Lutheran high schools in Michigan, Ohio, and Indiana in collaboration with our admission counselors being present and often a worship arts team leading music.
Calling every accepted Concordia student, welcoming them, and congratulating them on making an excellent choice for their higher education journey.
Welcoming each prospective student and family into my office as they take their campus tour, introducing myself to them, and reminding them of our commitment to them throughout the process.
We are a team at Concordia University Ann Arbor. Thank you for being a part of that same team as you pray for, support, invite, and encourage students and prospective students to experience an uncommon 21st century Concordia University.
REV. DR. RYAN PETERSON
Vice President of Administration
Chief Liaison to the Office of the President
The spring 2019 Arbor Light hit mailboxes the beginning of May. View a PDF version of the magazine here. If you are not on our mailing list, but are interested in receiving a free copy, call 734-995-7317 or send us an email.
—
If this story has inspired you, why not explore how you can help further Concordia's mission through giving.