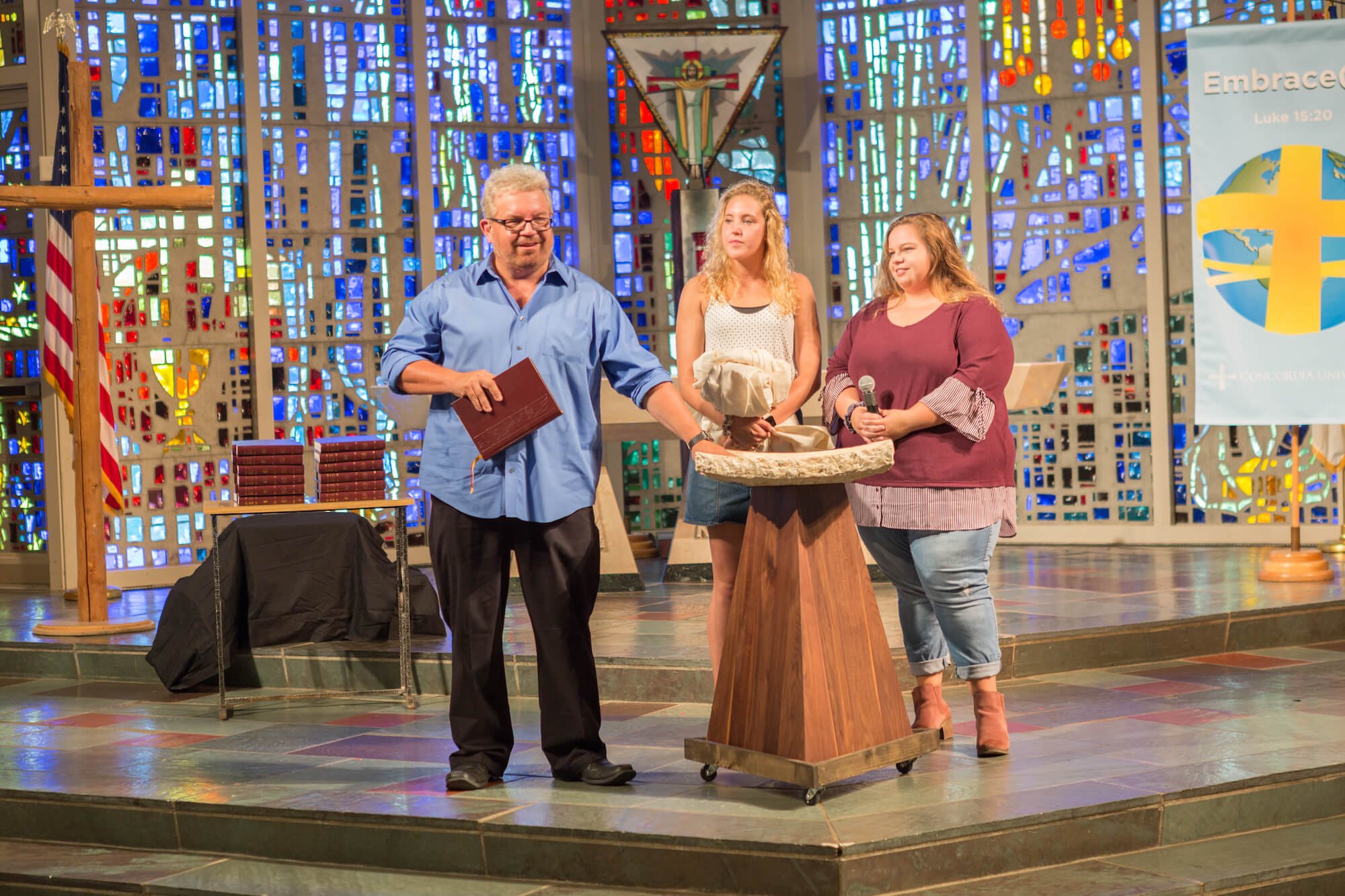 "20 years from now, 30 years from now there will be hundreds of people who encounter Christ here as they connect with Him in baptism." —Rev. Randy Duncan, Campus Pastor
---
On Wednesday, September 11, Campus Pastor Rev. Randy Duncan led the dedication of The Chapel of the Holy Trinity's newest permanent edition: A baptismal font.
The project, commissioned by Concordia University Ann Arbor's Student Government Association, was designed and built by Nate Harris, a 2019 graduate of CUAA.
"Lord we pray boldly for more people to encounter baptism. According to Your great mercy Lord and Your sanctification of the waters of this blessed flood, we ask that you would bless this font," prayed Duncan during the dedication. In addition to the font, Daily Chapel also included a dedication of CUAA's newest round of pew Bibles.
SGA Treasurer, Sami Miller ('20) said that they know this baptismal font will be well used over the years. Miller also shared that SGA saved money in their budget for the last couple of years to pay for this project.
Adding to the font's significance is its creator, Harris, who said this project was particularly meaningful to him. The business major, who now works full-time for his own business Harris Designs, was recently baptized during his senior year by Rev. Dr. Ryan Peterson in November 2018.
While talking about the design process, Harris explained that his goal was to make sure that it fit in and worked with the different elements in the Chapel of the Holy Trinity. The font has three sides, like the Chapel walls, and it will be placed right in the center where the aisles merge when it's not in use.
"I'm so excited that we have a permanent font here now. Everyone will see it filled with water and remember their baptism on a daily basis," said Harris.
Learn more about Concordia's campus ministry at here.
— Esther Schulze is pursuing her bachelor's degree in Marketing and Art. She will graduate in 2020.
If this story has inspired you, why not explore how you can help further Concordia's mission through giving.